Machu Picchu, from Cusco to Aguas Calientes
I remember seeing pictures of Machu Picchu and how I got surprised after seeing that hidden beauty, surrounded by so many misteries. I soon realised on my way to Machu Picchu that nothing was as I had imagined and what I witnessed was quiet ugly. If you really want to know the truth that's behind the way from Cusco to Aguas Calientes, keep on reading.
We start off in Lima as in almost every path in Peru since everything is centralised. From Lima we decide to get to Ica, to rest on the way. There's the option of going by bus to Cusco non-stop (24 hours) or by plane, of course (around 100 €).
Once we arrived in Peru and started to travel we realised (even more) that the country is huge and connections are not that good as we imagined. It takes five hours from Lima to Ica (Flores company=20 S./ o 5.50 €) but it wasn't that tiresome. From the window the landscape changes into a desert colour and mountains welcome us. So does the sun.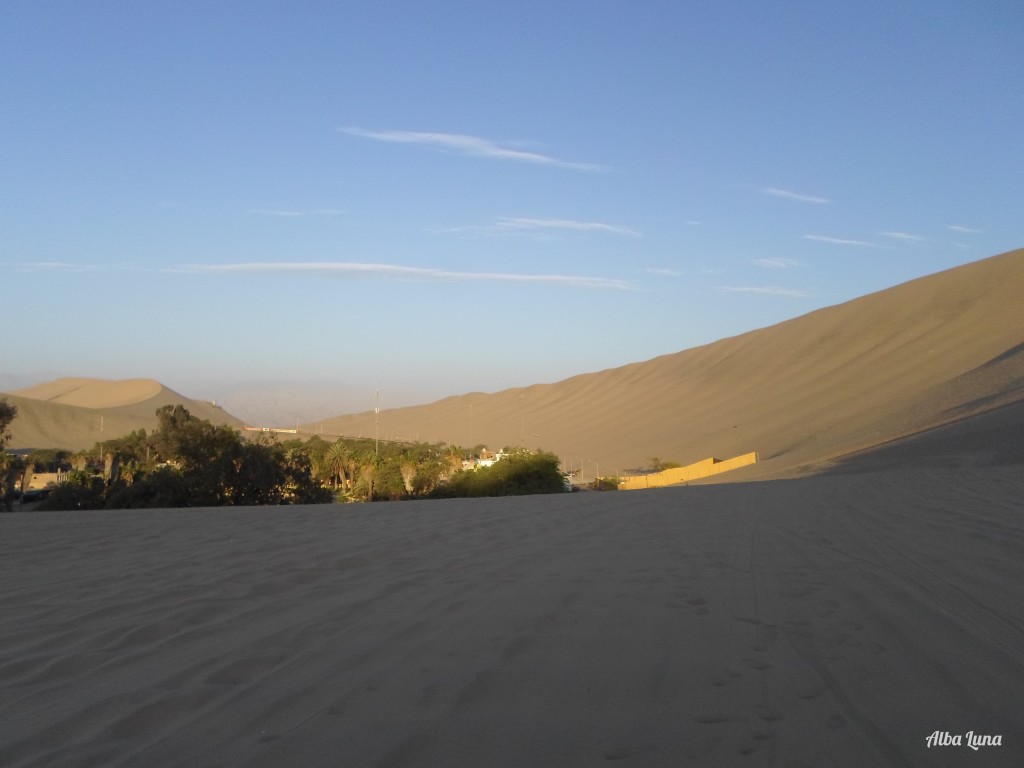 We spent some hours in Ica, the only thing to see is Huacachina, an oasis in the urbe where to spend your time, do sandboarding or buggy boogies. It's interesting to see in just a day such different landscapes. We went there, touched the sand and saw the sunset. Ica only represented a small stop in this big trip.
From Ica we take a night bus to Arequipa that takes 12 hours (Civa company, 30 S./ = 10 €). We arrive really early to Arequipa, a very pretty colonial city that we are lucky to see with a free tour (Free Tour Downtown Arequipa) in which we learnt a lot about the culture and the city.
That same evening we take another bus to Cusco (Civa company = 35 S./) Now we are 'almost' there. Another night bus that lasts 12 hours, we have no choice but to get used to sleeping in buses although the truth is that buses are really comfy in Peru, normally double-decker and with very reclined seats.
We arrive early in Cusco and on the next day we have the visit arranged to Machu Picchu which we had previously bought in internet.
Ticket to Machu Picchu: 130 S./= 36 €
Ticket to Machu Picchu + Huayna Picchu: 152 S./ = 42 €
Due to lack of time we decided to take a van that even if it's 5 € more expensive than doing it on your own, we arrive earlier. You can find the cheapest alternative to reach Aguas Calientes in the blog of Un poco de Sur, where they explain it in very much detail.
After 7 hours of a sinous path (especially in the end) we get to hidroeléctrica, where the hard part starts. We have two options, again:
Taking the PerúRail and pay €21 for a trip that takes less than 30 minutes. PerúRail is a fraud and a pure alive mafia that only takes money from tourists, forcing them to pay three times more than Peruvians. Is that fair? I don't think so. Plus that money only fills the pockets of some at the top, as it usually happens. Nothing for the Peruvian people, what a pity!
Walking for three hours in an astonishing landscape.
I think you already know the option we chose. During the way we met some more pilgrims that tend to say hi with a smile on their faces. It's really hot and there are plenty of mosquitoes so it's better if you bring repellent with you (in my case the only thing that works is lemon).
At this point we didn't have accommodation yet in Aguas Calientes because we had seen prices of minimum €30 per night and we were not going to pay that amount of money. We decided to take a chance and see the village ourselves. People we spoke with had already paid for all the pack with the ticket to Machu Picchu, hotel and meals included with prices that varied from 80 to €125.
We reach Aguas Calientes, a village that absorbes you from the very first moment. €200 for a hotel, a menu for €20 (in Peru you can have a full meal for €2). No, thanks. We run away from that touristic mass of exorbitant prices. We cross the bridge from where the amusement park seems distant.
In Orquídeas quarter we find an area where locals live. People drinking emoliente (herb tea), playing football and paying the fair price for daily things. We easily find a private room in a hostel with hot water and WIFI for S./30 (€10). We are happy with such discovery. You CAN actually sleep for a cheap price in Aguas Calientes and that way you probably are helping people that need it more, not the big chains that charge 10 times more to sleep.
We have an emoliente with locals and straight to sleep we go. A long day awaits for us tomorrow and we are already tired.
We wake up at 4 am, the entry to Huayna Picchu is at 7. Huayna Picchu is actually what most people think Machu Picchu is, the big mountain in the background of the typical photo. Huayna means young and Picchu mountain = young mountain. Machu means old, then you know what follows =)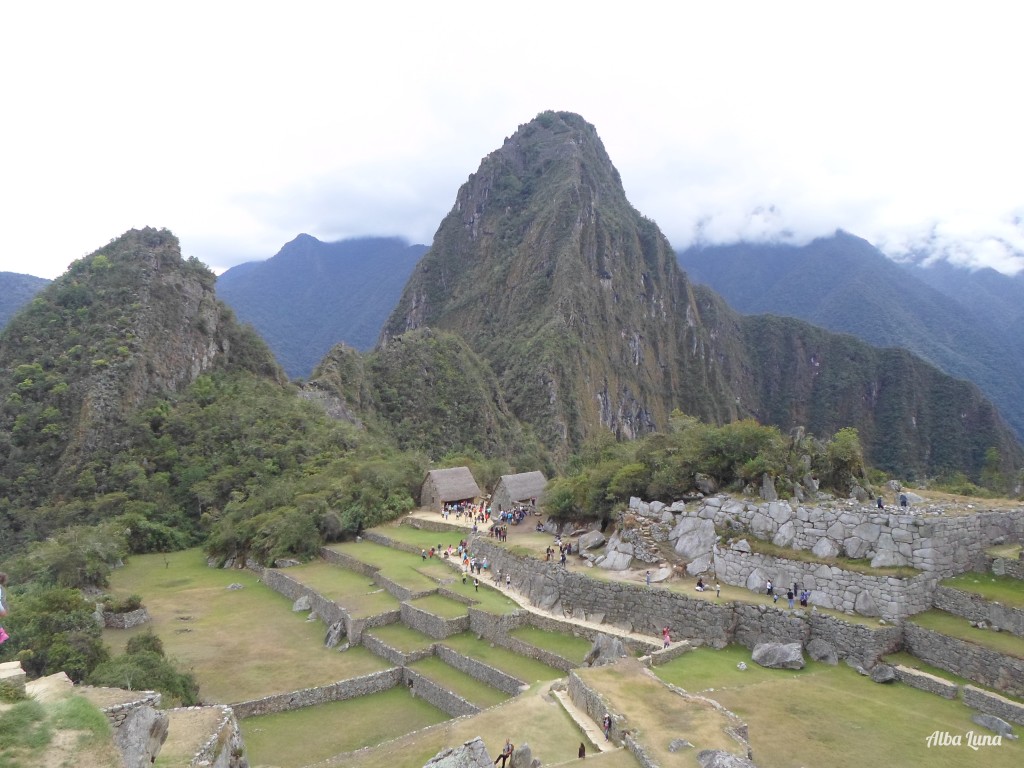 There's no light yet but the flashlight and the excitement are enough to light the way. Just like us there are hundreds of people that prefer to walk up instead of taking the bus that takes you to the entrance (€20 more to go up). At 5 a.m. the bridge is opened, where you have to show the passport and the ticket. Here's where the hard part starts.
Two hours going up stairs that along with height and humidity don't help. I really appreciate the help of coke, without it I wouldn't have reached the top. Dead tired I put a curse on all the incas and the government for having such a mafia. We finally arrive to Machu Picchu, the amusement park just opened. Hundreds of people pile at the entrance. It's hard to take pictures with no people on it but I finally achieve it.
We go to the entrance of Huayna Picchu, 10 minutes walking from the main entrance. There are two groups, one at 7 and the other one at 11 (2oo people for each). I recommend going on the first turn because it's not that hot. This ticket must be purchased in the official page ahead of time (we bought it one month in advance). By the way, be patient with the page, it usually doesn't work properly.
Almost dead we arrive two hours later to the top, we've survived. The way is not dangerous, there are ropes to hold on to and if you are careful there's nothing to be afraid of. I'm saying this because I've heard several times that it was a dangerous path. It's not dangerous, the difficult part is the height and the stairs.
It's foggy at the beginning but we wait impatiently for it to get clear. We feel victorious. Catching our breath we observe Machu Picchu and its ruins. We barely see the people down there.
We go up a bit more. There you go. Now we feel like kings of the world.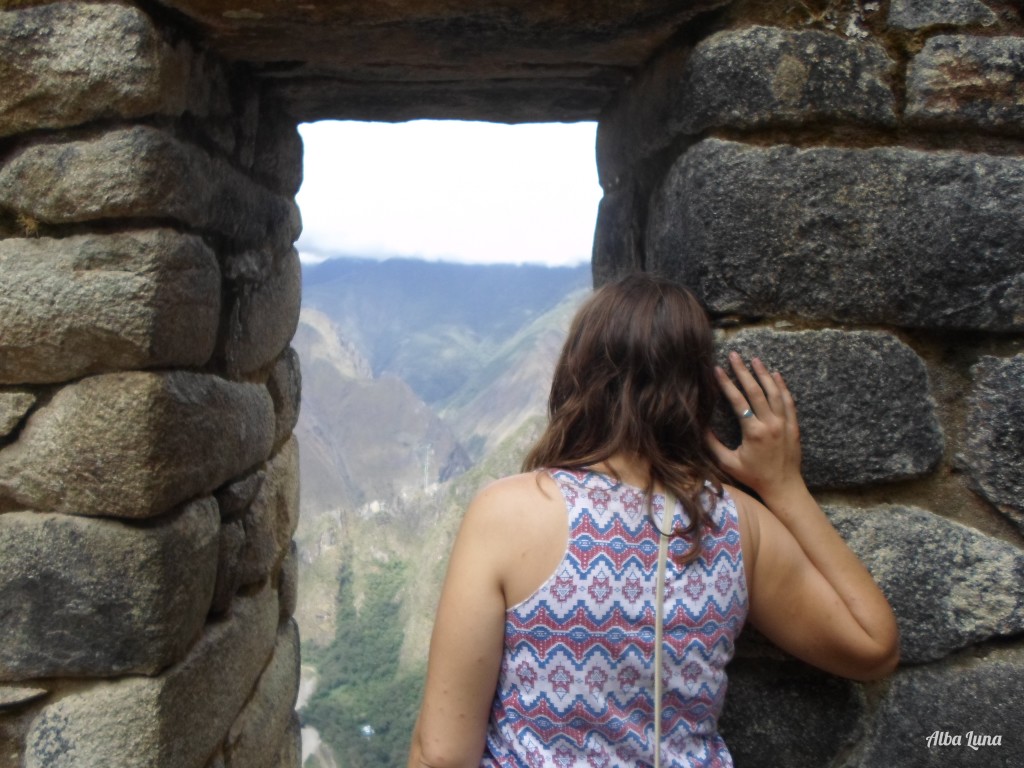 We value enormously all the way until here, those four days in a raw that weren't easy at all. But we are here.
Once down I think we're not able to appreciate that much beauty amongst such a mass of tourists and accumulated tiredness. We refill our bottles with the water that comes from the mountain, from the very source of incas (way better to spend 2 S./ in water purification tablets for 20 litres than 5 S./ in a tiny bottle designed to scam tourists).
We leave dazed, feeling like crying. We don't know if four days in a raw of buses and long walks is worthy. We are disgusted by the theatre that's on around Machu Picchu, honestly it's too much. We feel they'll destroy the place with such a rythm of tourists and that's overvalued. It's due probably to the fact that we've seen it a lot times before. It's the Machu Picchu syndrome instead of the Paris syndrome. Oh well yes, we've been there.
So please, I would ask you to think about it twice if you want to spend so much money and time (the more you pay, the faster you'll arrive) to get there and share just a square metre with so many tourists and feed a vicious circle that only helps some at the top. In Peru there are thousands of preinc ruins with infinite value and that're not that known (I've heard only 15% has been discovered). About it I'll talk about it another day.
Useful info to get to Machu Picchu
Take a lot of water with you or water purification tablets, water up there is very expensive and you'll need water for the height and the effort.
Bring food with you for the same reason. You'll need energy. Even if we found a tiny supermarket in the hostel area, you'll need it for the way to Aguas Calientes.
Go up slowly, try not to be tired once you are in Machu Picchu. If you decide to walk up to Machu Picchu (2 h.) and then to Huayna Picchu (2 h.), take a break in between or buy the ticket to Huayna Picchu for the second round (at 11 a.m.).
Buy the bus tickets in the bus stations not in agencies (obviously they'll charge a commision). Buy wherever Peruvians are (this seems obvious but I've found a lot of tourists do everything with agencies, paying more than double for the same thing). When you buy the bus tickets, check the price twice. They often try to charge you more just because you are foreigner. Asks locals how much they paid, that's the best way to avoid scams. We always checked all the bus companies before buying just to compare prices. It's more tedious but you'll see how prices change from company to company. It's also part of luck and if the car is empty they'll make you a discount. From Lima to Cuzco for example we paid 85 S./ with stopovers, direct buses cost from 80 S./ to 120 S./ On the way back from Cuzco to Lima buses are cheaper, we found one for 70 S./
– – – 
Would you like to learn Spanish before visiting Peru?