Trujillo
We fall in love with Trujillo, with its colonial patios and its preinca past. The ruins of civilisations that are previous to Inca show us another face of history, that same one that's often covered by that last empire. The grill windows of neat white colour remind me slightly of the southern part of Spain. The architecture of this city calms me down for it's close and familiar.
Trujillo is beautiful; with its churches, its larges houses and its cold beach.
Huanchaco and its beach
The so-called totora horses of Huanchaco, made of cattail (totora), an hour away from Trujillo, embellish the tireless figure of the sea. This coast is peaceful and its typical yogurt and arequipe sweet, really sweet.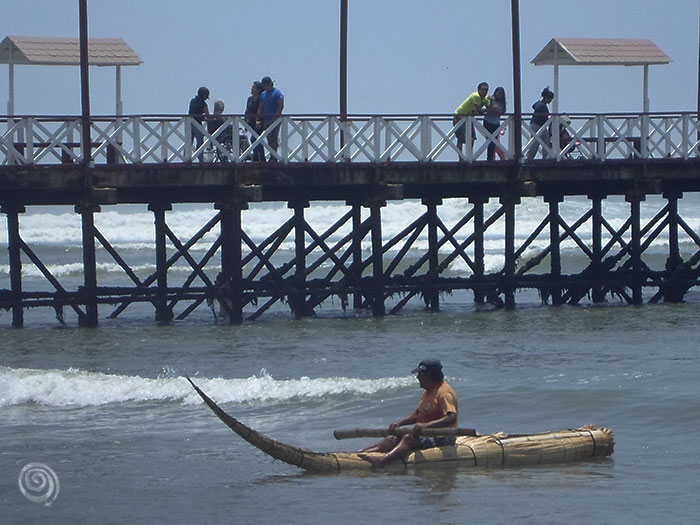 Moche Culture: Huaca de La Luna y de El Sol
The ruins of diverse civilisations enrich the history of the place. The Moche culture, represented in a symbolic way with Huaca de La Luna and El Sol, carried out Pharaonic constructions that keep on being a mystery nowadays.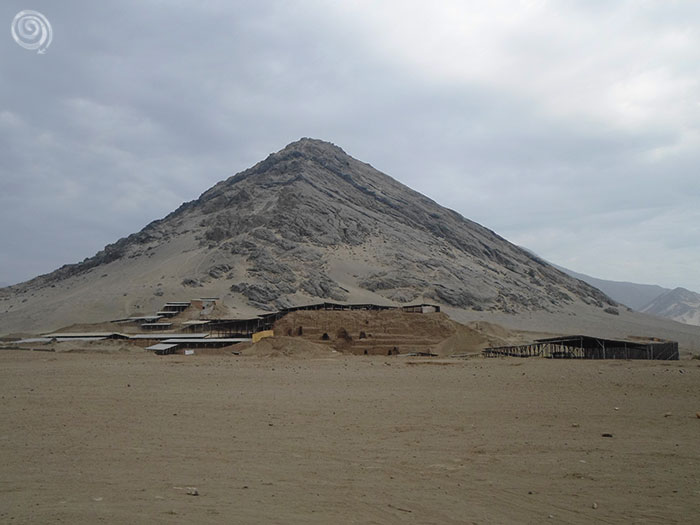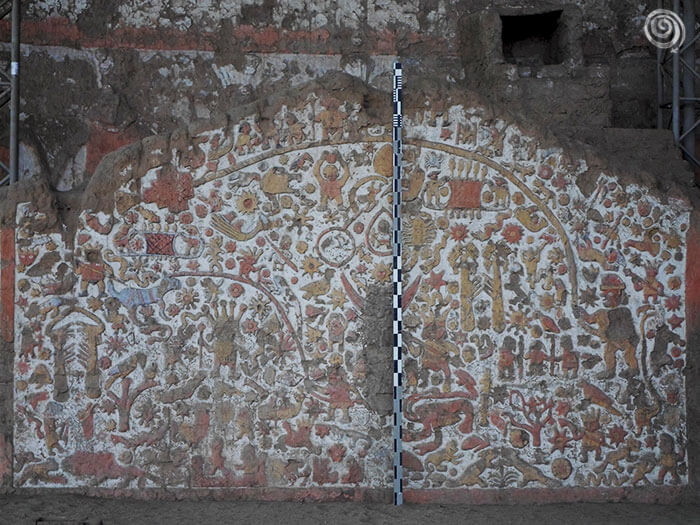 The dominant priests of each era, in charge of suppressing cruely the population, were buried after dying along with women and children, often alive, as sacrifice. After the burial the floor was sealed and another priest came to subdue the people! What's seen today, in its vast majority, are the rests of the last era for the previous ones are hidden underground. What an interesting culture especially with all its mysteries that are still unsolved. What will there be under those layers of history?
Chimu civilisation: Chan Chan fort
The day after, still fascinated by the stories of moche, we go to the fort of Chan Chan built by the Chimú civilisation. Chimú, descendants of the previous ones, made higher walls as fortifications and created guards to protect them.
They worshipped the moon because they were great fishermen and depended on tides. Its structures are bigger and its labyrinths delimit its citadel, decorated with animals and symbols.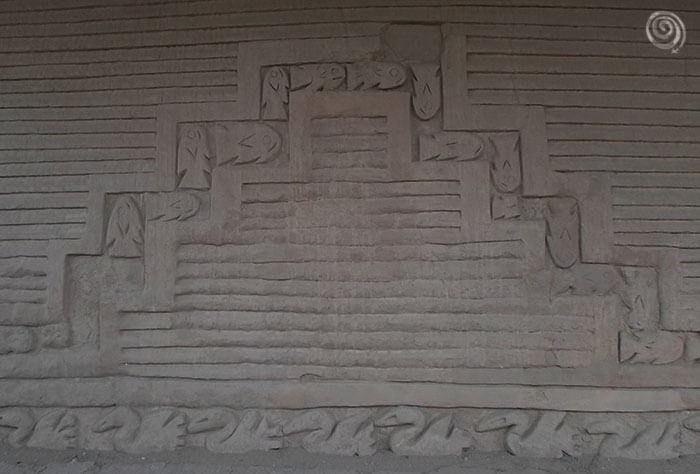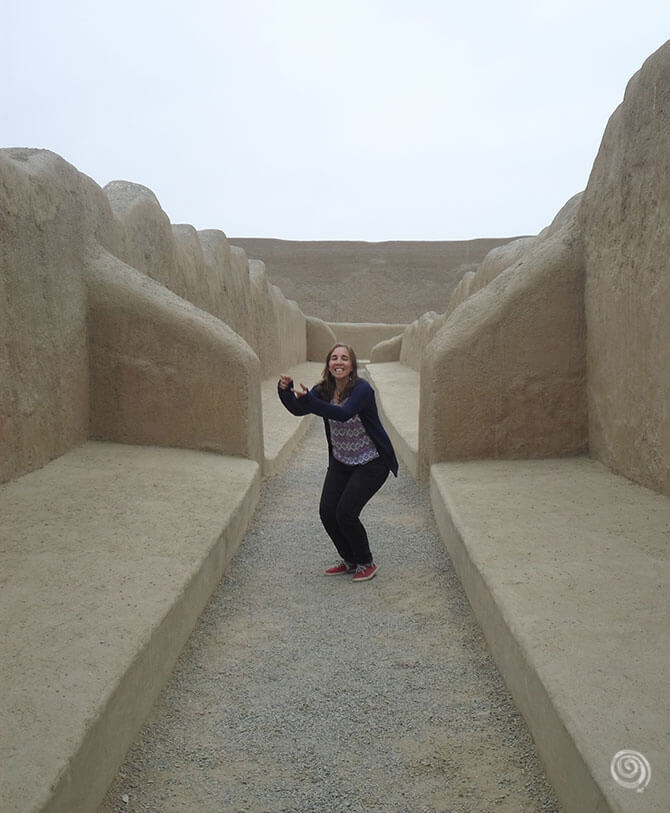 Trujillo is colossal, shadowed by the Extremeño Trujillo. Even that, it does do honor to it. You can't tell I'm half Extremeña, can you?
Máncora
We leave the architectural grandeur of Trujillo to receive Máncora, a coastal city well known among surfers. Bougainvilleas decorate stealthily this coastal place of the North, this busy city that's used as the same time as a rest and pilgrim place for young hippies and surfers from all over the world.
We spend some peaceful and relaxed days, enjoying breakfasts with coffee and bread and evenings of intense twilights. Its long beach allows to go for walks where to see the daily life of local fishmen.
Going uphill see to the lighthouse allowed us to contemplate how the city moves. Its sea is a good way to see Peru off, the first country of this big trip; that hosted us and showed its essence, shyness and with dedication.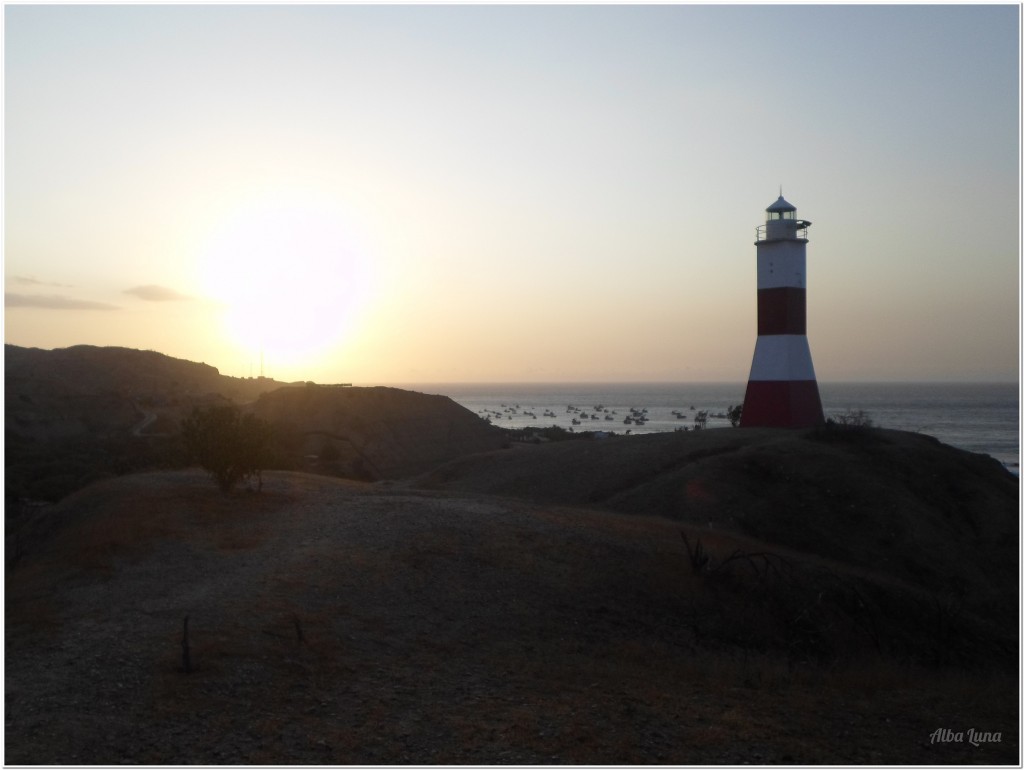 In barely four hours on a bus trip we are in Guayaquil, after stamping the passport. The humid heat wraps us and we are aware that we have changed the ambiance, that we are in another country.
We look back and we leave Peru happy with everything that it has given and taught us. With its cities, its alive cultures, its jungle and its adored mountains. We leave conscious that there are some more stories to tell about this beautiful country and we stay with these words of José Maria Arguedas, a Peruvian novelist, poet, and anthropologist:
It's imprecise to consider Peruvians only as Indians, it's as mistaken as thinking that what's ancient will always remain intangible… European and Indian cultures have lived together in the same territory in a mutual and incesant reaction which result is a human product that's unfolding a very powerful activity that's more and more important; the mestizo. We are talking in terms of culture, we are not taking into account the concept of race.
Tips to travel around North Peru and South Ecuador
How to get to Huaca de la Luna: take a bus that says Huaca in Avenida España. Normal ticket: 10 soles, for students: 5 soles.
How to get to Chan Chan: take a bus in direction to Huanchaco in Avenida América Sur. Normal ticket: 10 soles, for students: 5 soles.
How to go from Máncora to Guayaquil: autobús bachaquero (the scheming bus) of El Sol. It's a bus where you clearly can see people taking any kind of object to sell them in Ecuador by three times more. The cheapest ticket we found was of 90 soles (€24,19). It's very expensive in comparison to other routes in the country but that's what it's. We found peculiarities as having more expensive tickets from Piura to Guayaquil than from Máncora to Guayaquil which is closer. Whatever it's, bargain in every window of the terminal (bus station) they normally drop prices from the inicial one.
The border from Peru to Ecuador is completely safe. You get down the bus, get the passport stamped in Peru and do the same thing in Ecuador, in two windows that are close to each other. That's it. I wasn't asked a lot of questions and even if I had a fake flight ticket as an exit proof off the country (you can easily create a prebooking with Copa Airlines, for almost any destinations in South America), they didn't ask for it.
– – – 
Would you like to

learn Spanish with me

before travelling to Peru?