São Miguel, my first contact with the Azores Islands
São Miguel is like that beautiful cousin you see from time to time and suddenly she's such a grown up. Azores Islands are much more than beaches; in fact they involve cliffs, green landscapes, untouched nature, volcano craters that become idyllic places to dive in, hot springs in which to relax yourself…
We let ourselves be guided without expectations. All we wanted was to go to the seaside, to a place protected by nature and that's not far from Madrid, our home. Due to coincidence and budget reasons and well, some pictures that even if we resist to see we do in the end and captivate us, we buy the flight tickets without saying anything else. In a way Azores doesn't need any words, she takes care of describing herself.
Close yet far, São Miguel island offers us an endless number of open air activities, in contact with the pure nature of the island; from whale watching, paragliding and canyoning to snorkel, kayak and diving.
Close because these islands are Portuguese and as such they share coffee, pasteis de nata, language and way of being. Far because sometimes, but only sometimes, they are closer in terms of culture to Latin America and the tropic. Mango, pineapple and tea. Passionfruit, bananas and a great variety of traditional dishes with corn as an ingredient. Some salsa steps maybe? Well, not exactly. Azoreans prefer to stick to fado, the soul of Portuguese music.
European blood, though sometimes latin. It's surprising how these nine islands in the middle of the Atlantic Ocean don't seem to have any apparent contact with other cultures but received strong influences from the ones that decided to pass through.

Useful information to travel to the Azores Islands before you go
Officially known as the Autonomous Region of the Azores, the archipelago is composed by nine islands that belong to Portugal and are located in the Atlantic Ocean. The nine islands are Flores, Corvo, Terceira, Graciosa, São Jorge, Pico, Faial, Santa Maria and São Miguel (in which I'll focus because it's the only one I visited).
They are part of the European Union so, any European citizen can travel to Azores with their ID or passport. For U.S. citizens visa to travel to Portugal for up to 90 days is not needed. For the rest of nationalities, the same requirements will apply than the ones needed to travel to Portugal.
Therefore, the currency in the Azores is the Euro.
The capital of Azores is curiously divided into three: Ponta Delgada (São Miguel), Horta and Angra do Heroísmo.
Time in Azores is one less than in continental Portugal or the UK (UTC-1).
When to travel to the Azores
Best time to visit the Azores
Due to my availability and the weather conditions I travelled to Azores in July, and even if it's high season, locals affirm that it's in August that there's more tourist influx on the island (for obvious reasons). The best time to travel to Azores Islands is from march to september, although it depends on what you would like to do on the island. Swimming and snorkelling? Better to travel in september the latest. Whale watching and trekking? Even if it would be nicer if it doesn't rain, those activities can be done almost at ay time of the year.
Climate in the Azores Islands
The climate in Azores is unstable, the closest synonym of uncertainty. Synonym of t-shirts during the day and a jacket for the chilly nights. Synonym of… really Azores, are you bipolar? Sunbathing and five minutes later you may need a jacket, again. For that reason sunscreen and warm clothes alike must go in your luggage.
Average temperatures of 13ºC (55ºF) in winter and 24ºC (75ºF) in summer, not bad, is it? There's the possibility of checking it in real time in Spot Azores (though it may change).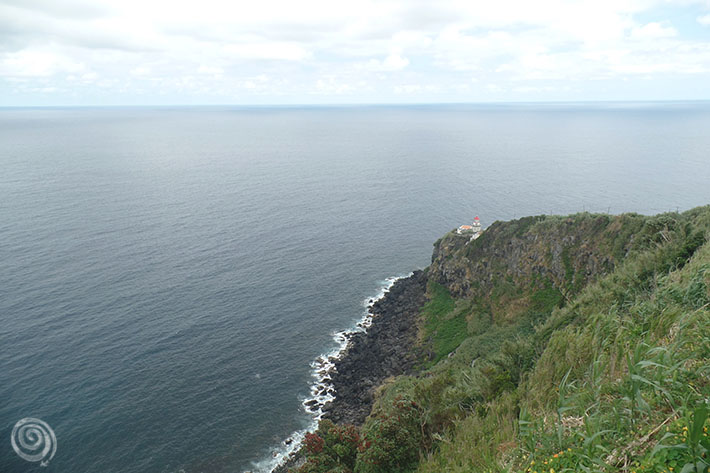 How to get to the Azores
How to go from Europe to the Azores
There are direct flights from many major European cities like London, Madrid, Barcelona and Paris with a few airlines flying there like TAP Air Portugal, SATA Air Azores, Ryanair and Easyjet. If direct flights from your city are expensive you can also try to fly to Oporto or Lisboa and get to Azores from there. Prices vary from high season (july and august) to low season (almost the rest) but some good deals of cheap flights can be found.
How to get from the United States to the Azores
There are various ways to go from the United States to the Azores. One option would be to fly to continental Europe and fly back to the Azores from there. SATA International, an Azorean airline is the only one that offers limited direct flights from Boston, Massachusetts, and Oakland, California, to Azores.
How to get from Latin America to the Azores
The best option would be to go to continental Portugal continental and fly from Porto or Lisbon to Ponta Delgada. Even if they are closer to the American continent, prices vary drastically if you choose to take a direct flight to the Azores.
How to move around São Miguel, Azores
How to get from the airport João Paulo II to Ponta Delgada (São Miguel)
The bus shuttle that used to go from the airport to the centre doesn't work anymore so the only option to get to the centre of Ponta Delgada is to take a taxi. There's a flat rate of €9 to get to any place in Ponta Delgada if luggage is carried and €7 without luggage.
How to travel on your own around São Miguel Island
The best option to move around Sao Miguel without worrying about time is to rent a car, prices go from 25 to €45 a day. However, if you forgot your credit card at home (oops, like me) or you enjoy slow buses, there's the option of public transportation.
There are two type roads in Sao Miguel, the old winding roads followed by local buses that stop at every village on their way (and in some unexpected stops, too) and the new highway designed some years ago to get faster to further destinations on the island.

Public transportation in São Miguel
Public transportation services around the island of São Miguel are infrequent. The island is divided in three different trajects and for each part of the island there are two or three buses departing every day. You will need three essential requirements if you would like to join this adventure; patience, willingness to admire nature without rush and schedule in hand. If the first two are ready but the third one is needed, here you have the bus schedule for São Miguel island:
Bus journeys in São Miguel
There are some short and medium lenght journeys for about 1 and 2 hours like Ribeira Grande, Furnas or Vila Franca do Campo to which it's totally worthy to go by bus because it's cheaper than renting a car and return journeys are not early in the afternoon. However, there are some other places like Nordeste (3 hours) that are not worth it to go by bus because the last trip to go back to Ponta Delgada is at 16.00 and the day can't be enjoyed to the fullest.
The main bus stop for every destination in the island is at the promenade of Ponta Delgada. The reference point to get to the bus stop is Portas da Cidade (city doors  in Portuguese). Prices per journey go from 2 to €4.
The duration of the journey is approximated because it depends on how many stops the bus does. There are the official ones, in each town or city and the informal ones, wherever the locals want to stop; at their place, at the church, etc. I told you needed patience and a smile looking through the window, it's time to enjoy the quaint little towns and snaky roads! The Azorean easy going attitude is something you will learn to identify and even value if you decide to move around the island by bus.
The best option to move around Sao Miguel island may be to use both bus and car; going to the closest places by bus (and having in mind the tight schedule) and renting a car for specific days to go further or even joining and excursion where transportation is included.
If hitchhiking is your thing, we did it from Furnas to Ponta Delgada and it worked out very well. For some reason Portuguese people are more used to taking people on the road. Besides that, there are a lot of tourists that travel alone or in couples and you could talk to them to go with them or split costs.

Accommodation in São Miguel, Azores
There are plenty of hotels and local accommodation in Ponta Delgada for all tastes and budgets, especially in the promenade but thanks to Ponta Delgada Youth Hostel we had the opportunity to wake up every day with these views:
The hostel is very quiet and is surrounded by nature, a pure reflection of the island in which it resides. It's located 10 minutes by foot from the centre of Ponta Delgada and breakfast is included. It's the perfect place for groups for there are rooms of 2, 4 and 10 beds.
There are two options to see São Miguel in a week; one is to stay all the time in Ponta Delgada and move to different parts of the island from there and the other one is to stay in Ponta Delgada a few days and two or three nights in Nordeste for instance (one of my favourite parts of Sao Miguel).
Food in Azores
I tried every single dish that has passionfruit in it–this reminded me so much of South America by the way–; pasteis de nata passionfruit version, passionfruit juice, passionfruit jam… even passionfruit liquor!
They have their own specialities with cod fish Portuguese as they are but they also cook local fish, sometimes along with a batter of dressed corn.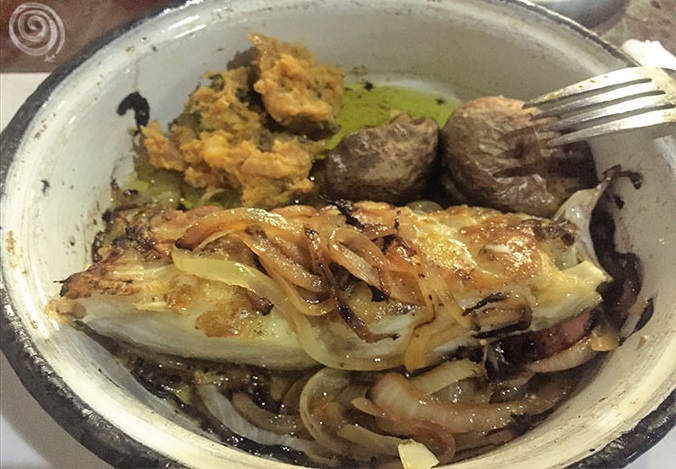 Everything is produced naturally and fruits grow without pesticides in a subtropical climate that's appropriate for it.
They boast of having the best diary products in all Portugal and the truth is that its cheese is second to none! Coffee and tea have equal representation in Azorean meetings, for the only tea plantations of Europe are found in Azores Islands.
Eating out in Ponta Delgada
There are many restaurants and bars in Ponta Delgada but I recommend to wander through the little streets in order to find the best price-quality restaurants. Prices are a bit higher than in continental Portugal but, as usual, it depends on where you go. A menu can go from 8 to 15 euros.
I really liked A Tasca, a traditional place that combines local recipes with modernity but without being minimalist. We adored the fried octopus with honey. The only thing one needs to know in is that table reservations must be done in advance.
There's also street food stands in the promenade where they sell hot dogs and burgers for €3 but my favourite one is on the other side of the promenade close to a petrol station, there where pigeons get together to eat the bread crumbs.
Sao Miguel de Azores step by step
The intention with this post was to compile the answers to the questions I had before getting to the Azores Islands for the first time for I didn't find a lot of information on how to travel around the island your way. In the next posts I'll focus on the places I liked the most in Sao Miguel island and the different activities we did and some excursions in and around Ponta Delgada so that you fall in love more and more with the Azores Islands.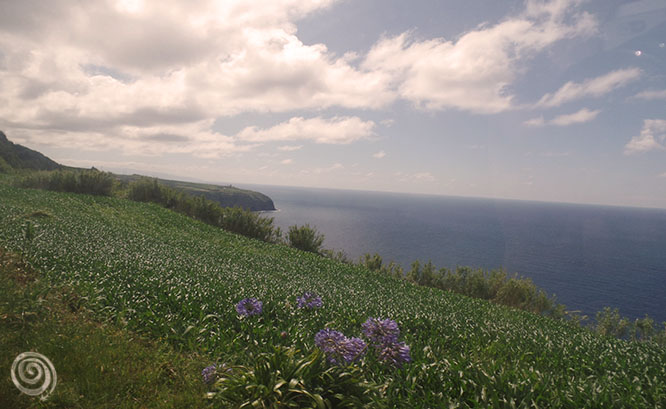 My favourite places in Sao Miguel are:
1) Furnas: beautiful natural hotsprings.
2) Sete Cidades where you can do kayaking in a volcano crater.
3) Vila Franca do Campo islet: gorgeous for snorkelling and having a quiet time.