In India it went literally for better. I barely tried coffee but got hooked to Masala chai, tea made of milk, aromatic spices, herbs and sugar. Loads of sugar but I loved it.
You will often be offered one everywhere you go, especially to make business. Indians love to sell and adore it over a cup of tea.

This curious fact reminded me of Turkey where sellers would offer tea before starting to deal or well, just because.
'Madam, do not worry about the price just take a sit I'll bring you a cup of tea, do you like Masala tea?'
And my eyes would go crazy and I'd say yes!!! And that would be the fourth one in a raw. Then all I saw was colors everywhere and my heart would beat really hard but I was happy, happy and addicted. So I didn't care about coffee anymore, Masala tea is all I needed in my life.
In Pushkar when going up to visit Savitri temple I came across a nice cafe where the owner claimed to have the best spices for Masala tea. Masala tea!? I'll be right back!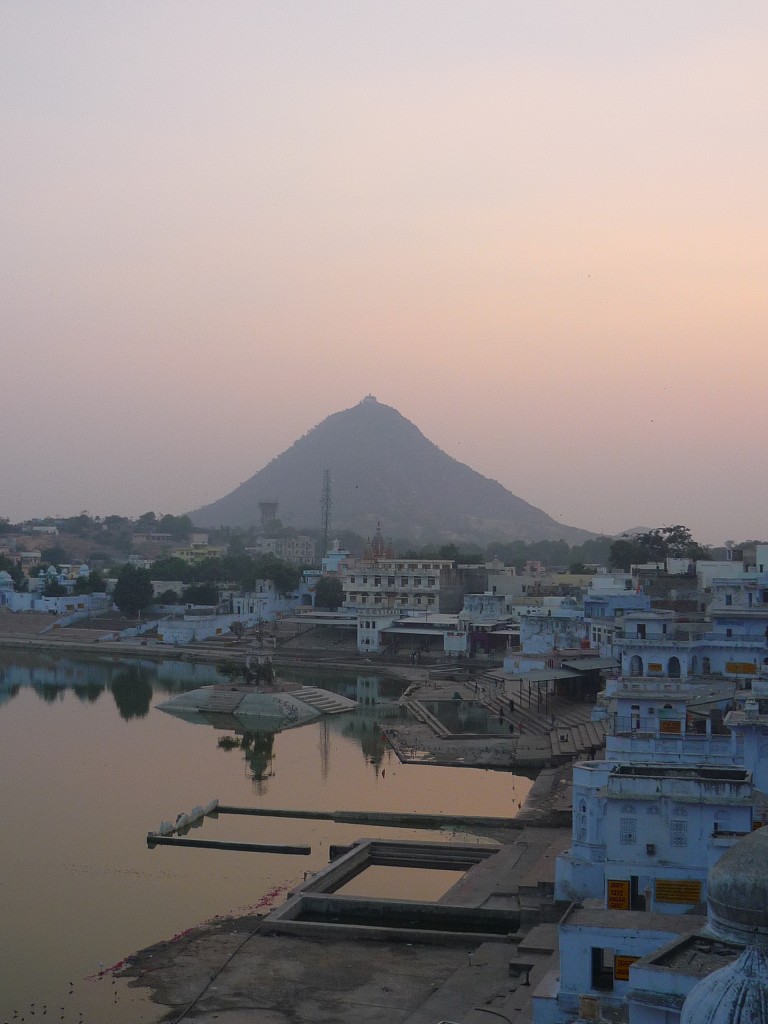 So, I went up to visit the temple which took me roughly two hours but views were gorgeous and the way peaceful.
I took my time to climb because it was hot but the 'Namaste' or 'welcome to India' by the people I came across on the way up gave me the strength to keep on walking.
I reached the temple and went inside. For the first time I bought these small white sugar balls, one of the many blessed typical foods that are offered to the gods, called Prasad.
I went out of the temple and saw a monkey.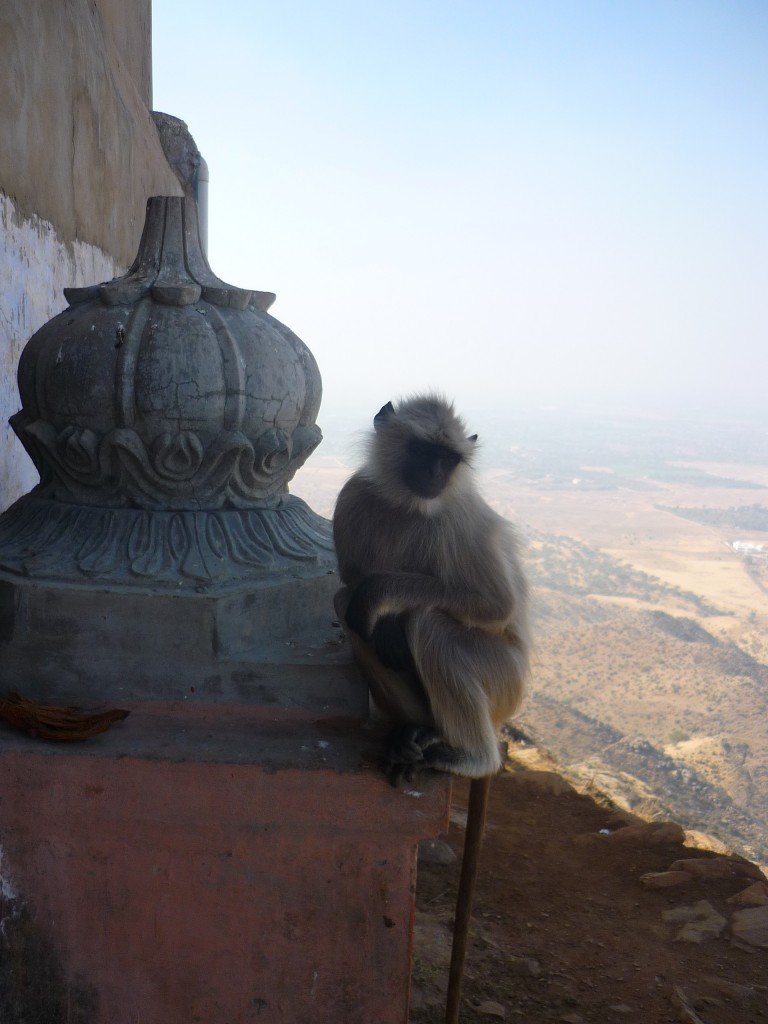 Aw, so cute! I said to myself. No, Alba, remember they can be dangerous!
It came towards me and it held its hand out. A man said, 'give one or it will get worse'.
That's what I did and suddenly all its friends came. One of them dragged the bag out of my hands and all the candies dropped on the ground. Great!
That's the whole story with candies in India. Never did I ever buy more just in case there would be any monkey prowling. Even so the story with monkeys was to be continued in the Philippines…
After having the monkey business I laughed for a while and went down to have that wonderful Masala tea that was waiting for me.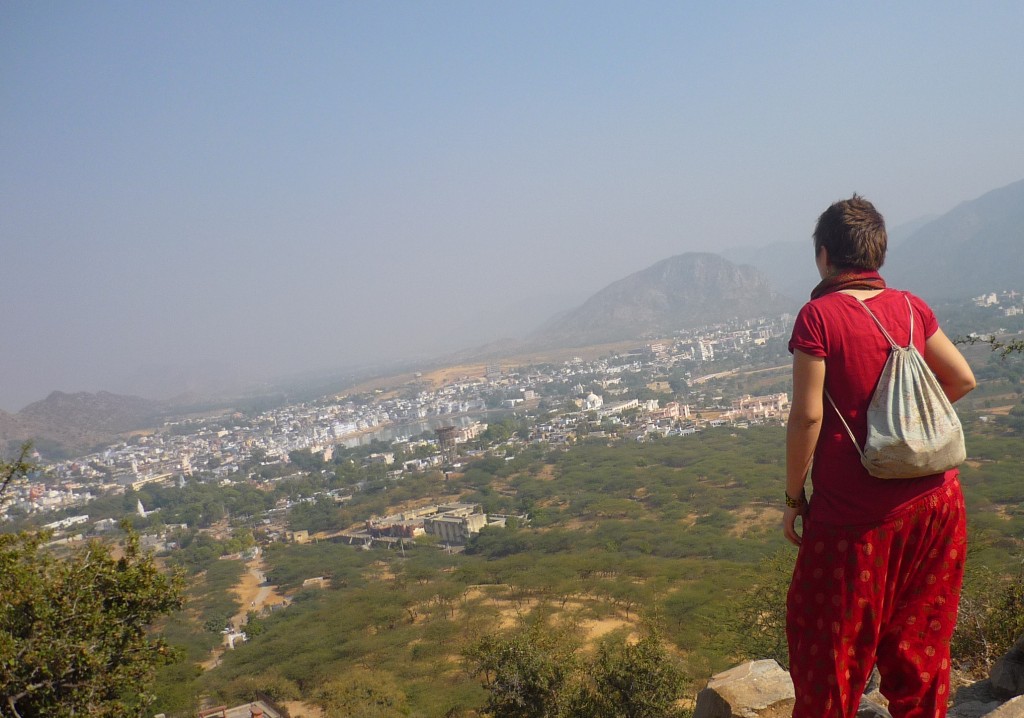 At the coffee place there was a French man and a woman from New Caledonia having a tea so I sat down with them. We talked for a while until they left.
Jony and I kept on talking, I liked his philosophy. The motto 'sharing, caring and learning' was written all over. We chatted about religions, countries and human conflicts. We both agreed that conflicts would be over if humans respected each other in our differences.
He taught me how to prepare Masala tea. Put some milk, brew the black tea and the magic spices or how he calls them 'the magic pinch'. The basic ones are cardamom, clove, black pepper, star anise, ginger, and cinnamon. However, he said he adds ten ingredients but they were told by his grandmother and are kept secret, of course. In the end you add sugar and that's all!
Mamma mia! I don't know how I've been able to live without this tea!
I wrote on his guest book, bought him a magic-spices can and I left as happy as a clam.
What I didn't appreciate so much was the Tibetan butter tea ཇ་སྲུབ་མ་ (in Tibetan) that I tried in Dharamshala made of yak butter and salt. It had a peculiar greasy taste, anyways I had to give it a try!
My next destination was Thailand where I discovered they don't take coffee unless is really sweet. It can be with condensate milk, iced or all in one.
Here they served the coffee in a plastic cup but it can be given like this too:
In a plastic cup with a very cute handle to take away or like in the picture on the right in a plastic bag directly, served in most of the street stands. Not only coffee and tea was put there but any cool drink you can imagine.
I loved the Bubble tea, a Taiwanese heritage that I also tried in that country. It can be with or without milk but always with those jelly balls from where it takes its name.
In Vietnam I loved the quietness of a tranquil coffee. It just took its time.
Vietnamese coffee with condensed milk (Cà Phê Sữa) has a unique scent and flavor which reminds me of cacao a bit. It's thick and dense and the condensate milk compensates its strong character.
Drop by drop it comes, making you desire it.
Drop by drop it mixes itself with the milk just if they were making love.
Drop by drop it finally stops and the experience you went through only can collapse when you take the first zip and get in that world of ultimate flavor.
Coffee beans are also brewed together with flavorings of hazelnut by instance which is really good.
Undoubtedly what I appreciate the most about Vietnamese coffee is that it makes you wait, it plays hard to get!
So, coffee or tea?