San Andres, Paradise Beyond All-Inclusive
Do they want to convince you that San Andres is only for all-inclusive resorts? Do they want to put a fluorescent bracelet on your wrist without even been there? Don't listen to them.
First, let's locate San Andres island on the map (before coming I didn't know it existed). San Andres is composed by San Andres, Santa Catalina and Providencia, islands that are closer to Nicaragua than Colombia. In fact there's a dispute between these two countries regarding the subject, for the island was once Nicaragua's. Some feel they belong to one of the countries, others don't pay attention to it and they feel they are from the island and that's it. The isleño rythm is something they are more interested in keeping.
We were dying to go to Los Roques in Venezuela but we couldn't because they wanted to charge 300 dollars just to get there since I was a foreigner. We had to redeem ourselves with the Caribbean. San Andres was more expensive than any other destination we had visited in Colombia but keeping in mind some basics we were able to save some money. And what the heck?! These were our last days in South America!
Tips to travel to San Andres
     Flight
Ahead on time you can find good deals especially with Vivacolombia airlines. The service (or non-service) they provide is very similar to Ryanair's so, be ready for incoherences. They cut back to everything so that they take advantage of any single mistake. You have to print out your ticket, the hand luggage can not exceed 6 kilos and skip all the options at the end of the purchase that make you pay more. Having that in mind you can find cheap tickets from Bogotá, Cartagena, Cali or Medellín to San Andres.
The entrance fee to San Andres island is 52,000 112,500 pesos colombianos that you'll have to pay in cash to the airline just by putting your feet on this beautiful land.
   Transportation
I don't recommend to take a taxi or a mototaxi from the airport unless you want to pay just because. At the airport exit everyone will tell you the centre is far away when it's just 8 minutes far, walking straight. When you start seeing dutyfree shops, you are there. We arrived at night and it's really quiet and safe.
To go around the island you can rent a golf car from 100,000 to 180,000 pesos for the whole day, the price depends on if it's electric or petrol run. (Psss the more you are, the less you'll pay. There's space for 4 Europeans and 8 Colombians).
You can walk anywhere else, it's safe.
  Accommodation
Before you do so, don't waste your energy and time in sending requests on Couchsurfing. The only person that answers (who by the way is Spanish) will tell you he runs a hostel now and for being you, you will only pay $50 per night and person. Wow, what a reasonable price!
Everything in the centre of San Andres is almost prohibitive if we compare it with the rest of the country. The cheapest room we found was for 80,000 pesos≈€26 per person, per person! This is what they call low season? With such a disappointment we stayed at the beach for the night, with our super small backpack in which there was space for a sleeping bag, bikini, towel and clothes for five days. At the beginning we didn't know if it was a good idea or not but only the fact of saving that money made us sleep well (from time to time).
Although if we make a comparison, not even in the fanciest hotels can we wake up to have these views, what do you say?:

On the second night we also slept at the beach, after the attempt of staying at El Viajero, a backpacker hostel that was jam-packed. It's one of the very few hostels that are on the island, that's why it gets full quickly. In fact, we checked if there was availability one month in advance and there was none.
Staying at the beach at night wasn't dangerous. There were actually a few that walked by and apparently pitied us or we scared them because they left as they came. There's security until 3 in the morning and I think they even saw us in the distance but said nothing. We were in a pedestrian area where a lot of people pass by either going or coming back from clubs. During the day it changes into isleña food and souvenirs stands.
It's a bit tedious to sleep there due to the wind which doesn't stop for a second and to the more than possible rains that fall at 7 or 8 in the evening or suddenly in the early morning (oops, we didn't know that). But well, for two days we can make an effort.
The only anecdote we had was on the first day when a guy almost stepped on my foot while I was sleeping and got scared when he saw us.
«Ay, peldón (sorry) girl, I didn't you», he said with a very characteristic isleño accent. «Guys, what are you doing here? Did they kick you out of the hotel? They will steal your things!»
That's when I got a bit scary but I still slept from time to time.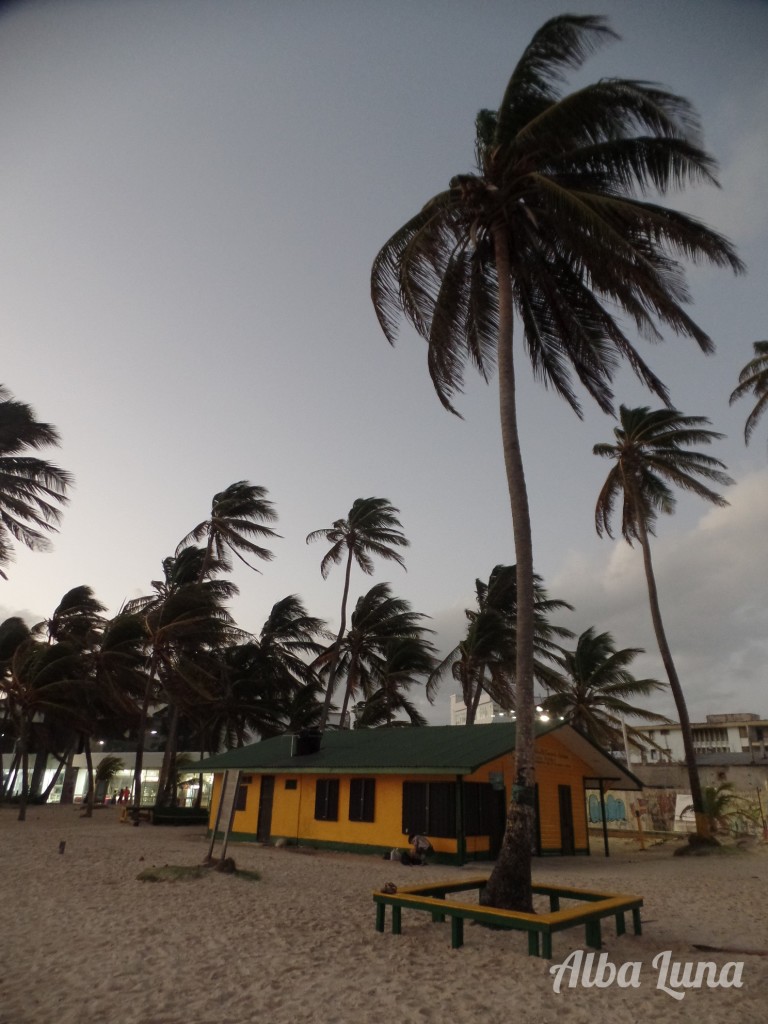 On the third day, full of sand even inside the ears and accompanied by a dog that protected us all night long, we realised we hit rock bottom.
El Bight neighbourhood, the cheapest area in San Andres
We went around El Bight neighbourhood looking for a place to stay because they told us it was cheaper to stay in that area. We walked for 15 minutes until we found Karibik Haus, a modern and young hostel that seemed like the perfect place to spend the three nights we had ahead of us. Rosi, the lady that owns it, is very nice and welcoming. She's a very particular sanandresana for she speaks German, hence the name of the hostel, and has a permanent smile that will make you feel at home.
A shared room costs 50,000 pesos≈€16 per person. Breakfast is not included but there's a kitchen you can use. It's the most expensive place we stayed at in Colombia, where we used to pay from 15,000 to 20,000 pesos but it's still the cheapest you can find in San Andres. It's in a less touristic area of the island where you can find kids fishing, locals swimming and see pintoresque and typical houses. What else can you ask for?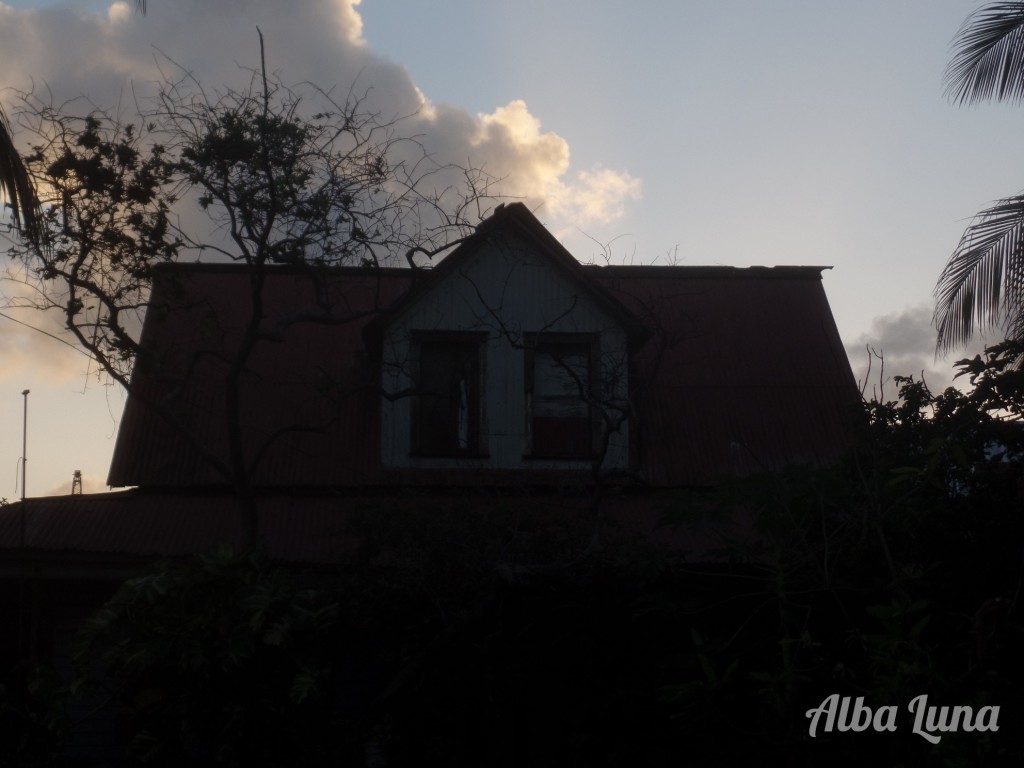 And there are also sunk and misterious ships!
 Touristy things or what to do in San Andres
There are things on the island you can't miss but be careful with prices because they vary depending on the area you go to. The most offered package is Johnny Cay and El Acuario and the one day tour is around 35,000 pesos≈€11 (if your bargaining skills are good you can get down to 25,000). Boat trip and entrance fees to the islands are included, yes they charge tourists for anything. Be sure everything is included before accepting or it will be 10,000 pesos more.
Johnny Cay
Disadvantages:
It's a very tiny island, 10 minutes far by boat. It wasn't so astonishing to me, it was full of people, food was really expensive and waves too strong. Most of tours make you stay for some hours (I believe one is enough) and later on they will take you to El Acuario and to see the mangrooves. The water colour is gorgeous but that's something you can see all around the island.
Advantages:
You are on a small island and the most unique fact is that you'll see the most quantity of dead corals in the island (that will become the white sand you are stepping on so, please don't take them home).
El Acuario
Disadvantages:
Honestly? if you have snorkelled before and don't want to have a heart attack due to the big amount of people that arrives every day, don't go. It's better if you and the fishes stay in a lost place in the island. As soon as you get to El Acuario they tell you to leave your things in a locker (paying, of course) or they say it will become someone else's. There's also the option of renting from the simplest of goggles to snorkels of every kind and even slippers.
Water and fishes are gorgeous but not those fishes of two legs that come in packs to destroy everything. There's a part called swimming with manta rays and the only thing they have is someone holding one manta ray (maybe they drug them or something?) so that tourists take pictures with it and touch and stress it. I felt really pity.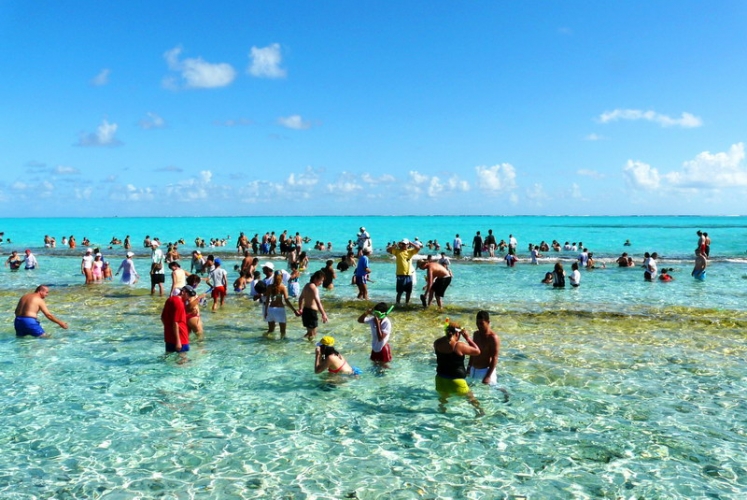 Advantages:
Since it's a kind of natural pool where the water only comes up to the waist, you can swim and see fishes of all sizes and colours (there's still a bit of waves, though).
What I enjoyed the most was driving the golf car, going around the island and stopping by anywhere we wanted and scubadiving wherever we pleased and not having to follow a group.
In our way we arrived to La Loma, the highest point in the island (120 metres) and we almost stayed halfway because the engine wasn't that strong but we made it.
You can get in the church but a girl will kindly ask you what you want to see, the church for 3,000 pesos or go up to the second floor for 4,000.
Me, playing dumb, «Nothing, I wasn't just having a look. I have a question, what's the difference between Baptist and Catholic church?»
«We don't pray, we talk to God. We don't believe in the virgin and we don't adore images.»
«Interesting! thanks» and I leave.
We keep on going around the island, singing and enjoying the landscape. Houses, strongly influenced by Caribbean and English styles, built with wood and vivid colours, cheer our way. Some are on ruins, some abandoned but they all have that weird charm.
 Interracial culture in San Andres
Infrastructure isn't the only peculiar thing on the island. Its residents are the most picturesque, those Afro-Anglo-Caribbeans consequence of the beautiful mix between English and Spaniards that dominated the island for a while and slaves brought from Africa. At the beginning they called themselves isleños (islanders) but those that came after from mainland to settle claimed to be isleños, too. From then on they distinguised themselves as natives but those continentals that arrived after started to have children and they had to be considered natives since they were born there. Since then, they used the term raizal and that's it.
They dance to the rythm both of vallenato (one of the most popular music styles of Colombia) and mento (music that comes from Jamaica and is influenced by ska and reggae) and they speak Creole, a Caribbean English that has no grammar rules. Caribeños are like that, they are from here and there, from every and anywhere, they are a beautiful mixture that combines races and lifestyles.
We could by far verify that the isleño rythm goes further than costeño rythm. It's a whole new level, they are the masters of tranquility. Why should they stress out in a place like that?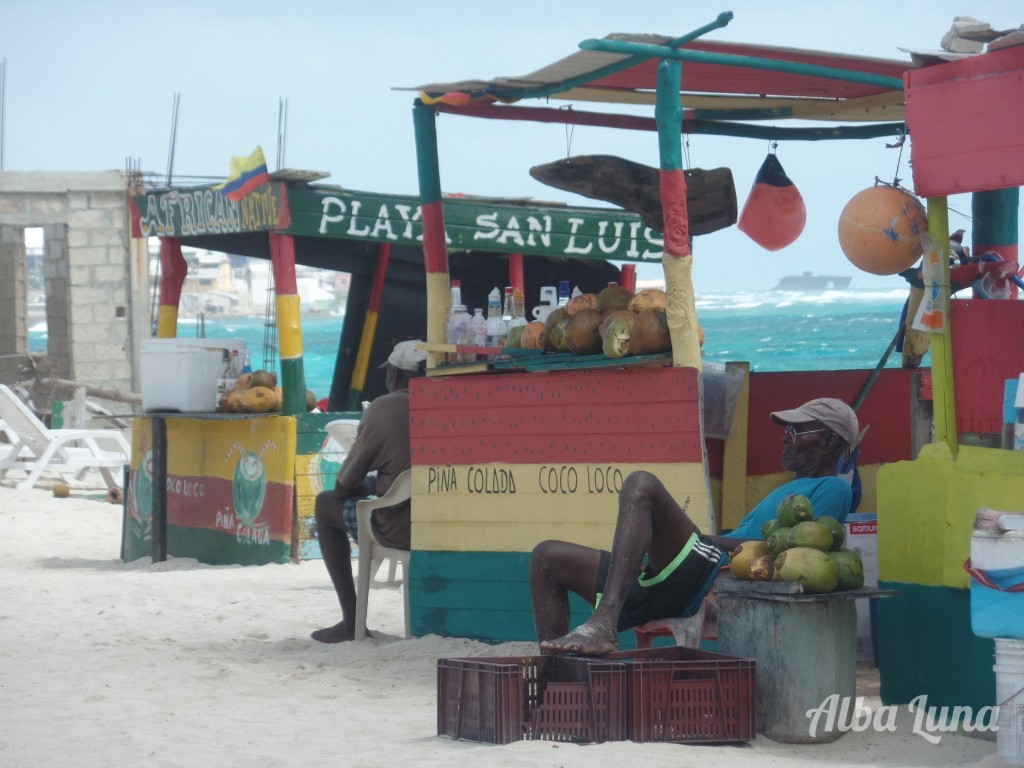 Tips to save money in San Andres
Bring food from mainland Colombia, basic things are much more expensive because they are all imported. If you like groceries from the US like Pringles, M&Ms and those kind of things, this is your paradise! Everything that comes from the US is cheaper than anything that comes from Colombia. Alcohol for instance is cheaper as they don't have taxes because they come directly from Panama.
If you happen to have a snorkel, a backpacker with a snorkel? well, it can be… bring it! You can also buy it in Cartagena or wherever you are flying from and it will probably be cheaper than in the island. On Johnny Cay they cost 30,000 pesos and you can rent them for 6,000. On any other shop at the beach it costs around 18,000.
If you decide to sleep at the beach, there's a little house that can protect you from the wind. Get ready for it for it doesn't stop for a second. In fact it doesn't feel as hotter because of the strong wind. UPDATED: They are being more scrict at the airport, asking for real bookings for the whole stay.
If you rent a golf car I recommend that you take a big stone so that you can put it behind the wheel in case you leave it on the only ramp of the island. Yes, our car went backwards!
– – – 
Would you like to learn Spanish before visiting Colombia?