From Machu Picchu to Ollantaytambo
We get down from Machu Picchu, we are tired and really need to rest. The descent takes an hour and a half but on a stairs path. We don't feel our legs anymore.
After that, two more hours and a half wait for us to get to hidroeléctrica. Behind the train station, we are lucky to find a man that takes us to Ollantaytambo for 20 S./, when a taxi or van would charge double. There we go again, to that mad road. The driver tells us that the Peruvian government doesn't want to fix it because there's the option of taking the train (and getting more money from it) and won't offer another alternative.
We arrive to Ollantaytambo at night and look quickly for a place to stay, we rest like babies. The next morning we go to a couchsurfer's house that offered to host us. With aches and pains we visit this village full of magic and narrow cobbled streets. Traditional costumes decorate the bodies of local ladies and colours invade every space. I smile and go photo-hunting to the distracted Quechua ladies.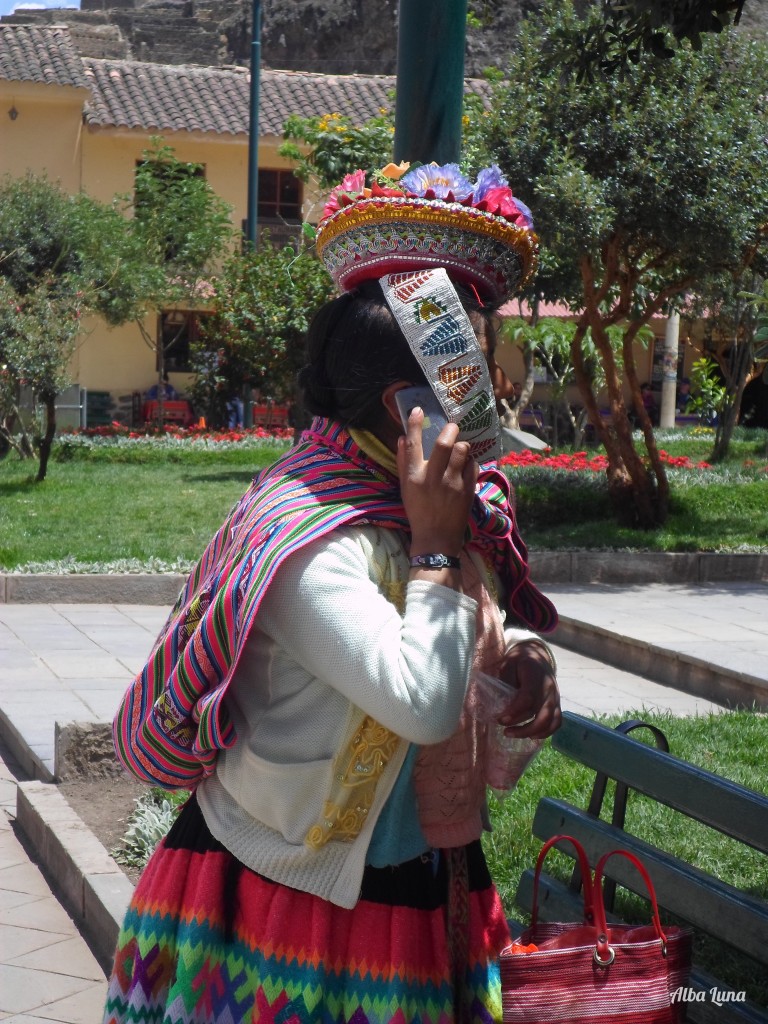 We quickly learn that local women stay strategically in the corners with little llama and sheep pets so that tourists take pictures and then beg for money. One of the ladies invites me to take a picture with her, by that time I didn't know, poor little thing!
Everything was idyllic, she only spoke Quechua and smiled to us. So interesting! I said to myself. And then this happened:
She keeps on talking and asks for a sol for the picture. There the magic was broken. We leave a bit sad, claiming that we don't speak quechua.
Leaving anecdotes aside, the place is gorgeous. I keep on taking pictures to locals but this time more discreetly, or so I try.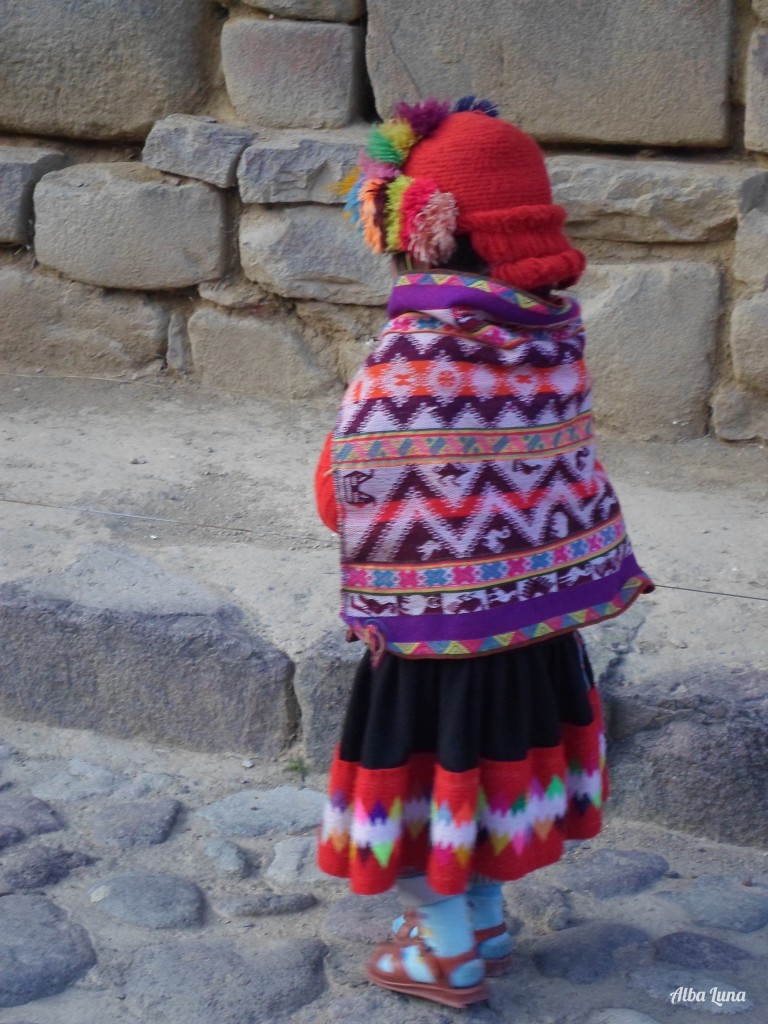 Local market in Ollantaytambo
As usual in Peru the market is a good opportunity to get to know the traditional cuisine. We go around and see people eating, oh how Peruvians enjoy eating in the streets!  We join them with delight.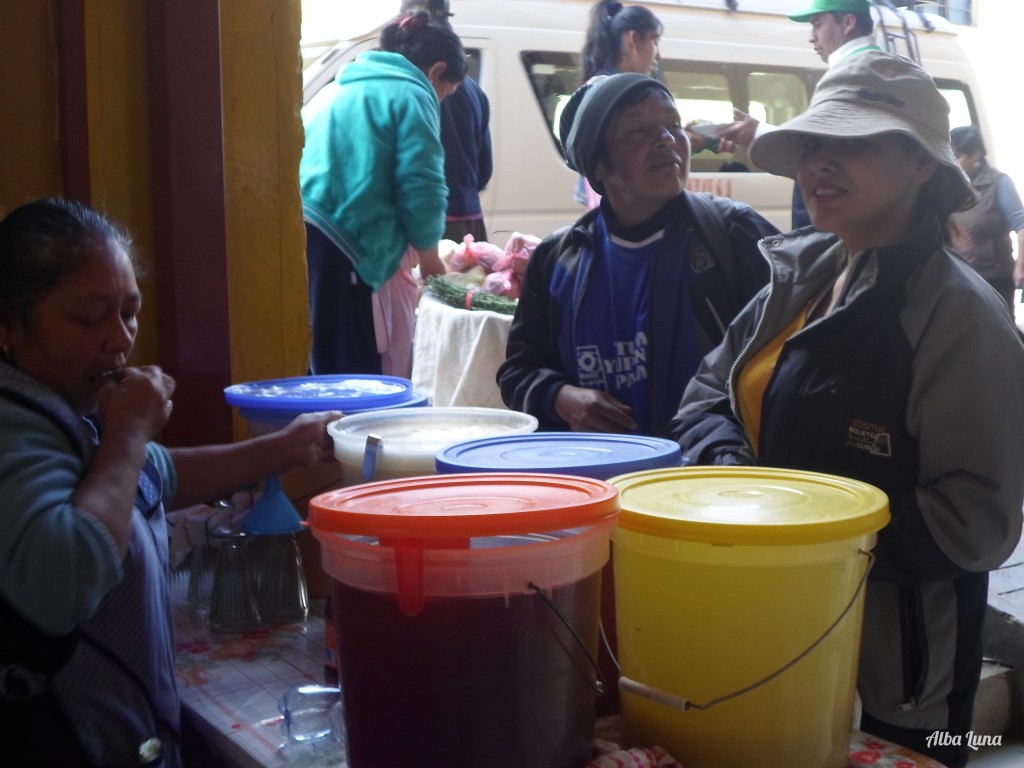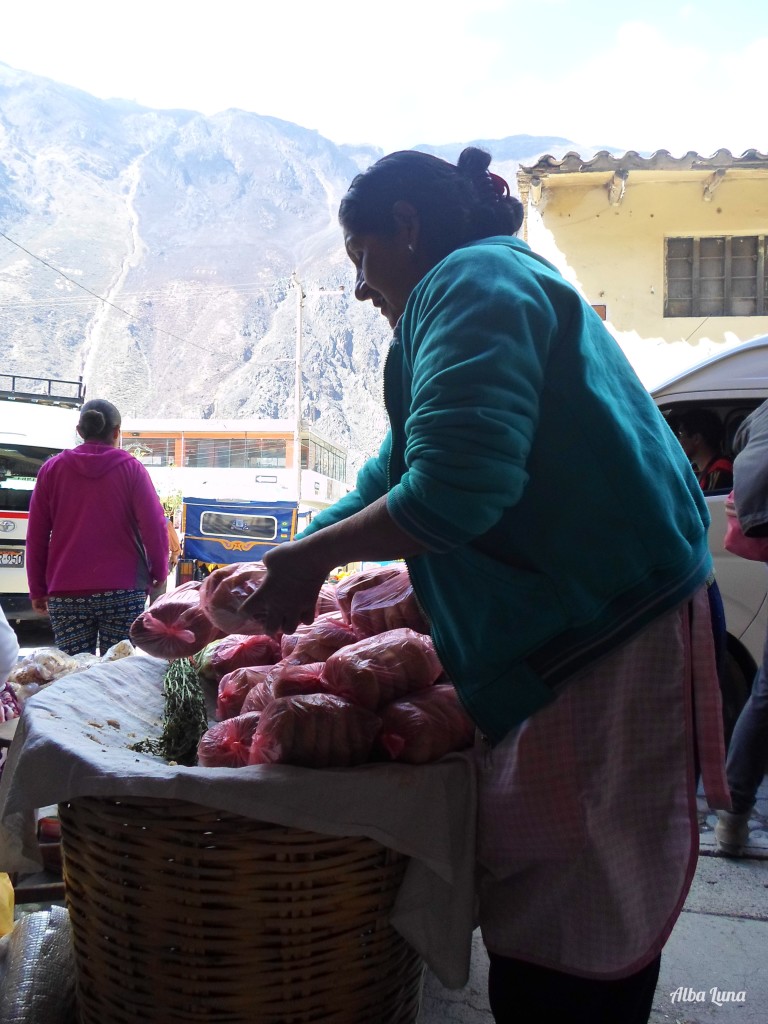 It's said that Ollantaytambo was a militar, agricultural and religious centre sited strategically to control the Inca Sacred Valley. The area is a ceremonial centre of purification and cult to water. The archaeological site is composed by overlapped terraces, made of big stone blocks that can be seen from below.
Inca past of Ollantaytambo
The Inca ruins in Ollantaytambo are traces of the village that Pachacutec ordered to build. After suppressing its inhabitants and stealing their lands, imposing agricultural constructions, checkpoints and observation posts on the hills and domestic and ceremonial buildings were constructed.
Ollantaytambo means 'rest area to observe from above' (Ollantay, from aimara means to observe, to look from above and tambo, from quechua means rest area). There's also another theory that says it received its name from the general Ollantay. In order to pay tribute to its name we decide to view the Sacred Valley of Incas from above.

Via Ferrata in the Sacred Valley of Incas
Thanks to Natura Vive we do via ferrata for our first time, reaching a height of 3,300 metres (Ollantaytambo is at 2,900 + 400 for the climb). First steps of ours are shy, we are a bit afraid but we soon get in the mood.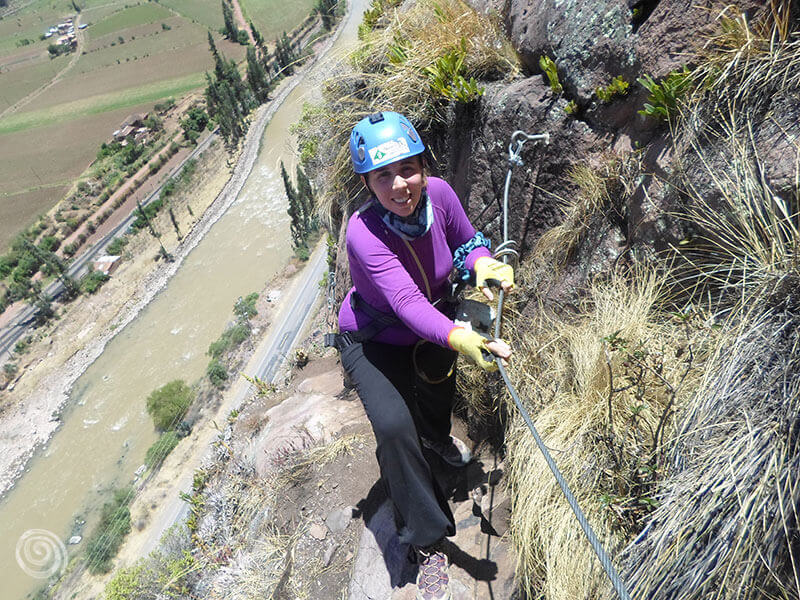 Views are astonishing and although we have some difficulty breathing from time to time due to the height, we really enjoy the experience.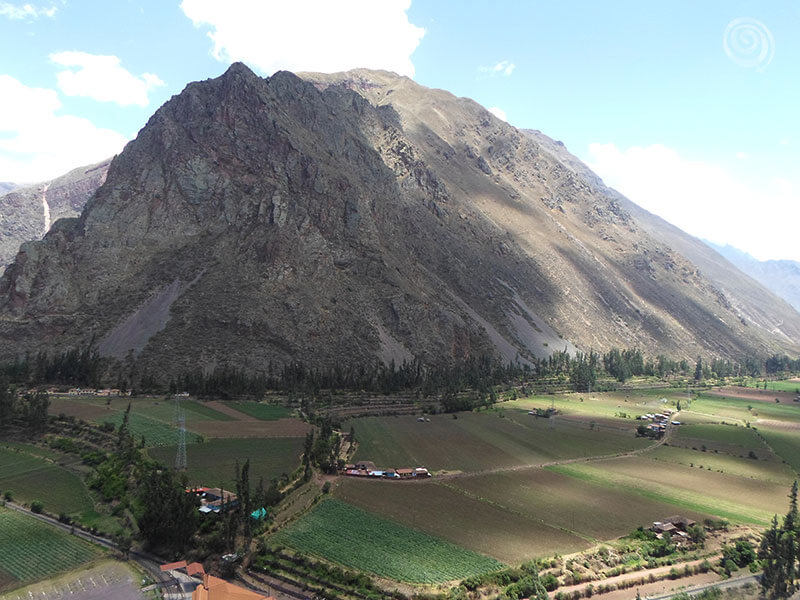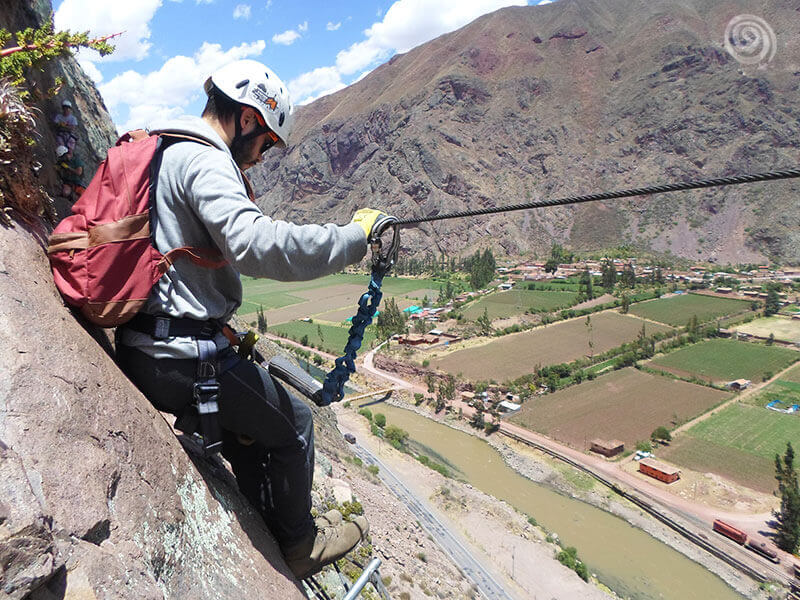 Once we reach the first phase, we celebrate it.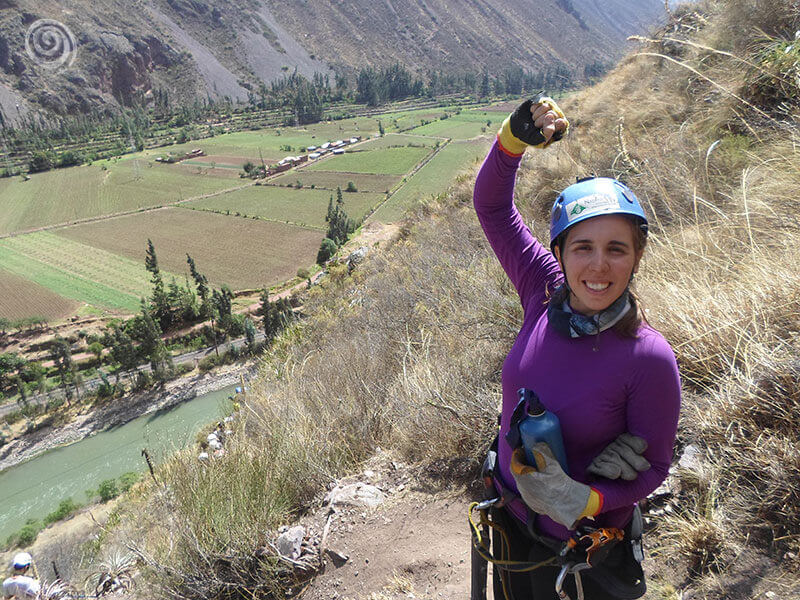 We observe the hunging hotels, built at 400 metres height. Staying there for one night is definitely not for the ones that get dizzy easily. There are several suites, transparent all over, from where to see the Sacred Valley or stars at night. It's one of the most unusual hoteles in the world and is considered as the most extreme. Would you dare to sleep there?
Having crossed the scary bridge, we get to the funniest part, the zip line! A descent by six cables, some of them pretty long. We must go down all the way we climbed!
Guides were very professional and made our experience more pleasant with their jokes and anecdotes. We go down the last stretch, happy with this new experience. There, in the Sacred Valley, we left our adrenaline and our accumulated fatigue.
Places to see in Ollantaytambo
The Inca fortress.

The Inca granaries of Pinkulluna.

Local market where you can have breakfast for S./2 = €0,60 and have lunch for S./5 = €2) Avoid the plaza for eating out if you want to save money, the market is only 3 minutes away.

Sacred Valley has a lot of towns to visit as Moray, Maras and Chinchero.
– – – 
Would you like to learn Spanish before visiting Peru?