Visiting Lima, a Colonial City
Lima is worth a visit but a quick one like the one you pay to those relatives you don't feel like visiting but you are committed to. Since the moment you get in the metropolis its odour of gas reminds you that you are in a big city with huge pollution that eats everything on its way. The incessant noise is something I won't miss.
From the airport the only thing you see is industries and grey buildings that don't invite you to know more but fortunately there's more. Once inside, the city eats you, it makes you go to its rhythm, running from one place to the other, avoiding cars, motos, latin tuk tuks and every kind of monster on wheels.  That's what you get in big cities, either you eat them or they eat you.
It's difficult to go unnoticed. Once in the city centre there are some men that insist on selling marihuana to us or that we have a tattoo. It may be because I'm blond, it may be because I look a lot like a gringa. Whatever it may be I'm an exotic item worthy of indiscreet looks.
At a first sight Lima is not pretty but if you get in its hidden details, there are some gems to find. If you look further there are some unattended and forgotten balconies that change the scene.
They remind me a bit of the ones  in La Laguna, Tenerife where the so called colonial style started and served as a model for most of the metropolis that were born in America.
Irony comes to visit when you are in Plaza de Armas and you are told Lima is not colonial for most of the buildings that decorate the plaza were built in the 30s.
From the colonial period only the fountain and the builing called Casa del Oidor remain (house of the listener) known as the magistrates that managed justice and whose job was to listen to people's complaints remain.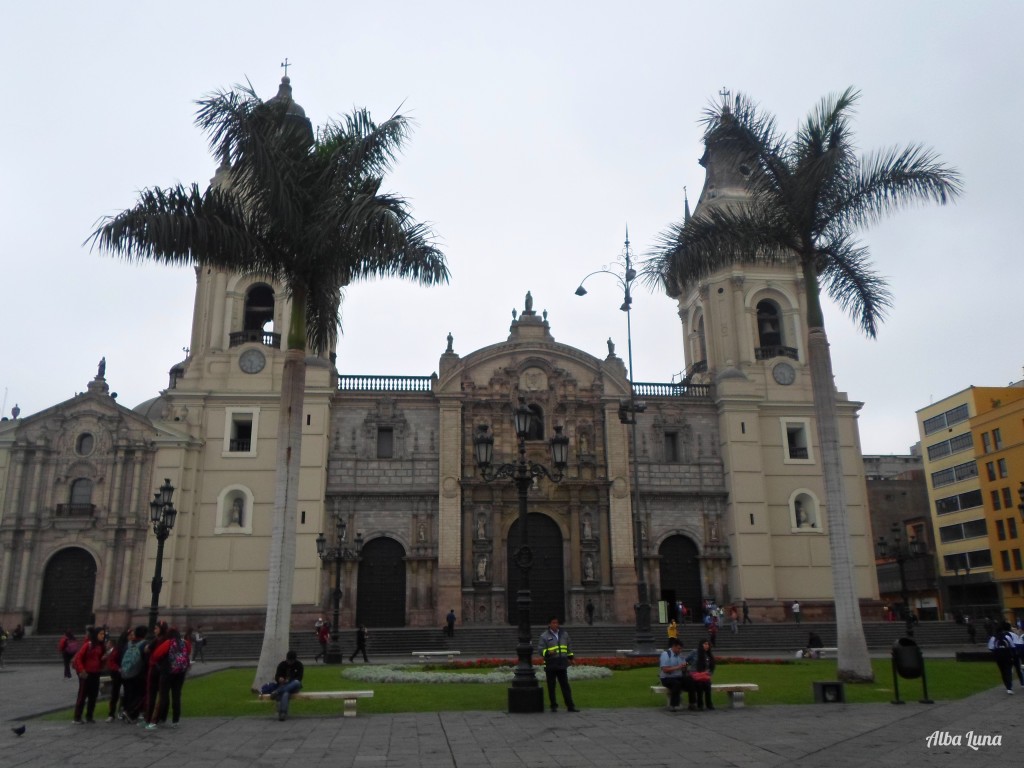 A curious fact about the fountain is that the animals that decorate it represent the submission of the native people to the Spanish sovereignity. The animal that subdues is the lion that represents the crown and the subdued is the inca people. These ancestors of mine as usual trying to be the centre of attention.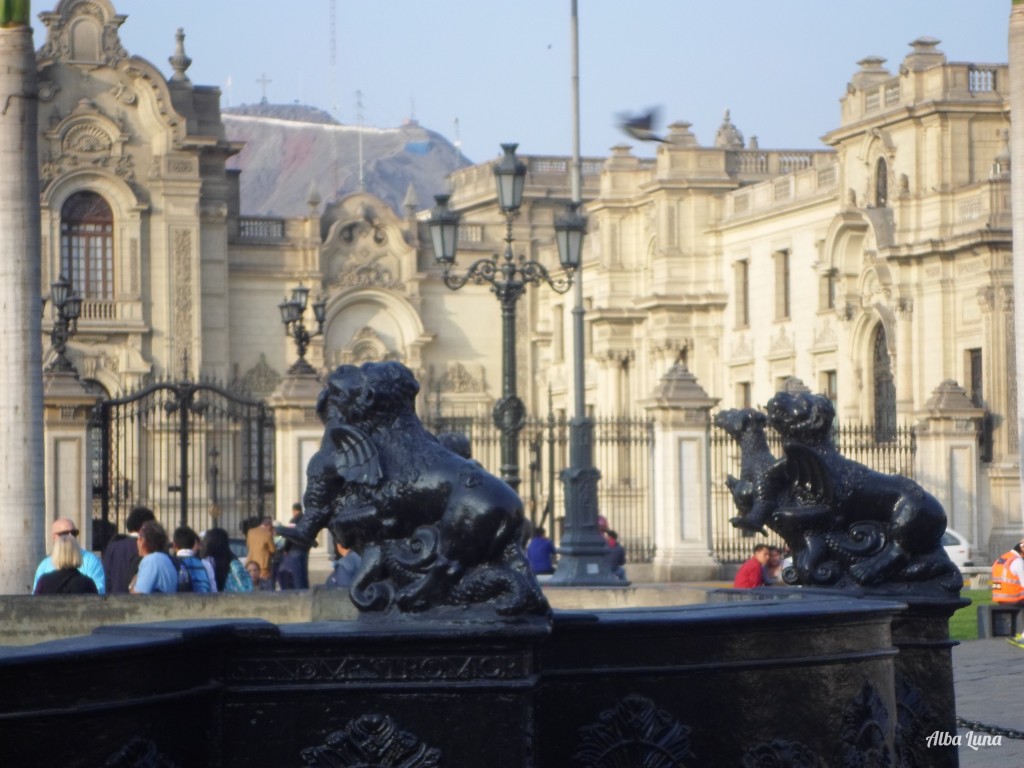 We keep on walking, in this grey city in which Latin colours don't shine as much as I've seen in others, the cold weather of the season doesn't let it show off as it deserves.
As we decided to eat the city instead of it goobling us down we try everything we find on our way. Food stands catch my attention; every corner represents a new opportunity to get to know Peruvian cuisine first hand, as it must be done.
Ají, sopa de gallina, seco, ceviche… Tasting the country I keep on getting into the racket of this city that's always on a hurry. This capital, a reflexion of its immigrant character where people from all around Peru come to live an exhausting life.
But If I had to chose only one thing from the city I would take with me the candidness and wisdom of the grandma, our Peruvian grandma. Our couchsurfer's grandma, a friendly, peaceful and homely lady that welcomed us with a smile full of peace and calm. Her warm laughter made my stay more pleasant and with her I stay to keep on discovering Peru.
– – – 
Would you like to learn Spanish before visiting Peru?