The Historical Region of Bohemia
I wake up enthusiastic at 5 am, a new destination awaits. I leave the camp listening to birds and following my way.
From train to train and it keeps on going.  There are all kinds of people in the cabins, the ones that say Ahoj!, the ones that say Dobrý den! and the ones that say nothing. I smile and repeat what they say, that works in every language.
I take the last train and an Asian girl that's in front of me asks me if this train is going to Kutná Hora. I nod and tell her that I'm also going there. We start talking, she's from South Korea and has been traveling around Europe for some months. We decide to see the city together. 
Kutná Hora
This UNESCO city receives its name by the silver ore of this area and it literally means 'carved mountain'.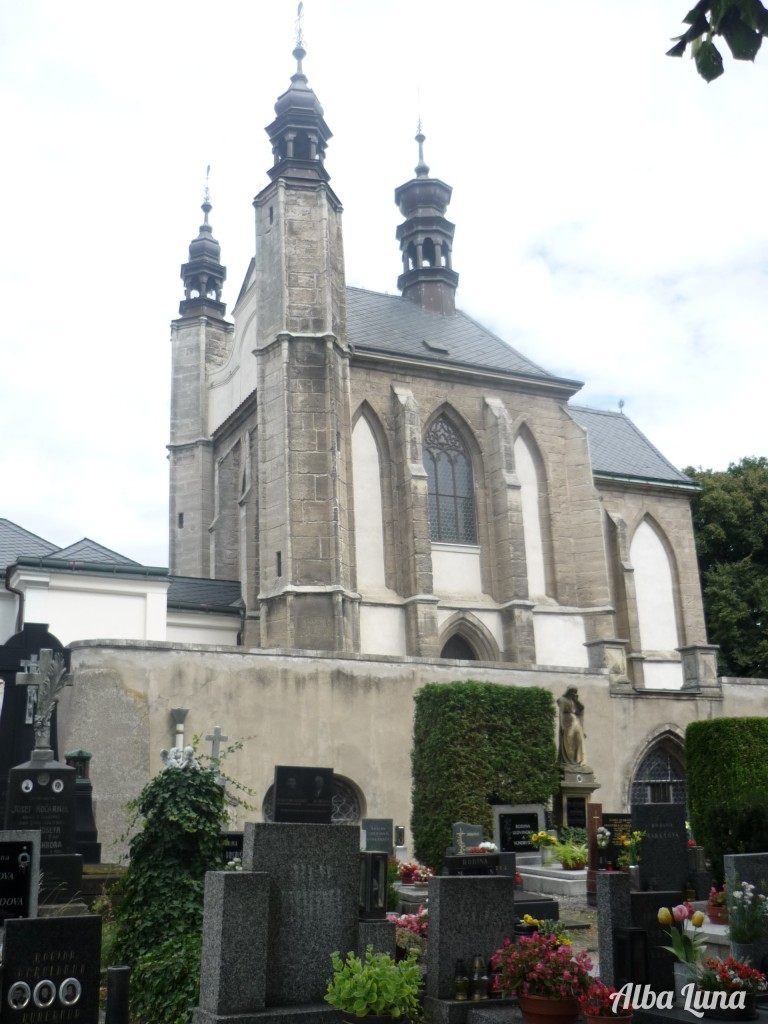 We start in the suburbs, in the area of Sedlec, placed 1,5 km from the city. Here's where some of the most important monuments of Kutná Hora are located.
The ossuary, contains around 40, 000 human skeletons, placed as decoration from shields to lamps.  The truth is that there's no space for much and tourists crowd together in every corner. The chapel is very small but it impresses to see what they did with so many bones and skulls.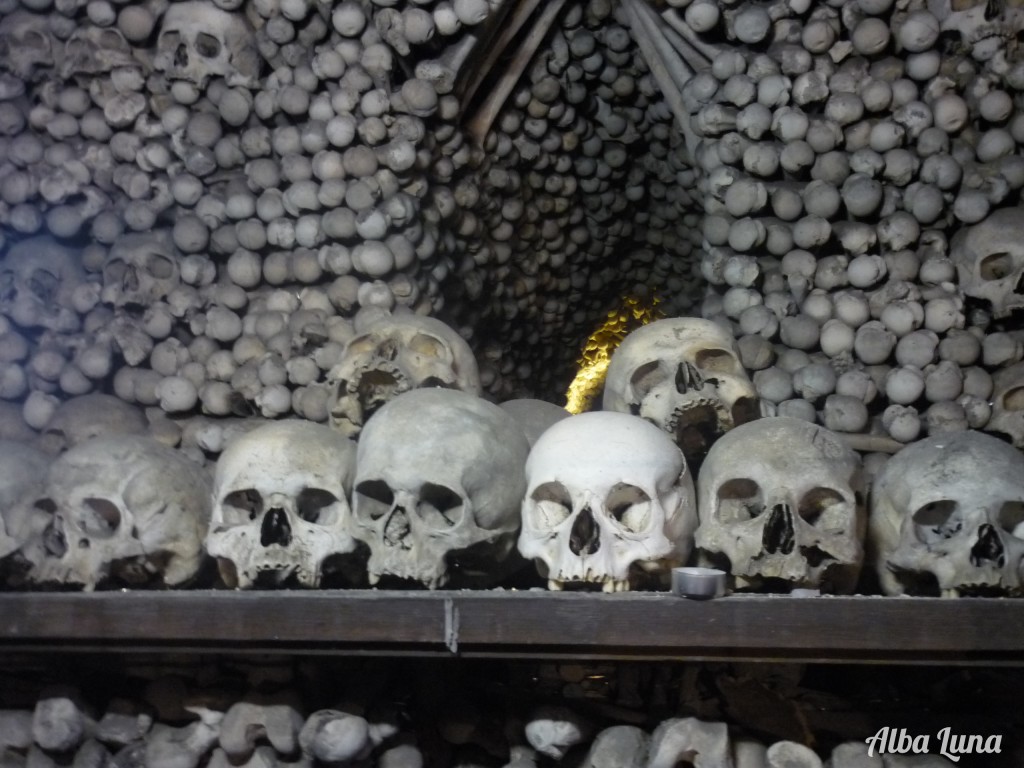 It's said it was during the black plague and after hussite wars when they received thousands of corpses and there was a time when they had to extend the cemetery. When bones started to exceed or to lack space, they hired a carver to put the bones in order.
The result is creepy, a small chapel that on the outside goes unnoticed but inside is frightening. It maybe didn't surprise me that much because La Capela dos Ossos (Bones' chapel) in Évora (Portugal), of bigger size, comes to my mind and I play to compare both.
Around the chapel there are some tombs covered by week, are witnesses of the past of this area.
We keep on walking this time around the centre until we come across St Barbara's Church which construction was started by the citizens of Kutná Hora with the intention of competing with St. Vitus Cathedral of Prague. No wonder!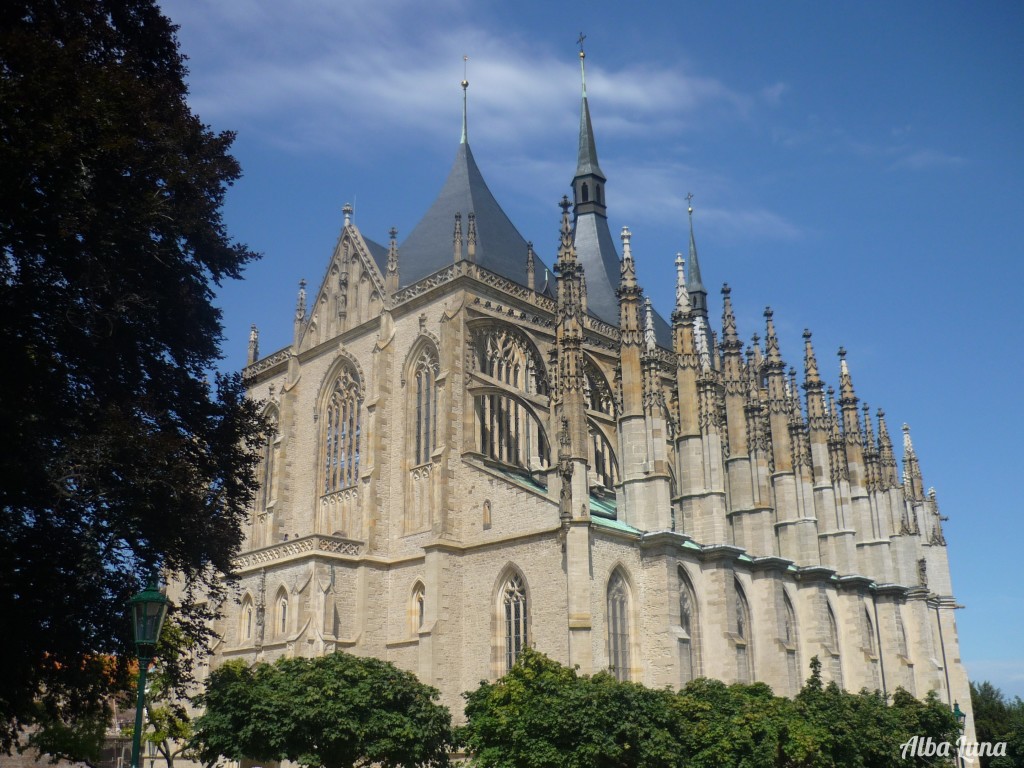 The interior of the church is huge, of great height and its colourful stained glass windows attract my attention and I stay fascinated.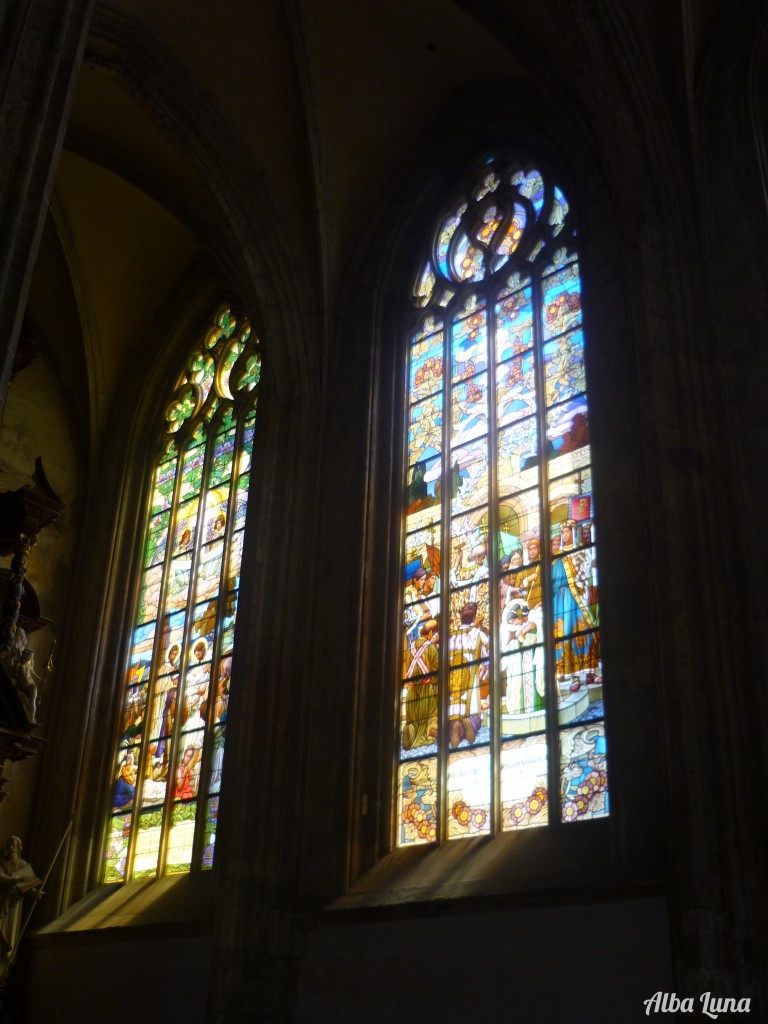 You can go up the roof and see the city. Behind the church there's also a park connected to a river that invites you to sit down and enjoy the views.
The Jesuit College on the right and the St Barbara's Church in the middle, we say bye. See you soon!
I go 'home' but not before passing through Hradec Králové. I'm tired but I'm going to take a quick look at it. Anyways I have to wait for the next train… 
Moving around Czech Republic in train is very convenient, easy and cheap. You can print the schedules in any station to know where you have to transfer and they are very punctual. 
I get in the city, go for a walk and breathe its aroma. I steal its fragrance. I pity her, she doesn't know. I leave again like a fast horse.
I sometimes like to see cities that fast, what you see is what there's in front of you. You get with you another destination and you can point it out in a map, at least.
I go deep into Czech cities, in its culture, history and past, to understand the present of its people. And I'll keep on exploring….
More about Czech Republic
Czech Republic in depth: Moravia