Vietnam by Train from Da Nang to Hanoi
I'm still in Vietnam and after spending some days in Da Nang, I get on a train destination Hanoi (Hà Nội ). There's something about trains that I love, I had the chance to discover it the summer of 2012 when I decided to explore Czech Republic and Poland from end to end.
Not only that but there's something about ramshackle or not so modern trains in specific that relaxes and calms me down. Leaning out the window I reflect myself in another world, I observe life passing on in a more calm way.
A 15 hour trip along the coast of Vietnam
From Da Nang to Hanoi I discover the clattering of solitude, a lair that moves me away from the world. 15 hours separate me from another reality and I ramble in the dead minutes of every corner.
I lean out the window. To feel the breeze while I observe my surroundings captivates me and I merge with the greeness of this landscape. I exchange some looks with stragglers farmers that keep on their daily routine or children that wave me off from the distance. I see the sea and the mountains, I observe life moving and in the meantime I get into the density of this new culture.
A lot of things can be done in a train that lasts 15 hours and where nobody speaks a word of English. A lot.
What to do in a 15-hour train ride
Or what to do in any train in the world that will take more than 10 hours. This time we'll get a Vietnamese one as an example. 
1) Let's start by taking pictures with the windows open until the inspector comes and spoils the fun. He says something in Vietnamese while he closes the window and I think it's clear… We can't stick our heads out of the window and that was the funniest thing to do!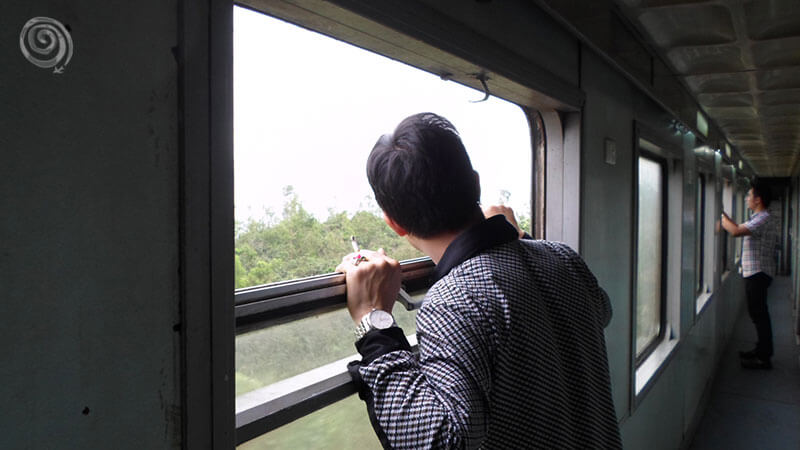 Just my luck. Moving right along…
2) I take a video so that everyone can see how creepy the train iss. The truth is that's even scarier than in the video. Don't miss the second 23, it's key for the scary of the moment that goes in crescendo.
3) I take selfies too, of course. With that phantasmagorical aura.
4) I think and think over about how I'm going to explain my 'roomate' that I need his phone to call my friend because mine doesn't work and I need to tell her that we will be an hour late.
After trying to reach him in English, French and some gestures, I drew. Let my art be free, then.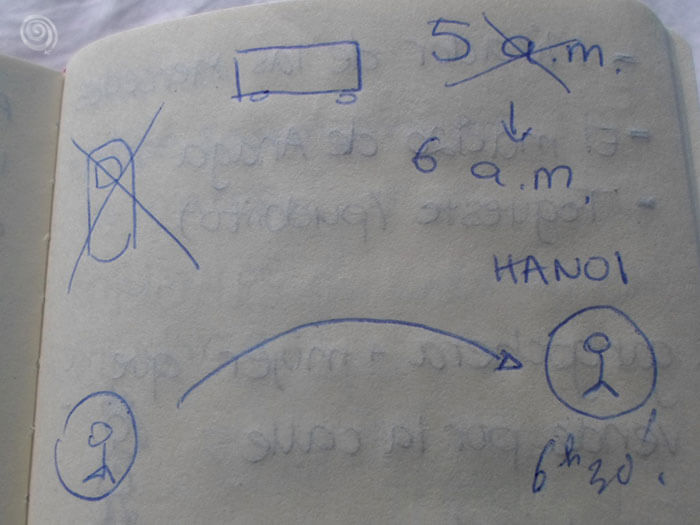 Oh my! How did I manage to win so many drawing contests at school? Hopefully the guy was very creative and understood me.
Explanation: what's in circles is supposed to be people and what's up is a train. Yes, I know, I was nervous!
5) Fill myself up and keep on doing it because there's nothing else to do.
6) I try to read but due to the lack of light I put my headphones on and take a nap.
7) Oops, the nap gets out of my hands. I drool over thus I wake up. I look at the watch, we are not even half-way so I fall asleep again.
8) I surrender. Another guy just entered the 'room' and I go to sleep again. I sleep with the fear that the train will leave and I'll pass the stop and get to New Zealand. Well, thinking about it that would be cool, wouldn't it?
I think I arrive to my destination but I can't see clearly with the eye boogers and the darkness. I get out of the station, it's chilly.
Arriving in Hanoi
I can't believe I find my friend Van, I've survived! I met her in Romania in an international congress because she was living in Finland by that time. One year and a bit later there we were, in another continent, in another reality.
She takes me in her motorcycle, I'm starting to get the drift. One way or another we have to get ready properly because on the motorcycle it feels even colder…
Around Hanoi by motorcycle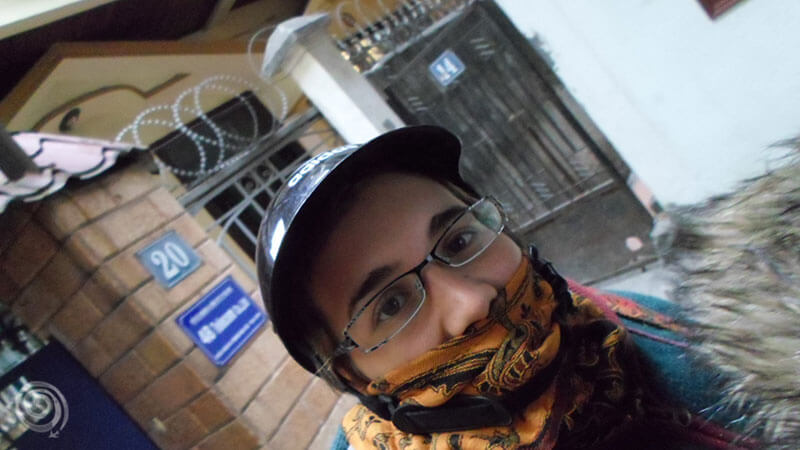 Vietnam keeps on surprising me with its motorcycles, in which anything you can imagine can be carried, its street sellers and communist propaganda.

I stayed in Hanoi for some more days, trying to find what's beyond that chaos and noise. Rediscovering the silence in a city that invites to rush.

– – –

  More trips around Vietnam and Asia
The first part of this story:
Travelling in and around Da Nang

: a city where I got to enjoy the beach, the mountains and some iconic places like the Marble Mountains and the Monkey Mountains.
Summary of 6 months travelling around Asia: