Filandia, a Lovely Town in the Colombian Coffee Triangle
We are still travelling around the coffee triangle, that triangle in which I don't know if I should get crazy smelling coffee everywhere or stay forever in its charming towns. From Armenia, our strategic point to get to know the area, we went to Filandia. Our couchsurfing host, a lovely person, told us that Filandia was less touristic than Salento and was more charming for that reason.
The truth is that he was right and as soon as we got there we let this coffee town captivate us. Doors frame's colours get mixed with the ones from the windows, creating a street art masterpiece.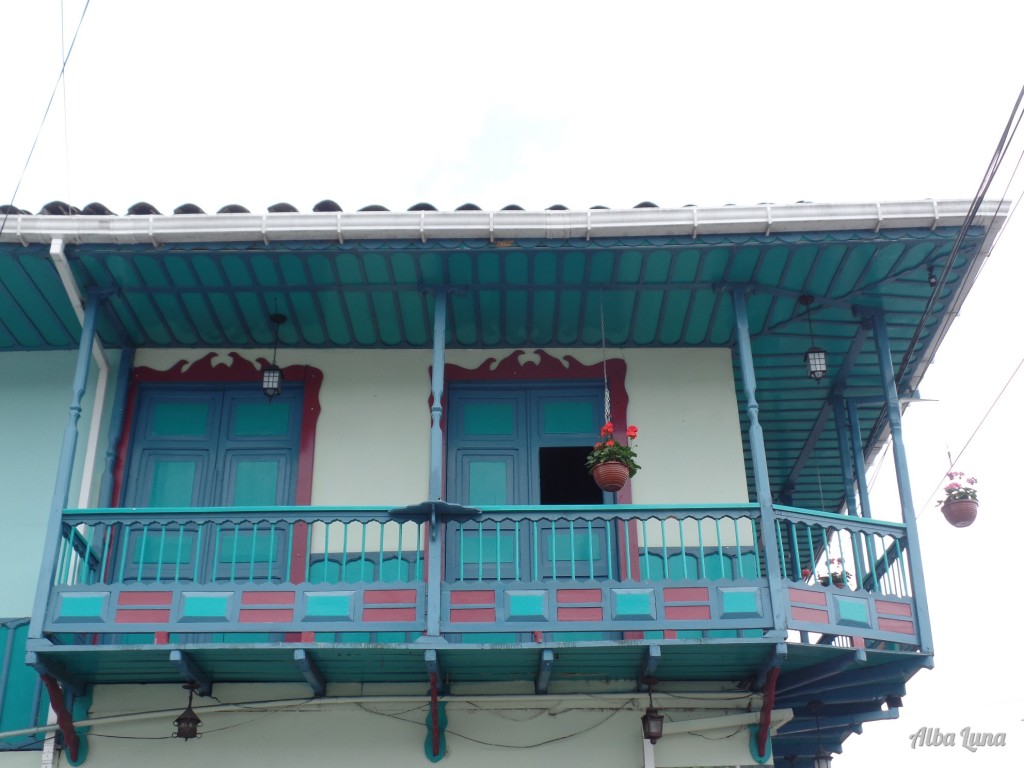 Country folks are quiet, take their coffee at all times without probably realising that their village is one to admire, or they maybe do.
They proudly declare that this is the prettiest town in Quindío, home to the best coffee in Colombia (and I dare to say of the world). They announce it without statistics or numbers, it's enough for them to have a sign in the main plaza that reminds them of it every day, between coffees of course.
To walk its streets is to feel the tranquility of those colours that make you get into a parallel world. It's so cute that there are even calves driving!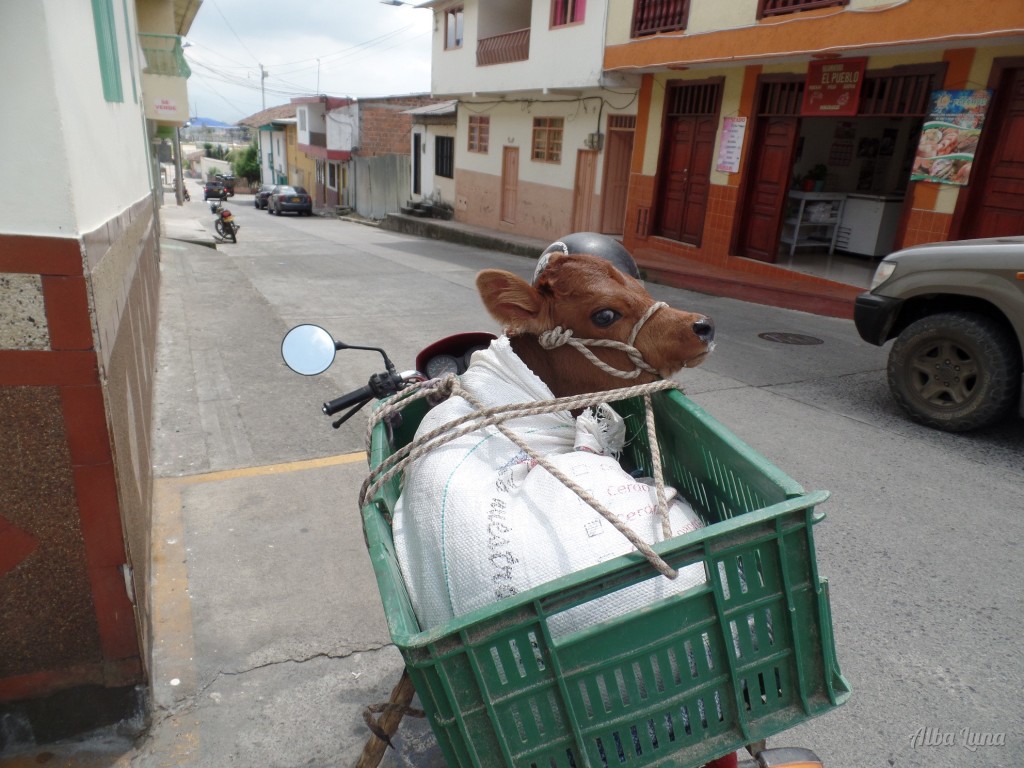 The typical costume of  peasants in the area is discreet but elegant. It consists of a hat, a white shirt, dark trousers and a cloth on one shoulder.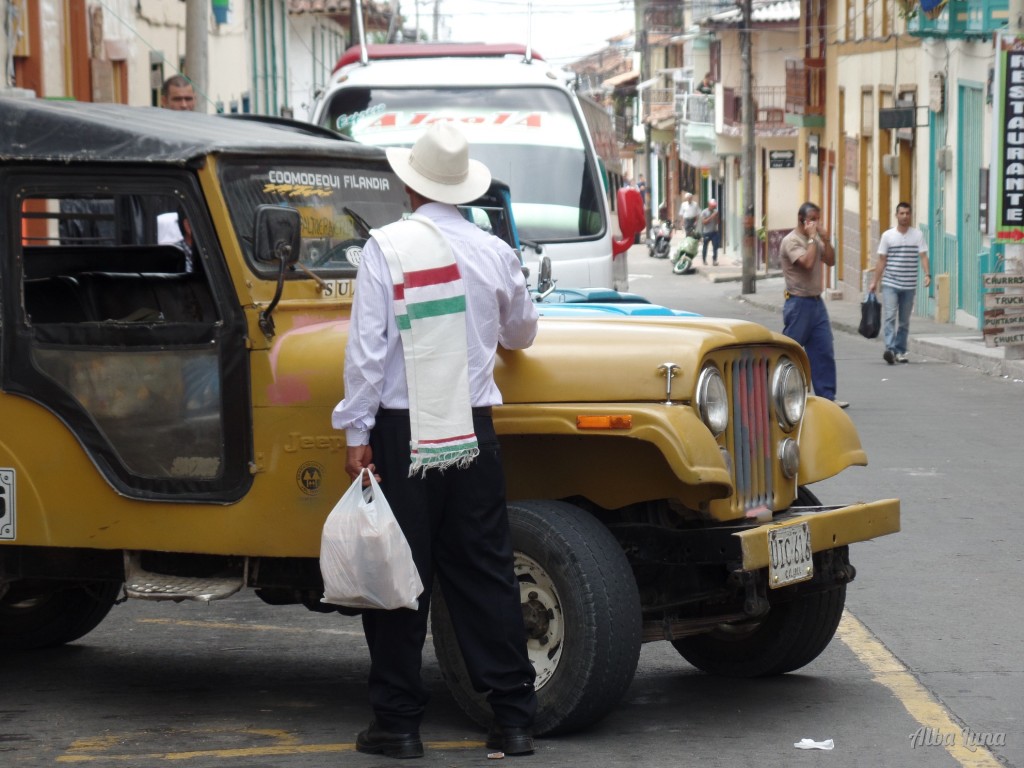 In our untiring struggle of finding the best pan de bono in the country, we went ot one of the cafeterías in the main street to taste it. With coffee, of course!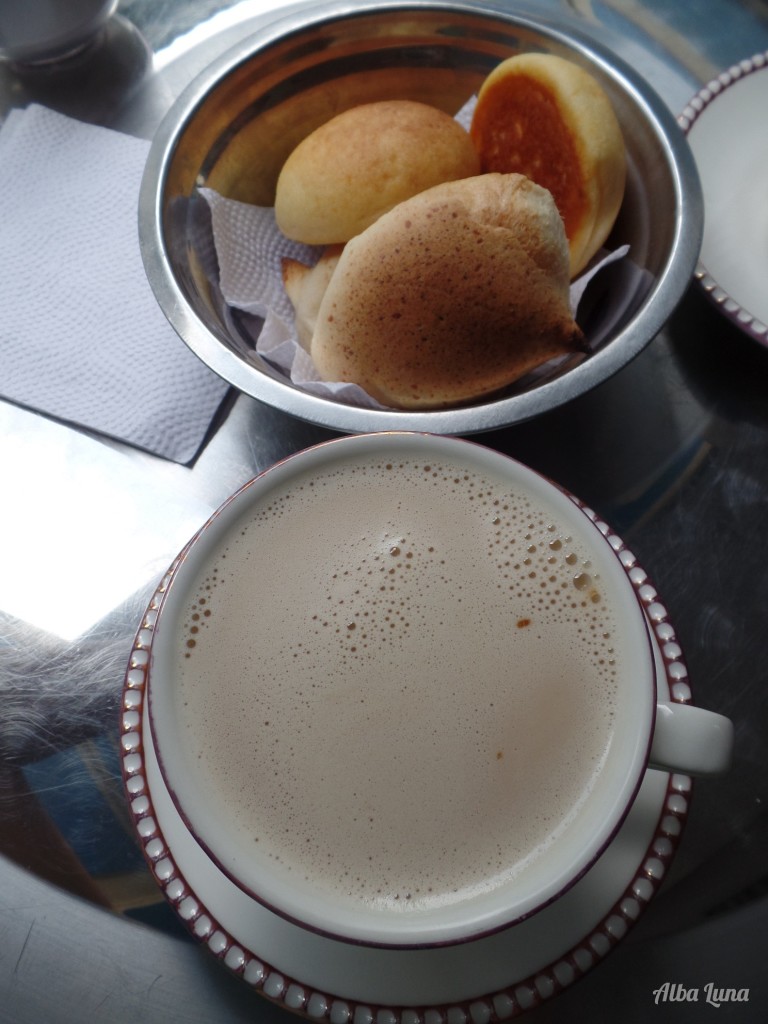 The truth is that it left a nice impression but just in case, we kept on trying pan de bono everywhere we went. Just in case they ran out of it or something. If you haven't tried it yet, you should! Pan de bono is a small and rounded bread with the perfect balance between cheese, manioc and flour. It's soft and fluffy. It's the perfect snack for any time of the day!
Swirling around the streets of Filandia I wonder if locals are right and I decide that for a day and for me, Filandia is indeed the prettiest town in Quindío. Probably tomorrow I will get to know another one that's more charming or less, with its own touch, with that certain about it. That something that makes it different and special. That's exactly what's pretty about walking around the towns of any country, each of them has its own distinctive feature.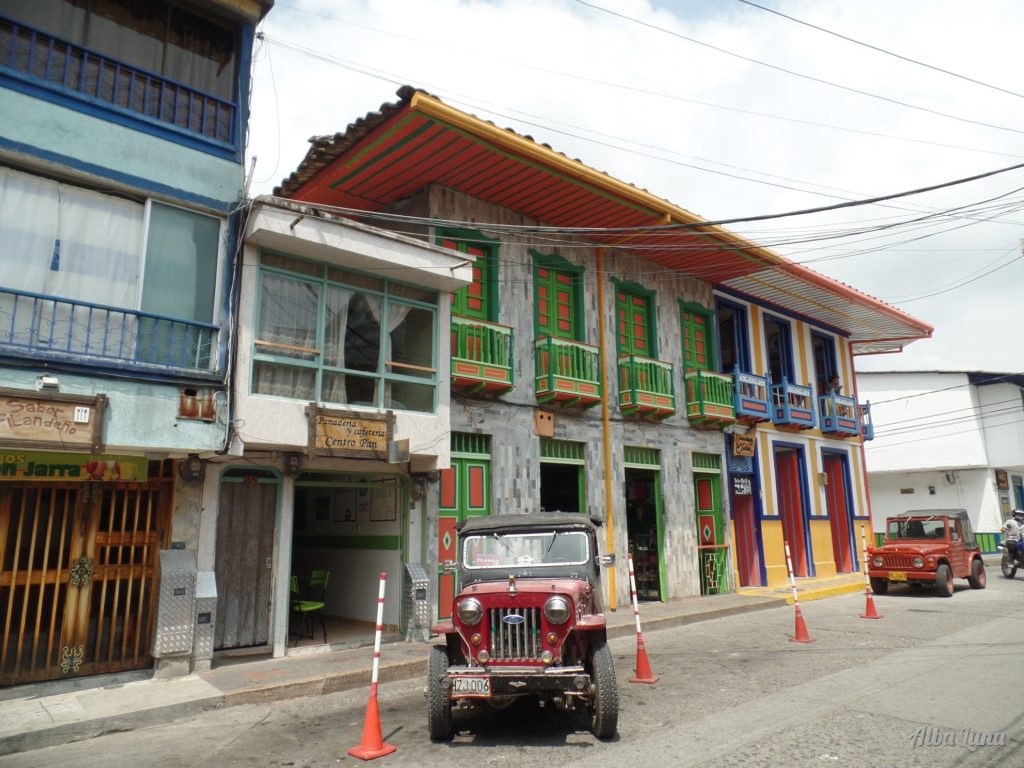 Towns are undoubtedly something I've enjoyed a lot in my way through Colombia; its kind people, its typical food, those conversations with strange people that end up being not that strange and its unique nature. The uniqueness of each region, each ethnic group, each language. I enjoy everything again and again.
I sit in plazas and listen to that local accent in order to highlight its differences and peculiarities. I sit down and observe kids going to school, workers, sellers, flowers, fountains, balconies and colours. I observe the magic of each place.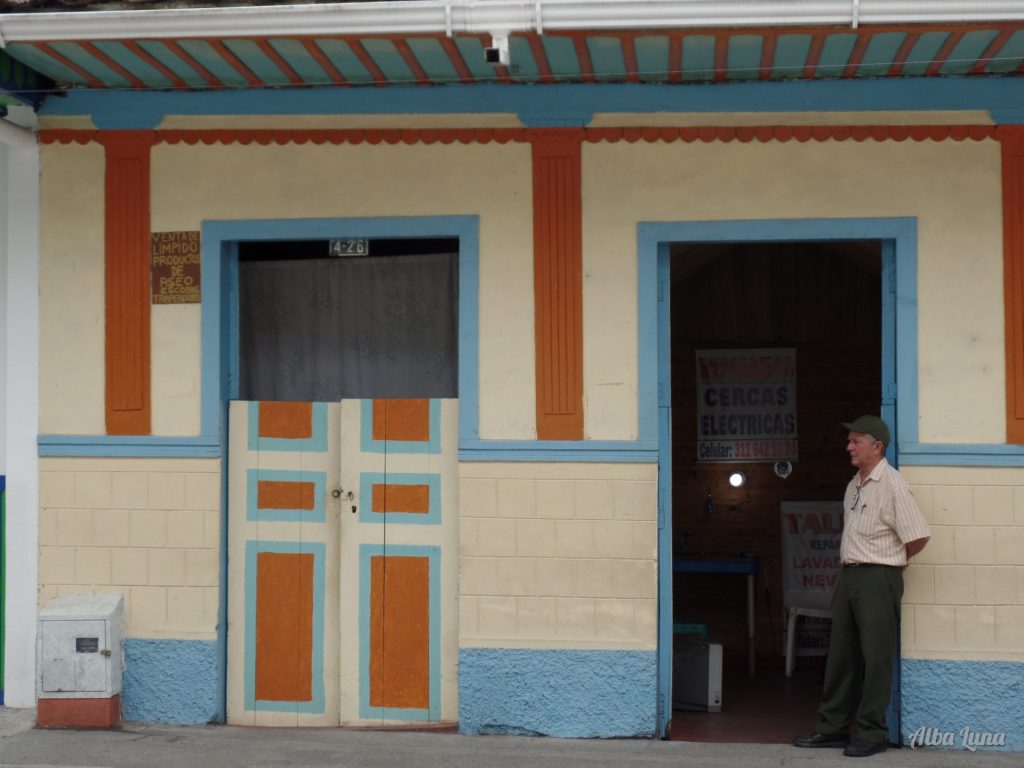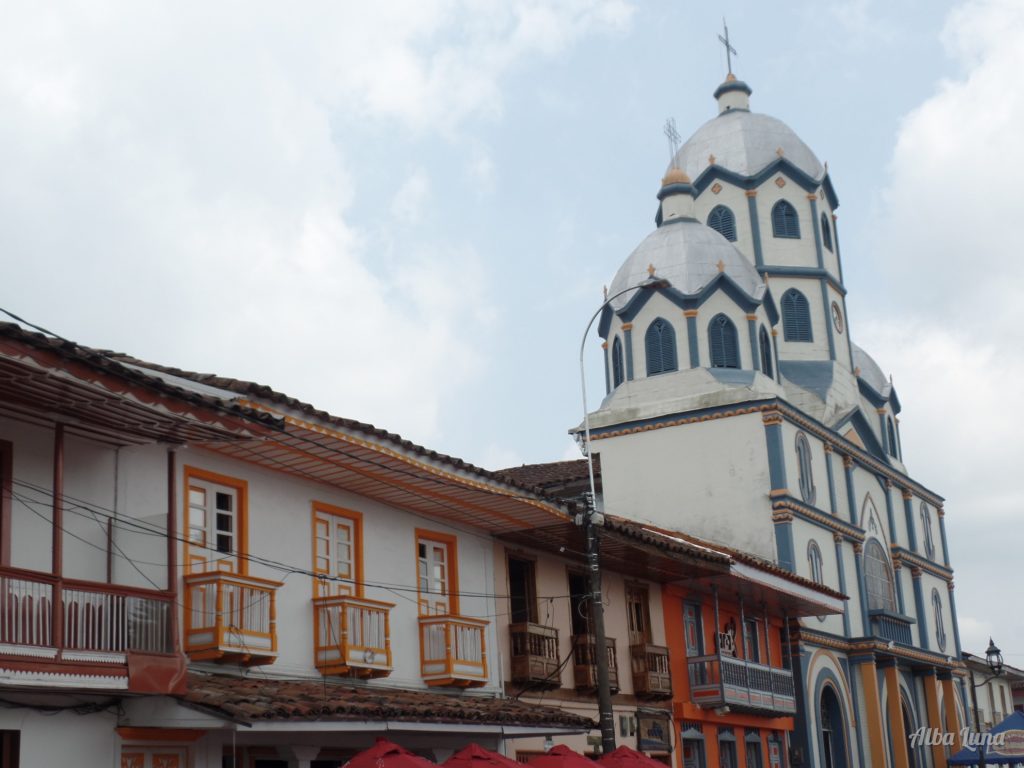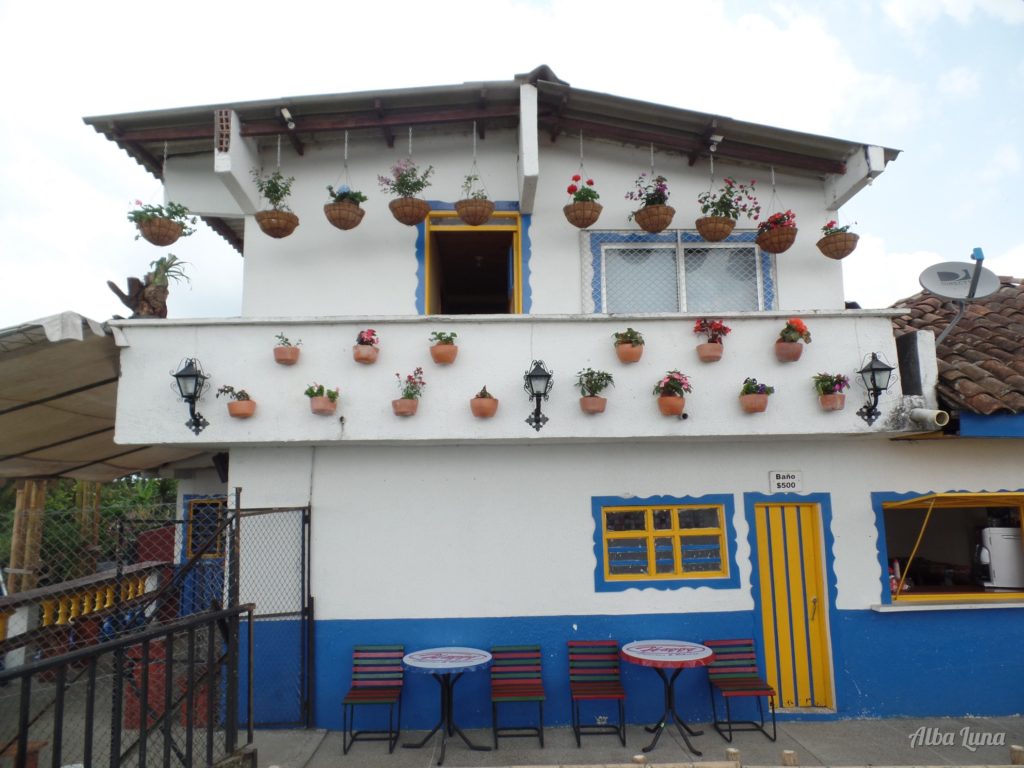 I observe its beauty and let it go. I'm off and I leave that beauty there, to let more beauty come to me the next day, in the next city, in the next country, in my next experience.
I let it be. I let it flow.
———————
If you would like to get to know more charming towns there's a blog about Colombia in particular that you can't miss (it's in Spanish, though but you can check her instagram). Toya Viudes from Colombia de una, a Spaniard that relates with affection each new place she visites of this gorgeous country.
If you would like to try pan de bono but can't get to Colombia (yet), you can try it at home! Valen from Puentes en el aire and I tried it and the result was really good!
Pan de bono recipe (in Spanish but there's a video that explains it)
 Colombia, how much I miss you!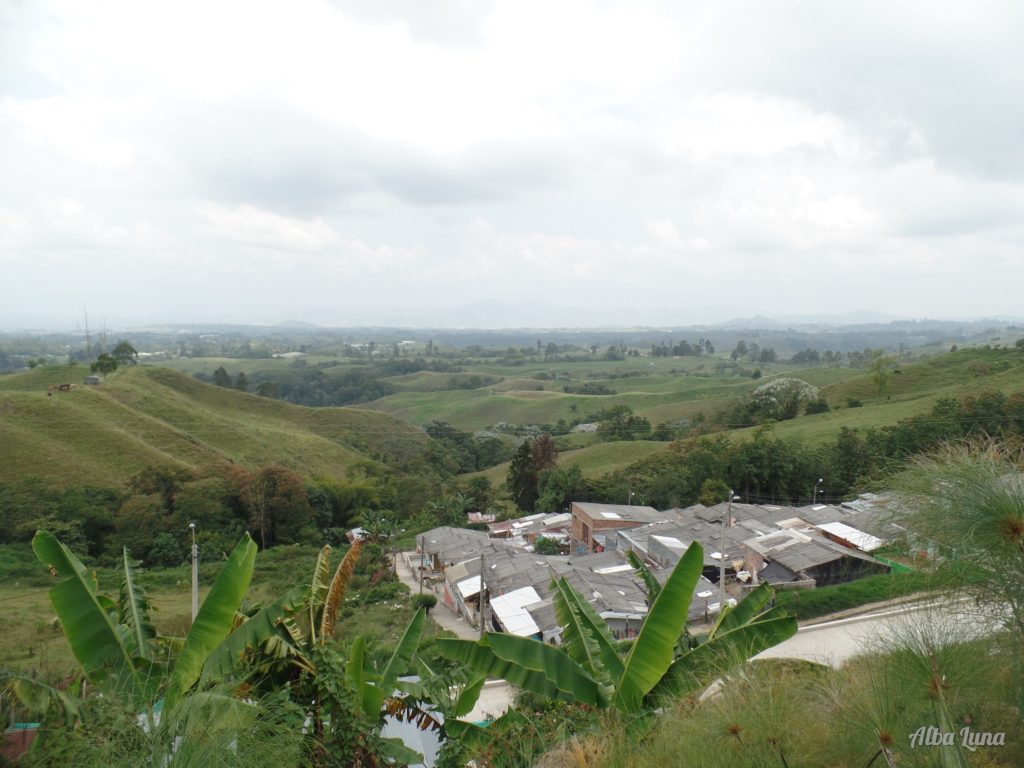 – – – 
Would you like to learn Spanish before visiting Colombia?