From Madrid to Extremadura
I remember when I was a child and I often told my aunt 'auntie, I want to dance like they do here' while watching kids at my village in Extremadura dance jota extremeña. I didn't want to hear about chotis -the typical dance from Madrid- for me it was boring and monotonous. I felt like learning a more colorful and fun dance, not dancing on a floor tile going around in circles. I'm sorry to say so, gatos! (that's how people with several lineages in their family from Madrid are called).
I spent every summer of my childhood and adolescence in Cheles, a village close to Badajoz in the border with Portugal, until I started to travel alone. The rest of the year I lived in Madrid and there was a period of my life where I seemed not to fit in any of the places. I felt trapped in between two different realities.
At a certain point I didn't like going to my village because I didn't belong to a group of friends due to differences in age or tastes. Nevertheless, as I grew up I started to embrace those differences of my two homes. Madrid gives me the action, the cultural activities and the art while Extremadura provides me calm and peace, there's no rush there.
My First Travel Blogger Meeting
Let's start by the beginning of this trip, this journey that starts in May. I got accepted into the Travel Bloggers Meeting (TBM) a yearly event for travel bloggers that was taking place in Plasencia, to the north of Extremadura. I had been in that area before but never in this city so this was a clear sign that I had to come back and get to know the area better.
So, I look for a place to stay in couchsurfing (best invention ever), a shared car and I leave. Curiously enough, the drivers of the shared car were bloggers too (of Viajamos Juntos) and were going to the same event.
We spend the day visiting Monasterio de Yuste and Garganta la Olla, a lovely village in La Vera. The monastery was there, just like I remembered it, like 18 years ago when I first visited it with my school. I must admit it was smaller than I had in mind. That's what you get when you go back to the places you have been when a child, they used to be bigger and more impressive in your head.
The story remains the same. Carlos V stuffs himself with good wine and red meat galore, as a good king should, and gets gout. He moves to the monastery to end his days there, listening to the mass from his bedroom and observing nature.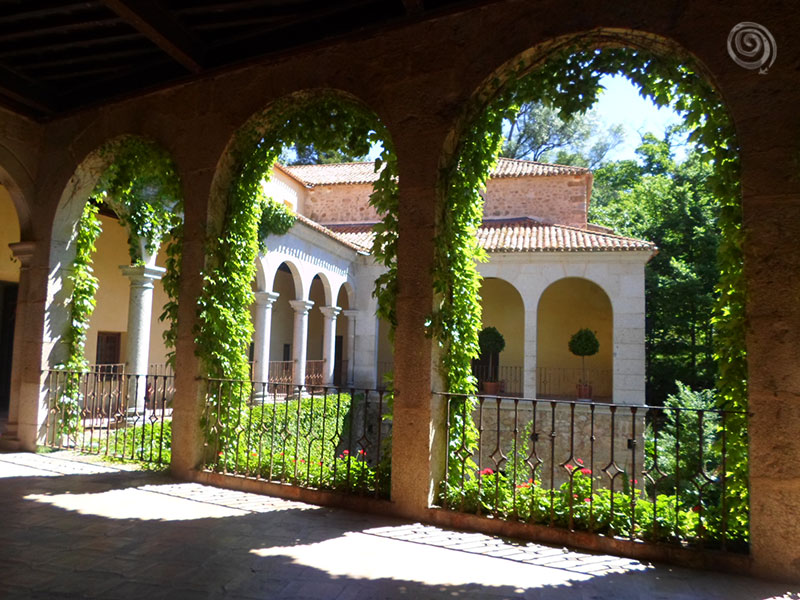 We walk around Garganta la Olla, an area where the legend says Serrana de la Vera lives, a woman that gets men drunk, takes them to her cave and kills them. I don't know if that was the purpose but the fig liqueur that a local gives us is delicious.
Once the event starts in Plasencia, I start to get nervous and even if I try, it doesn't go away. I introduce my blog in front of everyone and public speaking always scares me. My voice shakes a lot but I get to communicate the messsage I had in mind.
The event allowed me to introduce myself to the rest of bloggers and to learn about another points of view and ways of travel writing.
Activities at Travel Bloggers Meeting
From the wide agenda of TBM, I would say these were my favourites:
I rode a horse for the first time. I had only ridden a pony at the age of 10 so I think that didn't count. This activity surprised me for good, it was beautiful to go in between jaras (rockroses) and holm oaks, discerning Plasencia in the distance.
The video is shaky because I was, too. I didn't trust my ability to have the reins in one hand and the camera on the other one.
We got to know Plasencia. We walked around with a guide which was peaceful and calm. There's no rush there!
I did canyoning. One of the funniest activities I've ever done. I ended up being stiff for a couple of days but I loved the experience. We rappeled, jumped in different ways and swam in freezing cold water.
Would you like to know more about how canyoning? I invite you to have a look at the post written by Jorge and María from the blog O viaxadoiro (in Spanish). Pictures were taken by Jertextrem, the company that organised the activity with who we felt really safe, something that's very important in this kind of sport.
 From Plasencia to Badajoz, Extremadura from north to south
After three days in Plasencia I take a train to Badajoz, a more known land of Extremadura to me since part of my family lives there. Badajoz is to the southwest of Extremadura, very close to the border with Portugal.
The south has a lot to offer too, I recommend that you to take a few days to explore it. Until not so long ago Badajoz city centre wasn't that safe and was a bit neglected but nowadays getting lost in its streets has its own charm, the citadel, the wall and the main square protect the center in a joyful and simple way.
Once I arrive in my village I hear there's a storyteller coming and I decide to go see him. I love his stories, I get immersed in his words and laugh with his anecdotes. One of the stories, that could be picked from us, caught my attention and I asked him to share it:
When the tales are over I go to talk to Patxi (Patxidifuso) the storyteller and ask him if I can upload his video on the blog. We talk a bit and I realise he's the same person with whom some bloggers had had a dramatized visit around a village which happened the day I did canyoning.
These kinds of things happen more often when I travel, there must be a superior force that connects me to the world that's more and more interwoven.
In Cheles and nearby there are a lot of things to do. In the same village there's the embalse de Alqueva, a reservoir, with a bathing area for some years now. The green colour of the hills get mixed with the artificial sand and the blue from the water. There are several activities to do, water skates and even that inflatable ball where you get inside and walk on water.
That same swamp used to be a river which I crossed with my dad as a child just to see how Portugal looked like. Getting to the other riverbank was like a new world to me, maybe I thought I'd find something magic and different when in reality that magic was already in my innocent and adventurer look.

This part of Extremadura and Portugal have had always a historic relation through commerce, projects, friendships and even some misunderstandings. I talked about this with Maria, blogger of Maruxaina y su mochila and Leticia from Trucos Viajeros that live in the border of Galicia with Portugal.
We wonder why Spanish people in general look down on Portuguese people. It's something we don't understand because in our borders people from both countries get on well, despite being a few close-minded ones that criticise and perpetuate stereotypes.
I believe that sense of moral superiority comes from the non-border areas, from the ignorance of not knowing the reality of the neighbour. History may have caused these feelings but what's funny is that most of the people that talk badly about Portugal have never been there! Let's leave the past behind, people. Let's travel more.
I never understood that rivalry and I'll never understand it. In general Portuguese people welcome Spaniards like with open arms but when they come to our country, it's a different thing. It may be that bad Spanish behaviour of comparing themselves with the rest of the world and letting themselves be carried by resentment or problems from the past.
I say goodbye this way, reflecting and with a feeling of belonging to a whole and inviting you to visit this forgotten place in Spain. I invite you to cross the border too and go to the charming cities of Evora, Elvas and Monsaraz.
Cross the border and cross it over at the same time for borders are imaginary lines that were created long time ago and that some insist on having on their heads…

 – – – 
Keep on travelling around Spain and Europe:
https://albaluna.es/en/destinations/europe
 – – – 
Would you like to learn Spanish with me before visiting Spain?
https://albaluna.es/en/travel-world-languages/