The capital of Turkey welcomes me
I head from Capadocia to Ankara, the capital of Turkey, with a Taiwanese friend I made in Göreme (Capadocia). I leave Göreme and its surroundings behind, where I was lucky enough to ride a hot-air balloon for the first time, in one of the best places in the world to do so.
I leave Göreme behind, letting go of the fears of coming to Turkey by myself.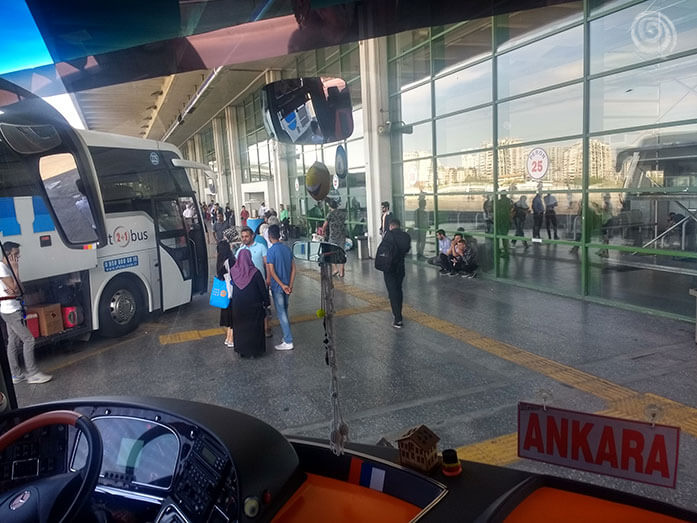 Trip from Capadocia to Ankara by bus
The arrival in Ankara is chaotic, uncontrollable and jam-packed. At first sight the city seems grey but in the afternoon I would realise that not all the city was like that, for it had its little well-kept gems.
Even though Ankara is the capital of Turkey, her sister Istanbul often overshadows her. Tourism in this area of Turkey is very scarce, it may being the reason why locals are surprised of seeing us.
The hotel we are staying at is in front of Kocatepe Mosque, a giant mosque that was built in the XX century so, entertainment is guaranteed five times a day.

Ankara: dormant tradition
When we start exploring the area, local markets float in the horizon, the male presence becomes uncomfortable and tradition is so tangible that I could take it home if I wanted to.
It looks like we have just landed in the 'real' Turkey and I partially like that feeling although I would like to avoid the part of getting indiscreet gazes from almost every man we encounter. You can tell there are not many tourists coming here and we are calling for attention. 
We eat in a traditional restaurant in which we are the only foreigners and pick the food by pointing at pictures and using gestures and the few words I know in Turkish. Be aware of gestures when travelling, they are not as international as we believe.
I suddenly realise that Turkish say Afiyet olsun "bon appetit" before and after eating. Waiters tell you before and after. They really want to know if you liked what you had and that reflects Turkish kindness.
I had been eating with a travel buddy, a woman I'd met along the way who was Taiwanese. I remember that in Taiwan this custom doesn't exist, that in Taiwan, you simply dive into your food and leave once you are done.
It was so interesting to see two different cultures, Spanish and Taiwanese, working to understand each other as we sat in a third culture that was alien to us both.
Meandering around Ankara and its old city
We go up one of the steep ramified streets, between merchants and marketing calls that encourage us to buy but in a less aggressive and cheaper way than in Istanbul.
All of a sudden, streets narrow and turns get sharper. It seems we are leaving the cement jungle behind and the old city opens before our eyes, stubborn old houses being witnesses over the years.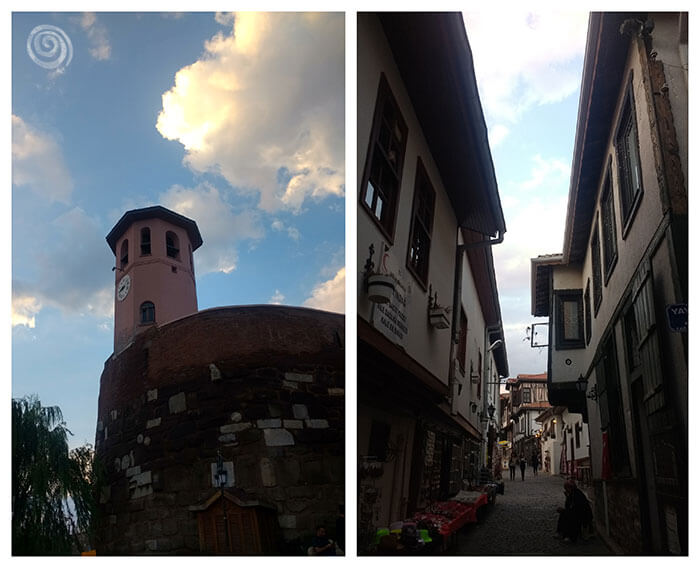 I realise something about Ankara up at this point. I thought Ankara would be just a stop on our way before travelling to Eskişehir but I was wrong. Ankara is much more than just a stop.
So, Ankara, I must apologise, I've judged you before meeting you and that's not ok. 
I judged your grey colour without knowing that you kept a colourful secret within. Your alleys would shout about it in the distance and your ruined houses whispered it on our way.
Ankara Castle (Kalesi): the best views on the city
The castle that surrounds your hill allows us to observe the capital of Turkey in a calm way with a gust of wind that helps us appreciate the beaten path. 360 degrees full of modern buildings and a jungle of cement that gets mixed with mosques and ancient houses.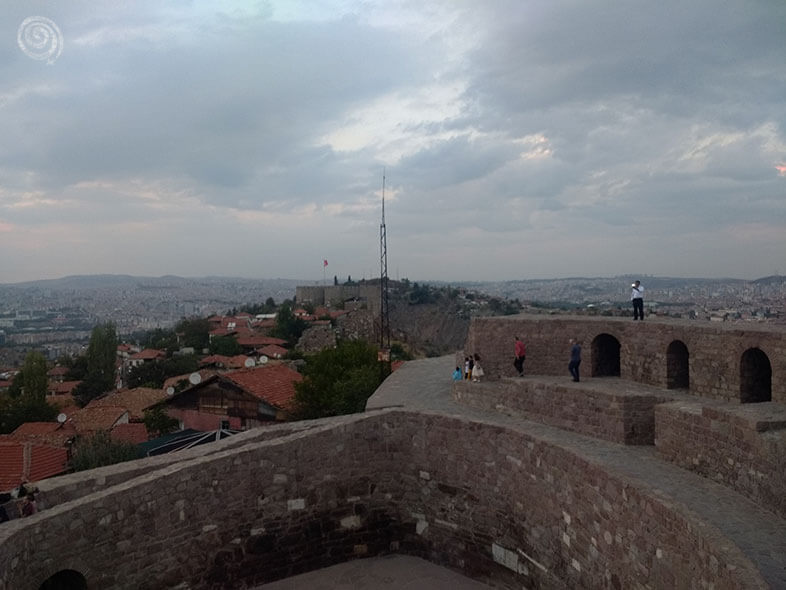 We say bye to Ankara
We go down the castle knowing how to enjoy your presence, buying grapes and traditional coffee grinders on our way.
We go downhill realising how big you were someday in the past and acknowledging the fact that the facades of those little houses of yours are unkempt, those same houses that are protected by UNESCO, and stay there looking at us and watching at time pass by.
Ankara, I must be honest with you.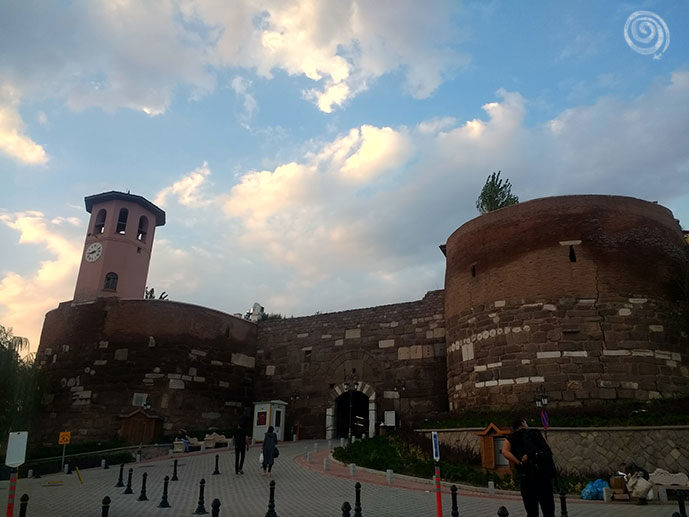 I am so happy that I was able to meet you and your insides, Ankara.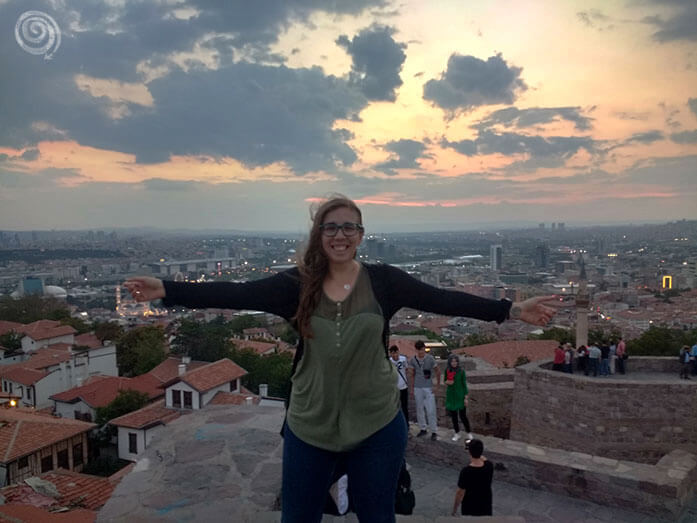 More info to move around Turkey and Ankara, its capital
Travelling from Istanbul to Ankara: there are two options to go from Istanbul to Ankara. Getting there by bus is a bit tiring and takes around 9 hours but by plane is just one hour and 10 minutes and the difference in price is not such.
Keep in mind that there are two airports in Istanbul: Istanbul Ataturk (European side of Istanbul) and Sahiba Gokcen (Asian side of Istanbul). I found Sabiha one more comfortable because I was staying in the Asian part (Anatolia).
Important info if you are travelling to Turkey as a solo female traveller
If you are a solo female traveller travelling around Turkey by bus and train, you should keep in mind that you won't be allowed to sit beside a man you don't know. In order to avoid these frustration situations at stations, one can buy tickets online or through apps from different bus and train companies. 
There you will find empty seats and when selecting the option that you are a woman (kadin), the system automatically won't allow you to book beside a man.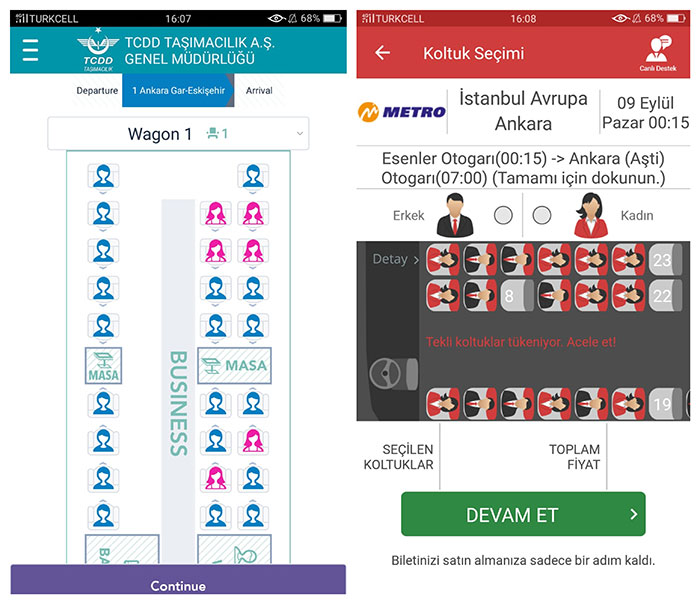 I just wonder, does the company prefer to have empty seats?
– – – – – – – – – – – – – – – – – – – – – – – – – – – – – – – – – – – – – – – – – – – – – – – – – – 
More about Turkey:
About Istanbul and knowing how to look beyond (some of) its men looks (coming up soon).
About Eskisehir, a student city where the green colour invades the horizon (coming up soon).
About riding a hot-air balloon over Capadoccia and its beautiful charm (coming up soon).