Reflecting on my first long trip
In the summer of 2013 I received a very important email, I had been accepted in a Buddhist course in the Philippines. I would go there in September to live for three months. I was very excited because it was something completely new to me, unexpected and arrived at the right time. New goals always catch my attention, especially when they come together with visiting new places for they stimulate my five senses.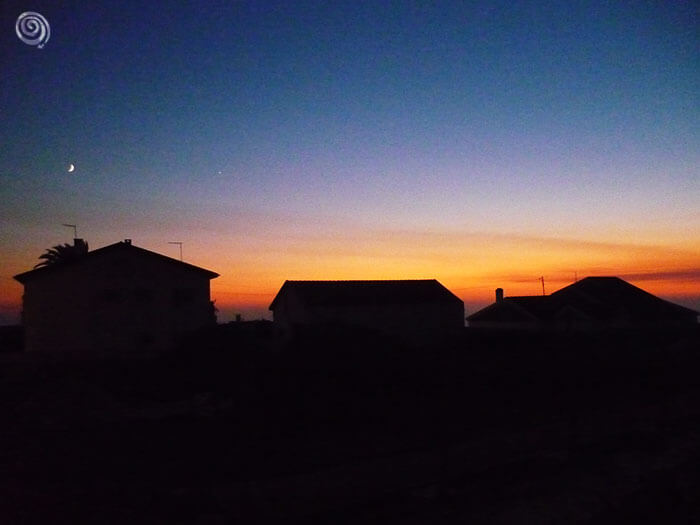 Before setting out on my Asian adventure I observed two kinds of reactions when I said these words, 'I'm going to the Philippines to live and study in a Buddhist temple':
1)   – Are you crazy? Why are you going so far?

      – They will brain wash you!

2)   – Really!? That's so interesting! Where did you get to know that programme?

       – I always wanted to do something like that…
That's why I didn't tell a lot of people, I just left. I didn't care about everybody else's opinion, it was my decision and I saw it clear, it was my next natural step in life. The passion for adventure was running through my veins, that feeling that goes all over my body since I started to travel solo when I was 18. I simply didn't want to miss that call from life. I was scared, yes, scared to hell but the curiosity carried more weight.
Manila? What did I know about Manila? And about Philippines? Oh well, I would figure it out in my way…
The only thing I knew was that I would be living with monastics in a Buddhist temple in the centre of Manila, only Mondays free. We would have Tai Chi, Chinese, Buddhism classes and we would be living a semi-monastic life.
That means waking up early, reciting in the morning and blessing our food (vegetarian) three times a day. All of that didn't scare me but vice versa, awakened in me a big interest.
Life in a Buddhist temple
The first week was hard for me to adapt due to all the rules we had to obey. We had to follow a dress and behaviour code.
We had to wear the uniform in the left picture every day having two pairs to change. The right one is called hai xin海青 and is used in religious celebrations and in morning and evening chantings.
I almost forgot! we have to wear the Hǎi Qīng on the other uniform, this at the temperature of 30ºC (86 ºF) and 80% humidity. No need to comment.
We woke up at 6 in the morning because we had morning chanting (Sutra chanting) at 6.30, in Chinese of course.
At the beginning I couldn't follow the pages and I often put a spell on every single Chinese character written in that book. I got frustrated and wanted to get away.
Every single ritual was hard because my ego would say, 'why do I have to do this?' Poor him, he was learning new things and felt threatened. By the end of the programme I loved to sit there in the morning, meditate for about ten minutes and read the Sutra with everyone. It made me feel part of a something, maybe of myself. I think there's no need of worshiping any god to feel complete but it was through Buddhism that I discovered that I had to respect myself first in order to feel fulfilled.
It's interesting how I always rejected to be a Catholic even if I was baptised and I decided to have my first communion. Maybe I was denying it because God never gave me anything even if I asked him to. Big mistake for anything is given if you don't do anything about it.
Like that story of a devotee that goes every day to church and requests, 'please, please, help me win the lottery'. One day the statue, bored of having to listen to that guy woke up and said, 'for God's sake, buy a ticket!'
That's how we are, we ask for more and we keep on doing the same things yet expecting different results. Often the answer is in front of us but we are so blind to see it.
My dedicated words to Buddhism
In October the temple organized a very interesting congress on humanistic Buddhism and cultural pluralism. Different ethnicities and cultural Filipino groups came and together we discussed different topics on culture, language and religion.
We as a group shared our experience in a Buddhist temple. Here's the speech that I proudly gave:
Grow like a plant, shine on others
Buddhism entered in my life by accident. Through all my life I have been achieving one thing after the other without even enjoying my achievements. Achieving what I wanted became a routine, something I knew I could do with effort.
However, these last years I've been interested in Buddhism and its teachings. Its philosophy is very different to what I'm used to since I grew up in a Catholic country and everything there is influenced by traditions. The other day I was looking at Buddha and I compared it to Jesus. I wondered why Jesus is always suffering and sad while Buddha appears tranquil and serene.
We know that life is full of suffering but now through Buddhism I also got to know that there's a way of cessation of suffering.
During the program we've been receiving a lot of knowledge and new ways of looking at life. Let go!, masters and teachers would continuously say. Let go of things you no longer need. In order to receive new and fresh water, you have to empty your glass.
That's when I got inspired and decided to shave my head. Together with my friends we beautifully cut some roots of my past, all the negativity and suffering my hair had accumulated. It was such a relief. I still remember the feeling of getting rid of my old and unhealthy hair.
Now it's growing healthier and stronger than ever because it left the past behind and it's ready to embrace uncertainty. Just like my plant.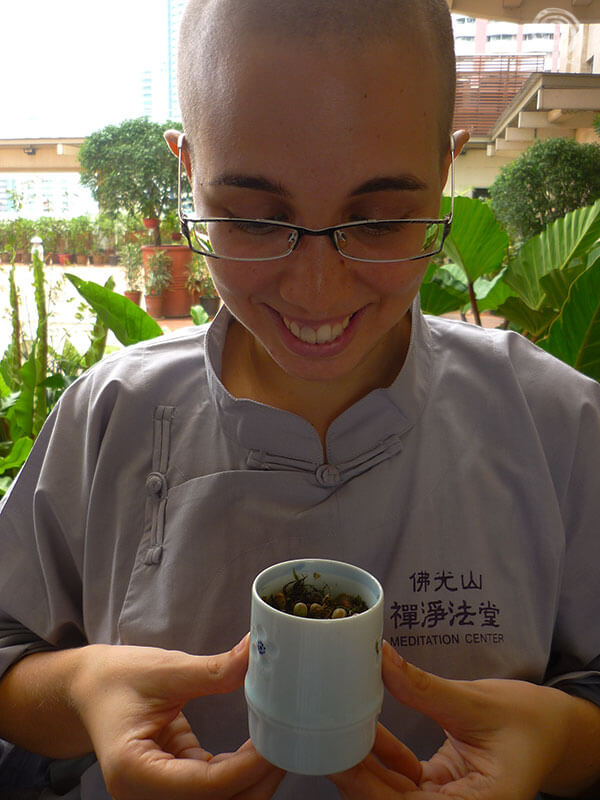 As an activity for one of our classes we all planted our own plant. For me it's to create life with my hands. New seeds, new life. New thoughts, new perspectives. Every day we water them and treat them with respect. The same should happen with our lives. We should plant healthy seeds and maintain them with little actions so that we'll have a beautiful green plant.
My name is Alba Luna, Luna meaning moon in Spanish. Just like the moon has no light by itself, I need others in order to shine. However, I'm starting to embrace the path leading to my own light.
Because as it is said, 'they who do not fear darkness have learnt to light their own candle'.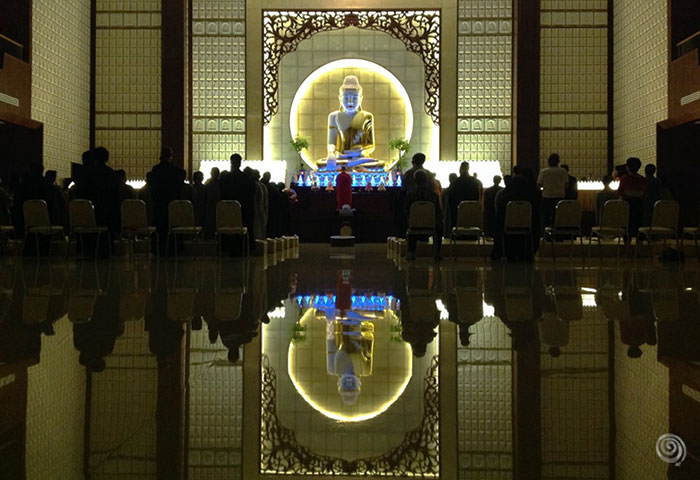 – – – 
More articles on the Philippines
If you are interested in knowing more about the Philippines, I invite you to read these articles: