Returning home after travelling around Asia for six months
I AM back. After six months roaming around Asia I'm back in Madrid. After seeing deserts, beaches, mountains and concrete landscapes I'm back. A thousand places, a thousand adventures.

I'm back and I fail to hear neither tuk-tuks or jeepneys nor people wanting to sell all kinds of stuff in the streets. I'm back and I feel as a foreigner myself in my own country. Where are all those Asian colours and flavours? And those smiley faces?
Six months passed, five countries visited, a thousand adventures lived. Adventures that I'll put down in words little by little for there are so many and they try to mix up my mind…
A smiley Philippines, a modern Taiwan, a majestic India, a courageous Thailand and a dazzling Vietnam. I saw all that. And all that will remain with me forever.
The Philippines
It was in September when the trip started in the Philippines. I lived and studied Buddhism in Manila for three months. It was very interesting, intense and fruitful to live in a temple and learn Tai Chi, Mandarin, meditation, etc. In those three months I could only see Manila and its surroundings. Nevertheless, it was enough to feel the Filipino kindness and see all those smiles in their faces, no matter what.
Manila is a chaos but beyond it the nature in the Philippines is astonishing; waterfalls, mountains, volcanoes… everything in the same country.
Taiwan
We had the opportunity to go to Taiwan to the headquarters of Fo Guang Shan, the Buddhist organisation that offered the international Buddhist programme. Everything was much more organised in Taiwan, a reflection of the culture I was in.
India
Once the programme was over I went to India to spend Christmas with my friend Vandana. I spent a week in Dharamshala, the same city that took the Dalai Lama in. An international and open city where Tibetans found temporary peace.
I explored the beautiful India for a month with its surprises, cultural differences and gorgeous colours. I wandered around Rajasthan, to the North, land of maharajahs, tigers and deserts. Luckily I only saw the last ones.
Thailand
In January I was on my way to Bangkok, Thailand. There I would meet my aunt, uncle and cousin, I was very excited! We enjoyed a week together and I could see the brave Thailand, a nation that claimed justice.
I had in mind to go to Vietnam but due to Visa issues I had to wait in Bangkok for 10 days. I was very lucky to live with a Thai family and that way I could learn more about the culture, especially about their food.
Vietnam
I said bye to the spiritual Thailand to welcome Vietnam. Two different nations but similar in a way. Same, same but different.
In mid February I went back to the Philippines and I felt I was going back home in part. I spent two weeks discovering the Philippines a bit more and then I went back to my ever beautiful Madrid.
Thoughts after my first long trip
At the risk of being cliche this journey has changed the way I behave and see life.
Five spiritual countries, each of them in its way. Hindus, Mahayana Buddhist, Theravada Buddhist, Catholics, Sikhs…different ways of looking at the same thing, same way of completing themselves, through someone or something. Five countries that will complete me forever, five countries that I'll always remember as part of my path.
Thank you note
May this post serve as an appreciation to all the people that crossed my path in Asia and to those who helped me either other way.
I'm not very into thanking this way but I'm sure my experience wouldn't have been not only the same but less authentic and more touristy without this group of beautiful individuals.
Thanks to Fo Guang Shan in Manila for giving me the chance to learn about Buddhism and for offering me a free education for three months. To HALA, the venerables, the Buddhi students and all the volunteers: thanks for walking with me.
Thanks to everyone who helped me find accommodation or hosted me along the path especially to Vandana and Shagun in India, to my Thai family (Vip and Pawel), to Thanh Van, Manu and Vero in Vietnam and Chris in the Philippines.
Last but not least to Abegail, Isabella, Trebs, Michelle, Jenny and Mark for being the best company ever on the last day of my adventure. You were so randomly beautiful!
Because the experience is not the same when you get in the local life, when you ask fearless about the differences to find the similarities in the end. Because it's not the same to see the culture through local eyes that show you unique places and invite you to try authentic food. Because it's better to get lost with locals rather than following the flock of tourists with camera and map in hand.
For while ago I decided to stop being a tourist in order to be a traveller. Because it's not the same.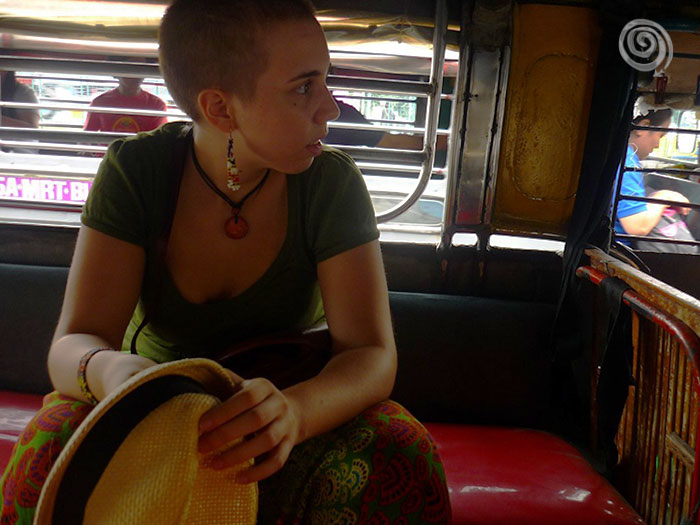 'Stop leaving and you will arrive. Stop searching and you will see. Stop running away and you will be found.'
Artículos relacionados
Related posts