Following the Inca Legacy from Ollantaytambo to Cusco
We leave Ollantaytambo behind, the Inca place par excellence to head to Cusco, another Inca meca in which cultural melange is present in its architecture. We discover crosses together with ceramic little cows on the tiles on our way, representing the Andean duality, an heritage from that same Inca past.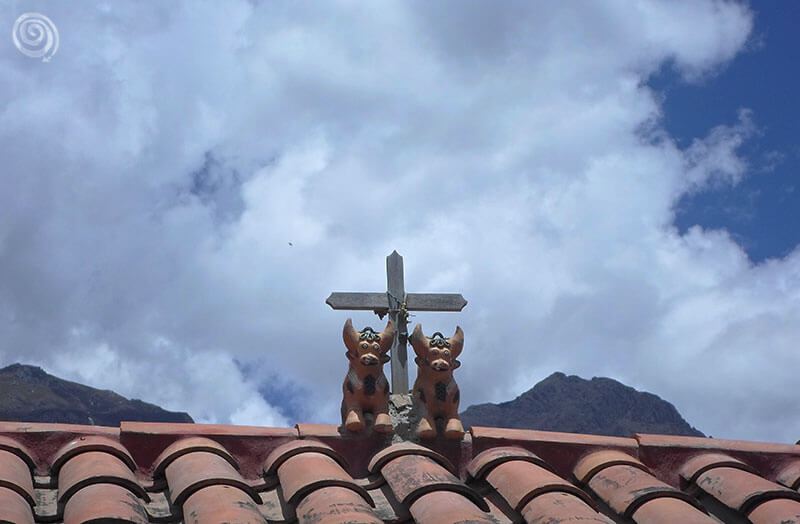 According to duality, reality had two opposed and complementary halves which are up and down, right and left, in and out and close, far. According to this division Tahuantinsuyo, the Inca territory, was distributed in Chinchaysuyo and Antisuyo (hanan, the upper part) while Contisuyo and Collasuyo were hurin (down part).
This rule was also applied to deities and leaders. Last studies reveal that the government system was probably a diarchy, meaning that two people ruled at the same time. The main ruler (Hanan Inca) was in charge of management and conquests while the other subordinate (Hurin Inca), exercised control over religious practices. This fact would explain why there were so many Incas in such a short period of time (100 years). Yes, really short.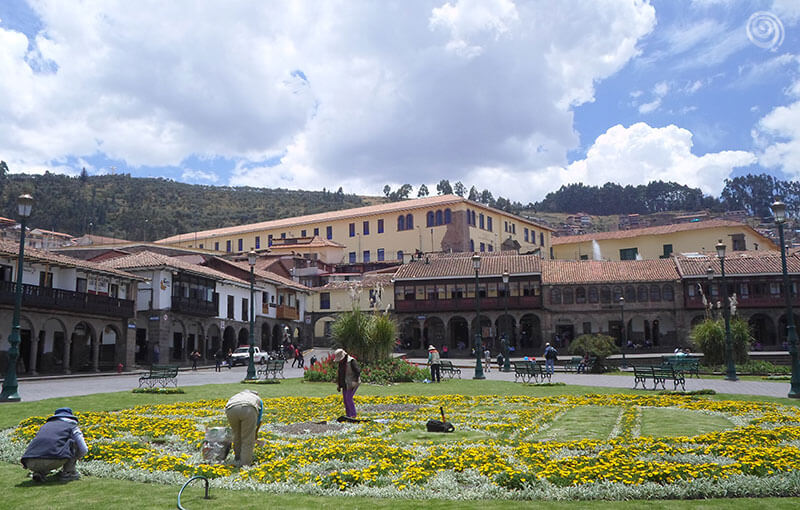 The origin of Cusco
Plaza de Cusco, impressively built, is a large space with several churches and colonial style buildings. This plaza called 'de armas' (of arms) by Spaniards was a place to give directions to the army and it already existed when Incas had the power under the name of Waqaypata.
It was the space to host militar, political and religious celebrations, always with the presence of Qapaq Inka (powerful Inka in Quechua). After the cruel public execution of Tupaq Amaru II, leader of the largest anticonial uprising of Latin America in the XVIII century, cusqueños called it Waqay Pata (weeping, pain plaza).
Cusco or Cuzco?
Why is Cusco written with an 's'? Well, it comes from the word qosqo in Quechua which means belly button because Incas considered the city to be the centre of the world.
When Spaniards arrived in Peru they decided to change its spelling to Cuzco. What an obsession Spanish people had with 'spanifying' all the words they came along with! They probably changed it into a 'zed' because the pronunciation was something between an 's' and a 'z'.
It's funny what RAE (Royal Spanish Academy), as unbiased as usual, has to say about it: 'Both ways are accepted but we should keep in mind that Cuzco is the most widespread one in the Hispanic countries.' Oh, well… which country is the city at, in some hispanic country or in Peru? If that's its name why changing it?
Isn't that linguistic colonialism? What's with that arrogance of omitting the past and the etymology of a word for the sake of power? Same applies with Spanish cities which origin was in another language (Lleida – Lerida, Girona – Gerona, Guipuzcoa – San Sebastián, A Coruña -Coruña and the list goes on…) Ok, this is where I get really demanding and critic! Let's keep on.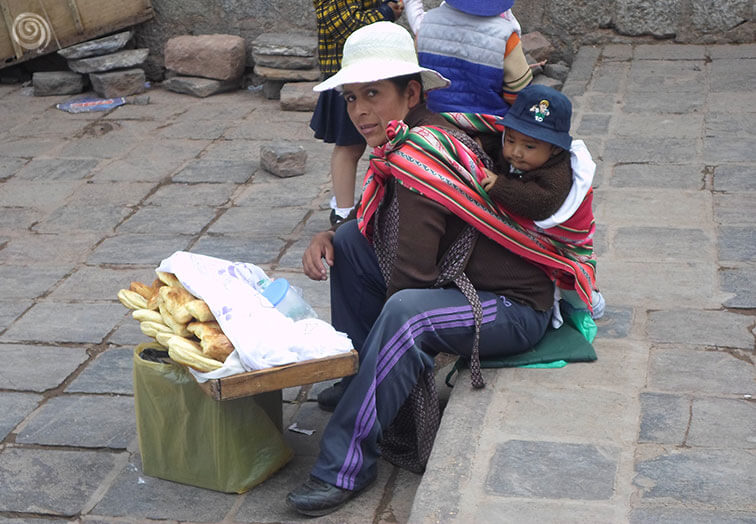 The historic city centre of Cusco
Going under the Arco de Santa Clara, we find one of my favourite places in every Peruvian city (and almost in every city in the world), the market.
San Pedro Central Market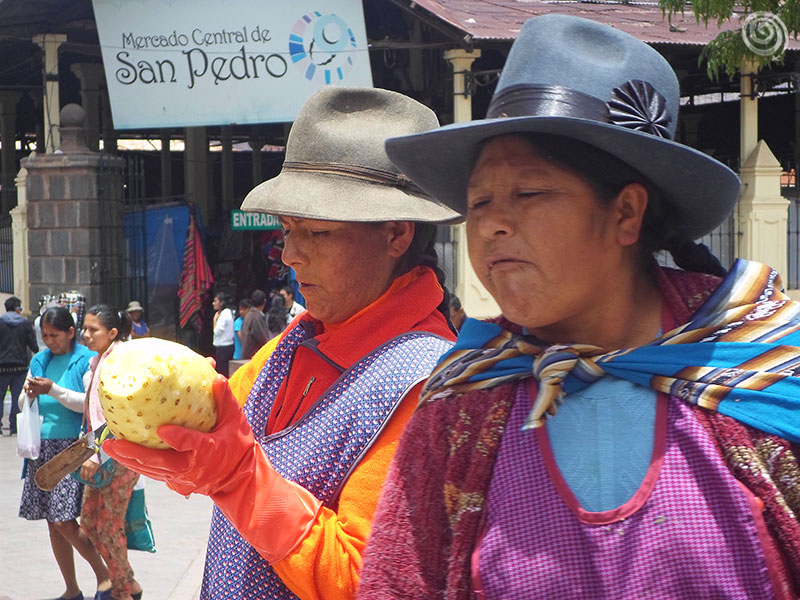 The San Pedro Central Market of Cusco is divided by sections, we have no other option but to get in and enjoy what our eyes have to witness.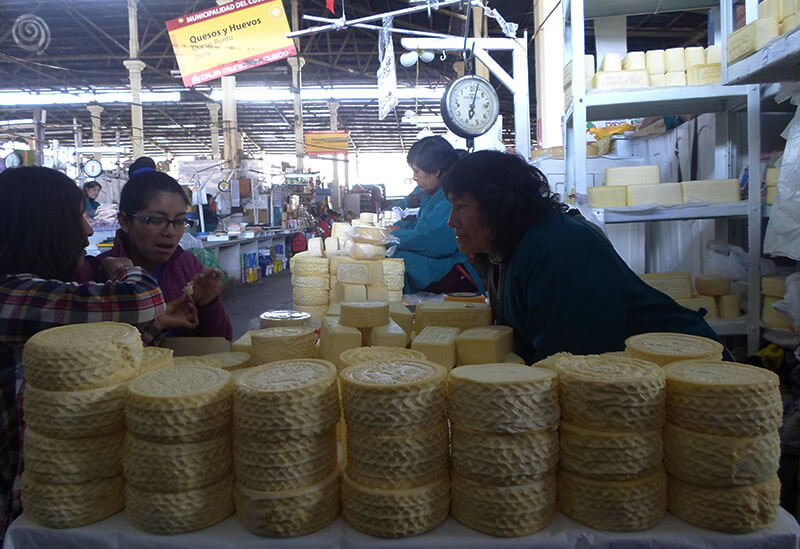 Eating in a local market in Peru, in this case at the very end of the market, is always a good idea. You can have a main and second dish with dessert and mate (a kind of drink made of boiled fruit and sugar) for just S.6/ (€2).
Free tour in Cusco
We join one of the free tours in the city that lasts three hours (they start every day at 10 am in Plaza del Regocijo). When we get to the main square, almost at the end of the walk, we notice people together with music that reminds me of carnival. There's a festival!
Locals say to celebrate Combate de Angamos, a naval battle that took place in the Pacific War between Peru and Chile, together with another local festivity they weren't sure of. The point is to celebrate, no matter what! Peru lost that war but anyways they celebrate it, that's the attitude!
The drunkards that follow several troupes, represent the Spaniards to whom they imitate with big noses. That was the way to make fun of them when they ruled. Very subtle, isn't it?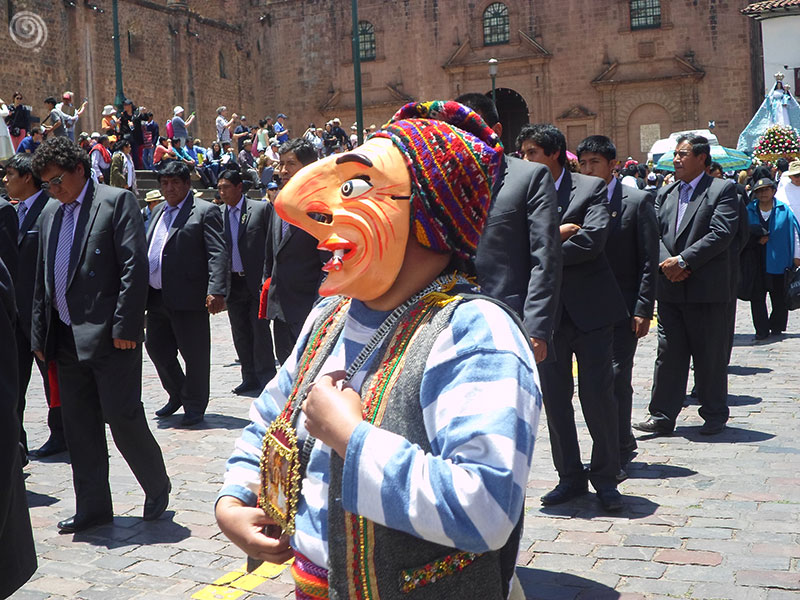 This beautiful city joins the mixture of its colonial past and its prevailing Quechua culture. Its streets are beautiful, its people gorgeous and its lovely traditions. Its essence is strong, like a fragance that stays with you. We didn't want to leave but we had to continue our way.
We didn't want to leave you behind but we had to, lovely Cusco.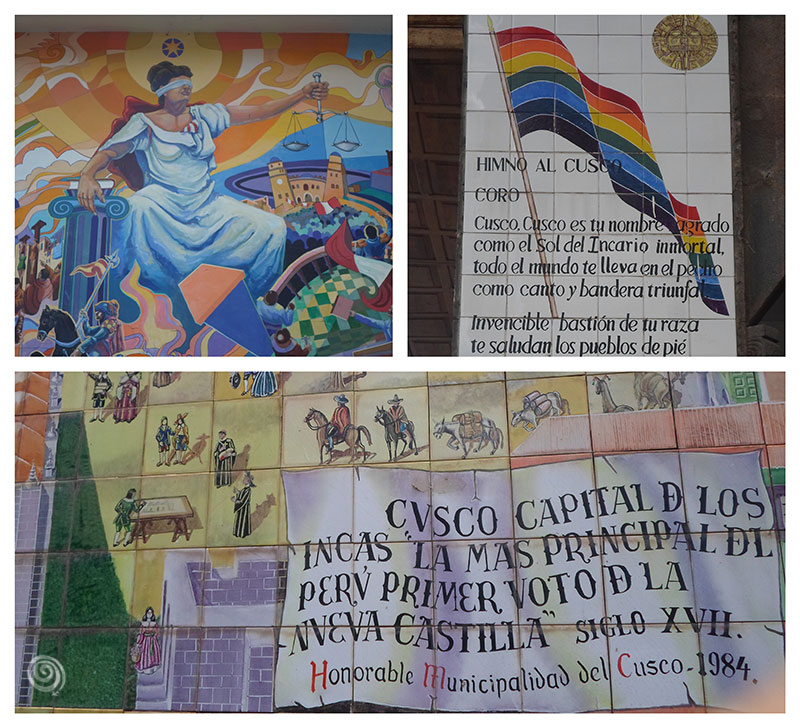 – – – 
Would you like to learn Spanish with me before travelling to Peru?