From Moravia to Bohemia by train
I take the train again in Czech Republic but this time I go further. They tell me I'm crazy because I'm going to spend more time on the train than in the city but I don't care, I'm leaving anyways. I only have two days and a half to go across 1000 kilometers.
I get on trains with the same enthusiasm a child gets on their favorite ride attractions. No wonder, the older the trains are, the more I like them. Let them be sloooow, there's no rush! I'll be taking care of X-raying the view trought the window.
The trip takes more than seven hours, some stepovers on the way. I don't really mind and take my head out of the window to breathe the fresh air this country provides. 
I leave Ostrava at 14 h, arrive in Prague in three hours and something. Next train takes me to Tabor in two hours.
Tabor
I have barely 40 minutes until the next train arrives so I decide to get in the city and have a look, who knows what it has to offer? I didn't know anything about the city and that made it more exciting. I sometimes like getting in the cities, steal their fragances, as an essence thief would do.
The curiosity about this city is that during a year the radical Hussites (the main reformist religion in the country) established a communal society where private property didn't exist and any religious hierarchy was rejected. At last it wasn't worthy for someone and didn't last long.
In the centre the main character is the Zizka square (Žižkovo námesti), that owes its name to the main militar Hussite leader whose statue is right in the middle.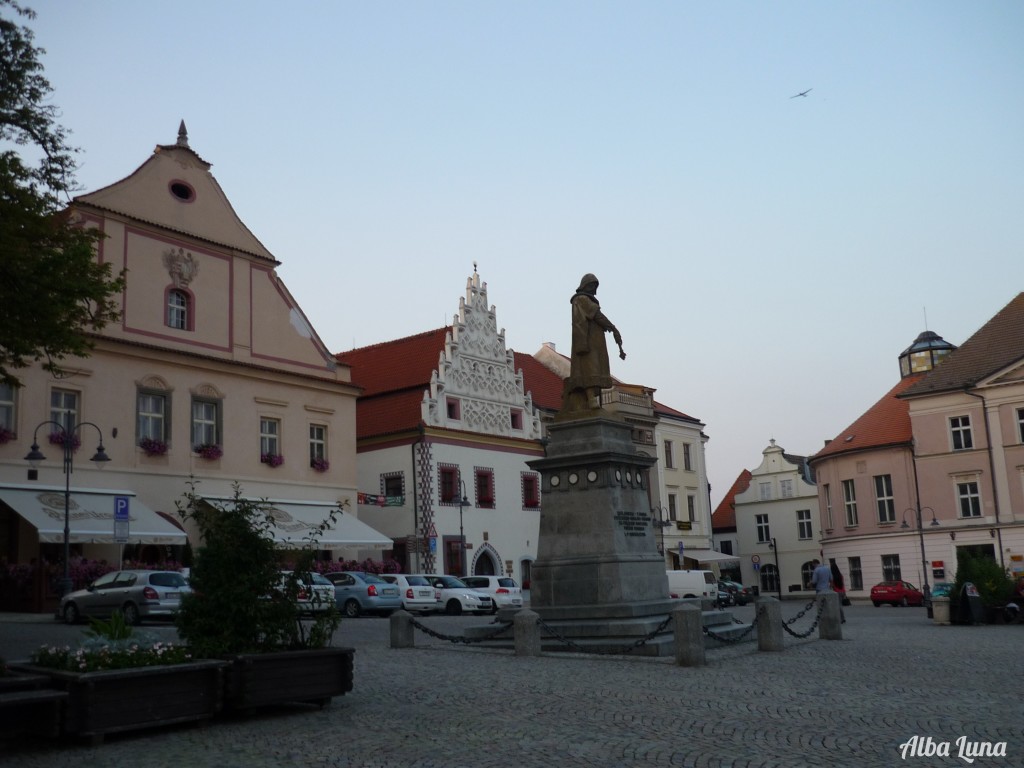 The city name comes from the biblical mount of Tabor, where Jesus' Transfiguration took place according to Gospels (I had never heard of such a thing, by the way).
In the square the church Proměnění Páně na hoře Tábor really matches sunrise.
It gives me peace, tranquility to get in this plaza. I walk around its messy and interwoven streets and smile. I walk at a slower pace but surely, keeping in mind that I have to go back, the train is waiting for me. I get on, down and go on again.
At night I take the last train, one with barely two coaches and I hear «Vamos, señorita» a sentence that's not commonly heard in this country. Surprised I look at the three boys that just came in shouting. They sit behind me and one of them keeps on speaking in Spanish. Still surprised, I ask him if he speaks Spanish, which was obvious. He smiles me back while he answers, 'I lived there for two years' That's where everything started.
They were clearly going to party and have fun. They offered me absenth or I don't remember what kind of booze and even if I thought it over, I accepted. The whole train was staring at us but we seemed to be fine with it. 
    «Where will you stay in Český Krumlov?»
    «I have no place, I'll probably sleep at the station. Tomorrow I'm meeting some friends that are volunteering in the same project but to the West.»
    «No way, come with us we're meeting some friends there!»
Ok, it looks like I have a plan… These things that happen when I travel and destiny guides me. In an hour I was drinking beer in a typical bar with a group of twenty something people. After that we went to party, why not? Actually when I saw the train station I was glad this group came on my way. 
Night is over and  acabó y casi al alba me dijeron que me fuera con ellos al camping, que había sitio en sus tiendas de campaña. Ahí me ves, con los pies de un checo rubio de dos metros a mi izquierda y con los ronquidos de una dama a mi derecha pero caí rendida.
I wake up at 8, leave a note thanking them and go walking to the centre. Campsite stays behind, in a place strategically beautiful that seems to be hidden in nature. 
Český Krumlov
The city smiles at me and I can't wait no more, I want to see it without introductions. I meet Sandra and Faiza, Colombian and Argelian that I just met in person and go explore the city together.
[Best_Wordpress_Gallery gallery_type=»slideshow» theme_id=»1″ gallery_id=»16″ sort_by=»order» order_by=»asc» slideshow_effect=»fade» slideshow_interval=»5″ slideshow_width=»800″ slideshow_height=»500″ enable_slideshow_autoplay=»0″ enable_slideshow_shuffle=»0″ enable_slideshow_ctrl=»1″ enable_slideshow_filmstrip=»1″ slideshow_filmstrip_height=»70″ slideshow_enable_title=»0″ slideshow_title_position=»top-right» slideshow_enable_description=»0″ slideshow_description_position=»bottom-right» enable_slideshow_music=»0″ slideshow_music_url=»» watermark_type=»none» watermark_link=»http://web-dorado.com»]
This city is essential in a visit to the Czech country. Idyllic city, fairy-like in which Middle Ages are still intact in its walls to carry us to another era. In the city centre, that seems to be the whole city, you'll find more than 300 historic buildings. Český Krumlov is elegant, glorious and non subtle in its beauty.
The Moldava river locks harmoniously the medieval castle from where you can have the best views of the city.
People go down the river on canoes, boats and even on floats. There are some that take their picnics and beers with them, that's what I call organisation!
Once up you can visit the tower and see the palace, the baroque gardens and the theatre, one of the best preserved in the world. This place deserves it to be walked by with close attention, observing every corner, every viewpoint that brings you another point of view of the city.
If Český Krumlov was pretty during the day, at night it wears its best evening dress and goes out to walk around, the very vain one.
It's Sunday and I have to leave. A long trip awaits me but I'm not in a rush and stop on my way. České Budějovice is around 45 minutes far and I decide to spend the waiting time observing it.  
České Budějovice
The beer takes the fame of this city for Budweiser Budvar is produced here.
The centre is very well preserved, with medieval, renacentist and baroque houses. Přemysla Otakara II Square (Náměstí Přemysla Otakara II) that dominates the place coming from the train station, is one of the bigger squares in Central Europe. This is where the town hall and the Sanson fountain are.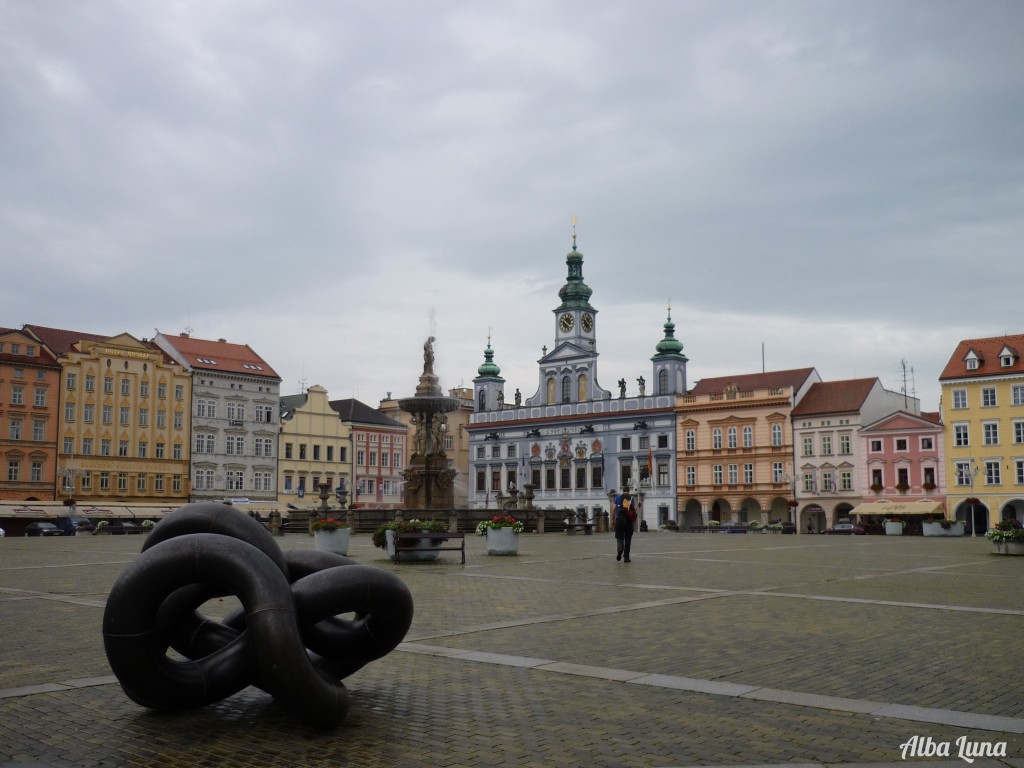 The Černá Věž (Black Tower) you can go up to see the city views but since it was Sunday, it's closed.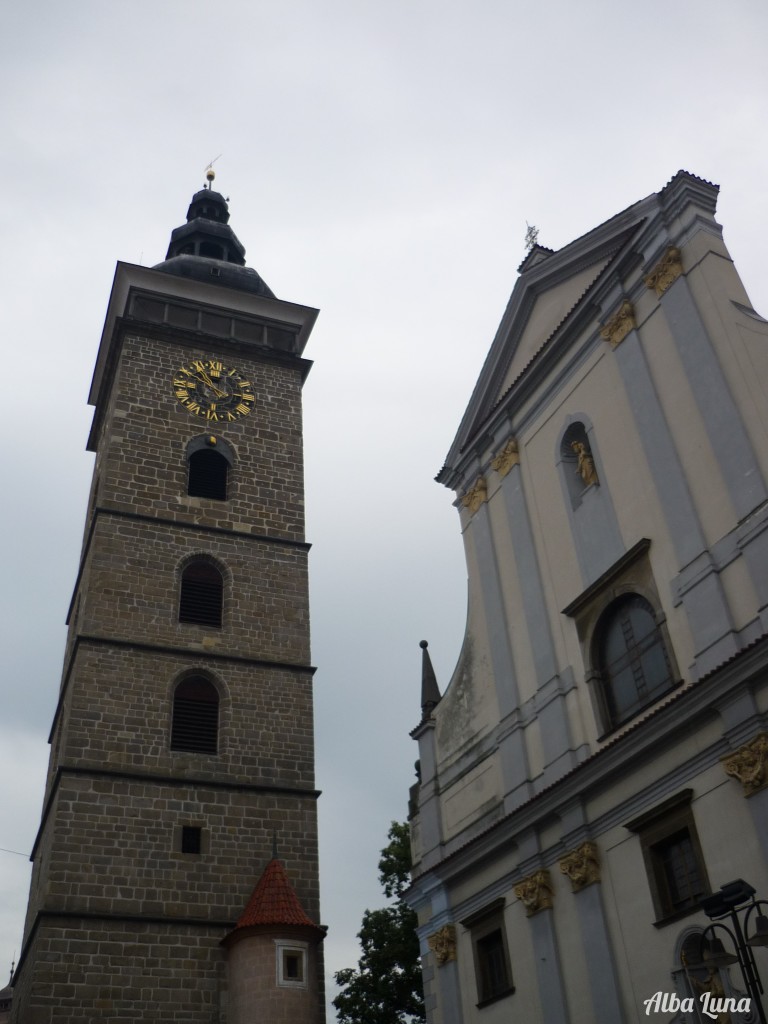 Going around its streets on my way back, I find this billboard that seems to be talking to me:
I say bye to this place and go back to the camp but the adventure in the Czech Republic is not over, no way!
If you missed the area of Moravia, have a look at Czech Republic in depth: Moravia