Chinese culture: some stereotypes
Before we start I'd like to say that this post about Chinese culture was meant to be written only in Spanish because it's an issue that concerns my own culture (and I don't know if any other country has this in common) but I decided to translate it so that we can all learn from each other. Enjoy!
—
I normally don't let myself be driven -or at least I try- by the stereotypes that are created by society about other cultures, countries or even about Spanish cities themselves. Catalans are stingy, Basques are unpleasant, you shouldn't trust Andalusians, we Madrilians are cocky, they say. Me, myself, I prefer to go to those places, discover its essence and get rid of all the stereotypes.
Even if some features about the people or place may be repeated, generalising is never good and is a trap we often fall in. I'm one of those that goes there and verifies it by talking to the people, by sharing stories with them.
Today I'd like to speak particularly about Chinese culture. In Spain there are several rumours and not very positive cliches around the Chinese community. If you don't know what I'm talking about I'll get to the point. Because of the fact that «none» has ever seen a Chinese funeral there's this general statement or joke that says Chinese death people are served as food in Chinese restaurants all over Spain. I'm really curious to know if this happens in other countries, too (international friends, help me here!)
Who has ever had this kind of conversation, 'where are Chinese buried?, 'have you ever seen a Chinese tomb in the cemetery?' or 'who knows if we eat them at Chinese restaurants!?'
Every time I listen to this kind of stories I feel like laughing or crying, I don't know. How can we play with such a delicate issue of which we barely know about? I know I often hear it as a joke but the worst part is that I've seen lot of serious faces when talking about this topic!
And I say,
1) Has anyone really gone into a cemetery looking for a Chinese graveyard?
2) Most of Chinese people living in Spain, as you'd do in their place, bury their relatives in China.
3) There's also the option of cremation, pretty common by the way, especially among Buddhist.
Well, I can say Chinese do have funerals mainly because I was lucky I had the chance to go not to one but to two funerals of Taiwanese people in Manila (yes, two!) I had never gone to a funeral before (knock on wood) and there, all of a sudden I went to two, one after the other.
The reason why is very simple. The monastics of the temple in which I lived were always available for anything the Buddhist community would need and that day we didn't have a specific programme; therefore, they asked us to go. Well, no, they didn't ask, they told us to go, we had no choice.
When we arrived at the mortuary the only presence of that impressive and colossal grey building scared me. There was a big hall and for what I saw when I looked up, there were many floors divided at its time by individual sanctuaries. At the entrance of each room there was an object, or several ones, made of paper which in this case was a red car. They say these objects, their loved or favourite ones in life, will go with them to the next life. After the second ceremony was over we realised the size of the paper thing had a lot to do with the money the dead or his or her family had.
We get in the first one. Almost everything in the room is yellow, colour that implies the detachment of the material world. There are little papers hanging off the walls with Chinese characters. There are benches in both sides, like a church, and at the back the colorful altar is erected, where again yellow prevails.
I know it's not pleasant to talk about this issue but I think it's interesting because not so many people have access to a ceremony of this kind (and they may not be that interested anyways).
Ceremony begins and some videos with memories are played -awkward moment- and the monks lead the prayer. Let's say it's a normal Buddhist ceremony with the only and negligible difference -insert irony here-  that there's a big picture of the deceased and a coffin, of course.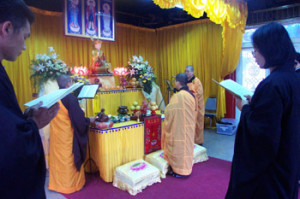 As usual it was held in Chinese and I don't remember which part of the Sutra we read but I do remember the closest family was in the centre, dressed in white, and there was a part where they were the only ones full bowing. The rest of us was wearing street clothing or the Hǎi Qīng.
By the way, these pictures are not from that specific day, I downloaded them but I remember I was shocked to see there were quite a few taking pictures everywhere. I was puzzled, is it something that's accepted in Chinese or Filipino community? Most of the people there were Chinese or Taiwanese living in the Philippines and in that sense both cultures could be fused.
Talking about it with a Chinese friend he said that's more of a Filipino habit because according to Chinese is not polite to take pictures –just what I thought or I was used to. A bit out of the context there was something that shocked me in the Philippines and that's the funerals that take place in the street. Yes, on the road. There's a car leading that kind of parade, where the coffin goes, accompanied by powerful speakers in order everyone to know who died or to play some melancholic music, very appropriate for the occasion. The family goes behind in their own cars. The caravan goes slow just if the slowness of the march was directly proportional to the pain the family had, creating a gloomy and dark ambiance.
But let's go back to the subject. After a long hour of chanting, that's what I recall, we stand up again and people go at the back of the room. The family was waiting for us with bags full of presents. Yes, presents. A big bag for every and each of us, full of chocolates, cookies, juices, well, everything! at a really big proportion. I turned whiter than I was. So, I come to a funeral and they give me take-away food?
Something similar happened to me in Romania, don't ask me how I get myself in these jams, where I ended by accident in a funeral. At the entrance of it there was sponge cake, coffee and some other things and my friend even told me, 'you want some?' 'no, no, it's ok' I answered, 'I'm not hungry at all.'  It happened like this, we went inside one of the so many Orthodox churches that are in Sibiu when suddenly I see a lot of people inside and very well dressed, I was in a wedding!
We were there for a few minutes observing the ceremony. It was very interesting for it's different from the Catholic one. Because we didn't want to disturb we went stealthily to the other part of the church and we were so lucky to find a funeral there. I saw a bit the architecture, the floor and I decamped in the act. What a day!
So, now you know, you can peacefully go to a Chinese restaurant to eat! (in case you couldn't before)
By the way, yesterday I came across with an essential list of the best real Chinese restaurants in Madrid. If you ever crave for Chinese food in Madrid I recommend you to go to the traditional and incomparable underground restaurant of Plaza de España. Right after I read it we went straight to have some noodles, I couldn't resist! It's very cheap, original, not nasty made-up and adapted to Spaniards food they normally offer at Chinese restaurants and very tasty!
吃好喝好 (chī hǎo hē hǎo) that literaly means 'eat and drink well'.