A slow trip, but lovely
During our loooong and slow trip to my traditional tattoo we stopped like a thousand times. The reasons were varied, because one needed to pee, because someone wanted to give an alive pig to a cousin that was living in the nearby village and things like that. Nevertheless, I enjoyed the views a lot.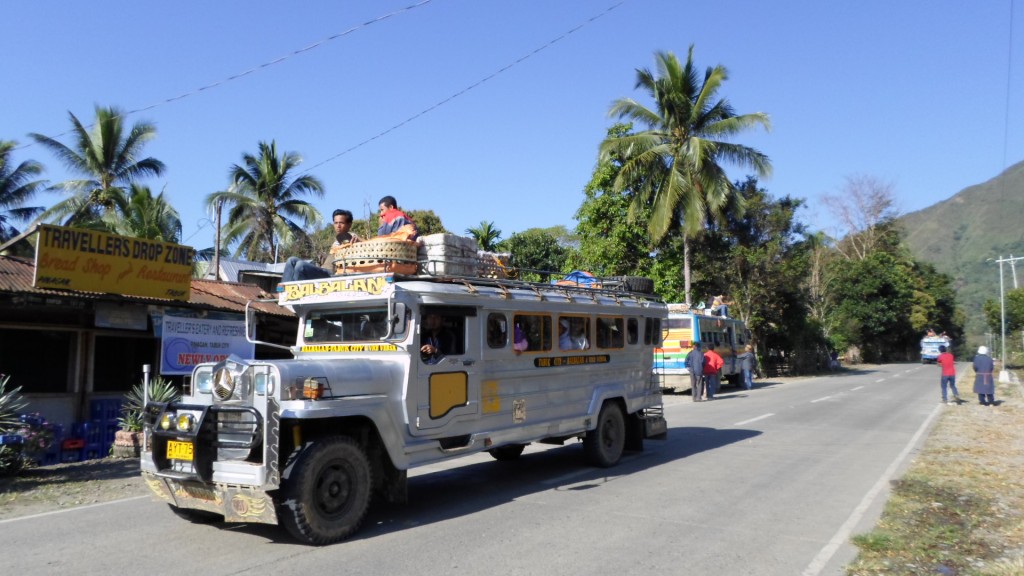 Here jeepneys (what's a jeepney?) are more 4×4 kind of and ready to rock the nature! One may decide to go up on it (mainly men do it) but I preferred not to take the risk taking into account the bumpy road.
Up on it any kind of objects can be transported, gas bottles, chickens, huge suitcases… Literally anything you can imagine. Slow trips are for that!
An old man that saw how happy I was by looking through the window offered me his seat so that I could have a better view on the Sleeping Beauty.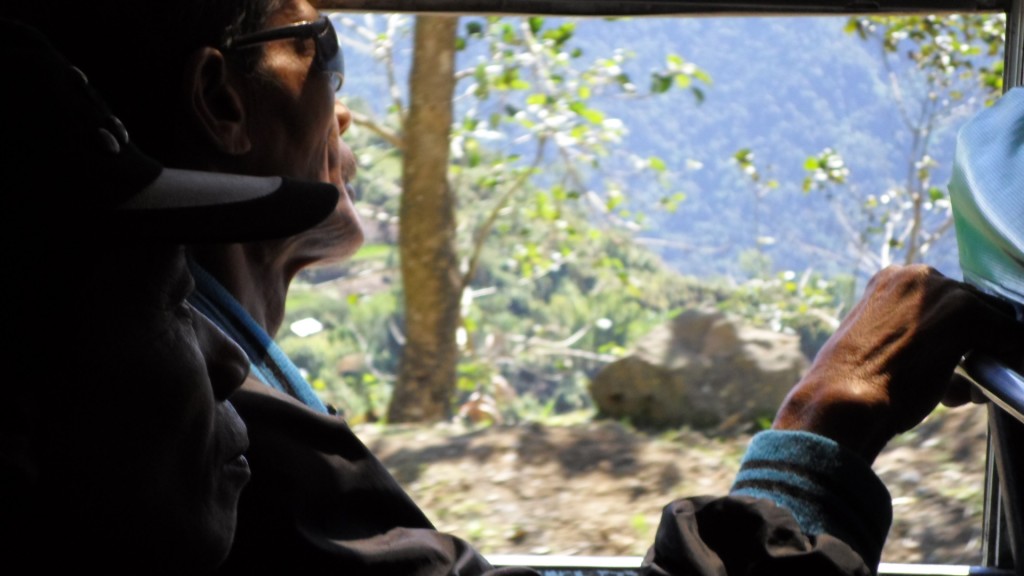 By that time everyone in the bus knew who I was and where I was going. They all treated me magnificently and were curious to know about Spain.
Everyone kept on saying, "take pictures! She's the Sleeping Beauty!"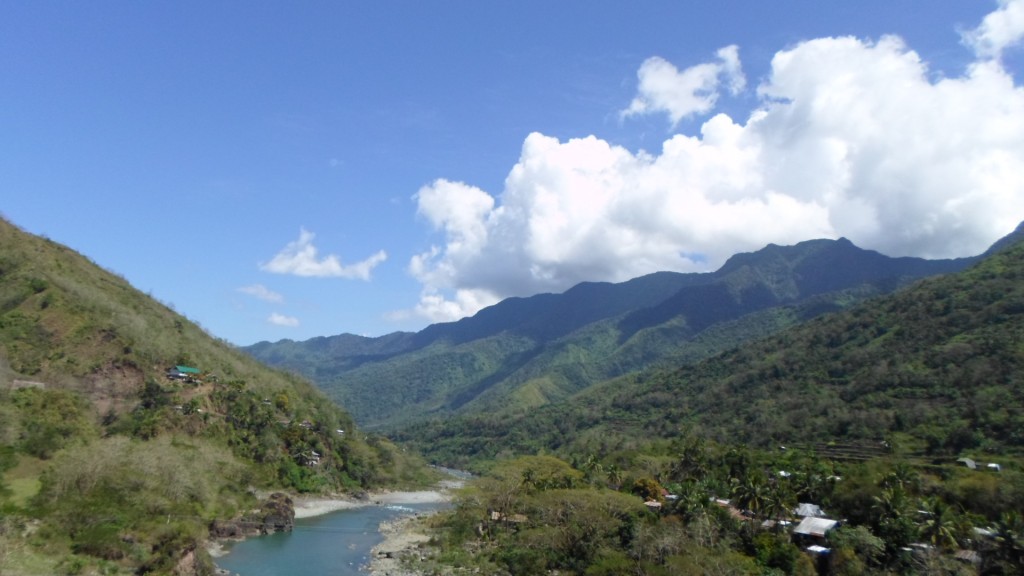 Filipino legends, an alive tradition
Filipinos have a lot of legends based on nature. This one is special for being one of the Kalinga's most loved bedtime stories.
Legend has it that two lovers from different tribes were tragically separated by a war. He died and she rested on the summit waiting for the loved one to come, forever. From there the shape of the mountain, the sleeping beauty (the face is to the right).
While listening to the beautiful story that reminded me of the one we have in Sierra de Guadarrama in Spain and being wonderfully immersed in the moment I suddenly got disillusioned by a particular and annoying sound: the sound of spits.
"What's that you are chewing?" I asked intrigued. "It's buyo, you want some?"
By the colour of his teeth and the image of the woman behind him shaking her head no I said "no, I'm ok, thank you".
Betel or buyo is the nut of the areca palm. It can be chewed wrapped in the leaf of the betel piper vine and mixed with tobacco.
Then, I understood where all those red stains on the ground were. And on the bus windows too (yes, ew!). It was due to all the spitting!
George kept on insisting: take some, it will make you happier!
In one of the many stops I went to stretch my legs and stopped for a moment. I got enchanted by the views and the authenticity of the people.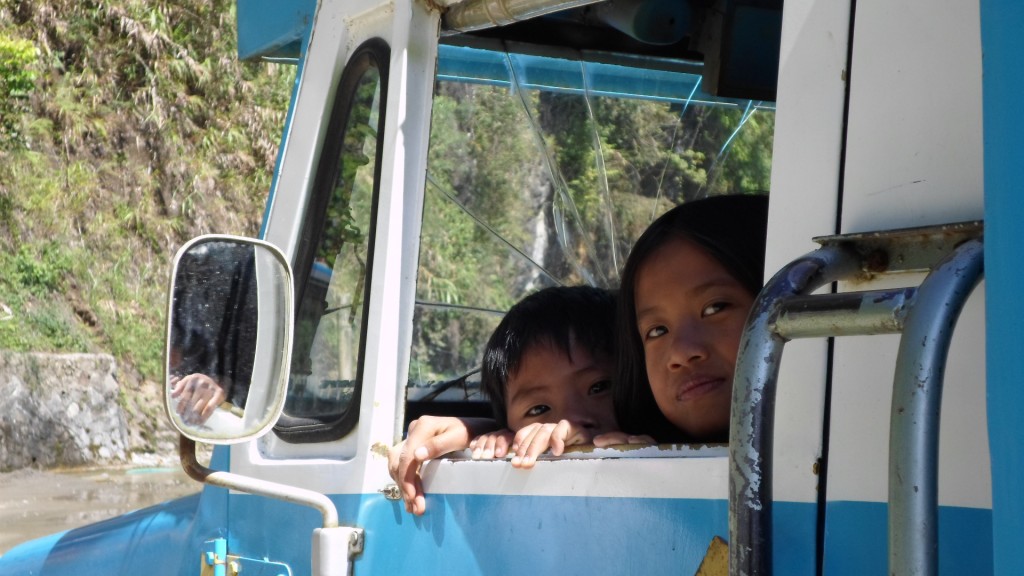 As I said in the first post of this trip, street vendors come to us every time we stop. But here it was a bit different.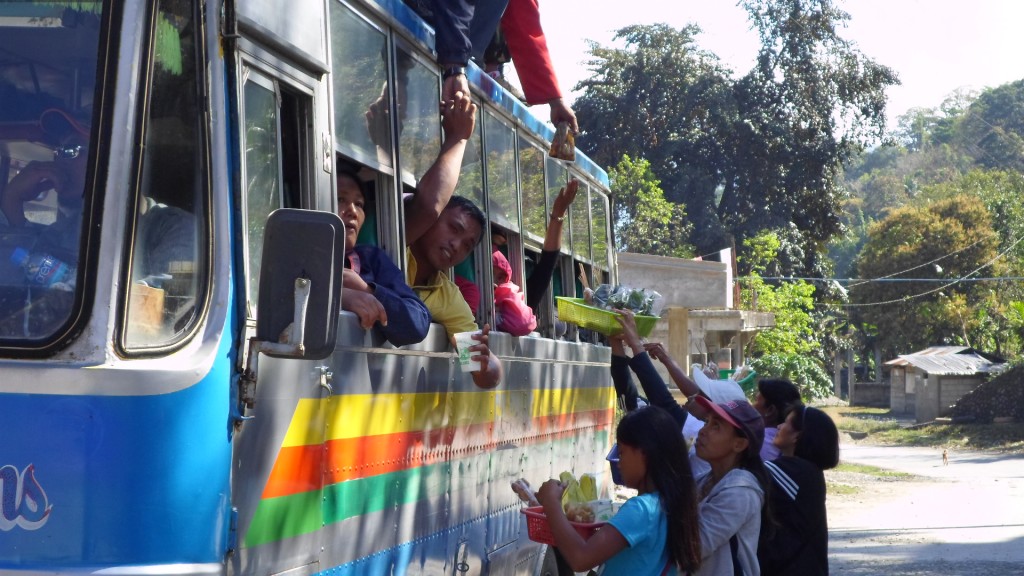 Customers even dropped the money down from the top so that they didn't have to move a muscle!
They also had some interesting toilets (or Comfort Rooms as they call them in the Philippines).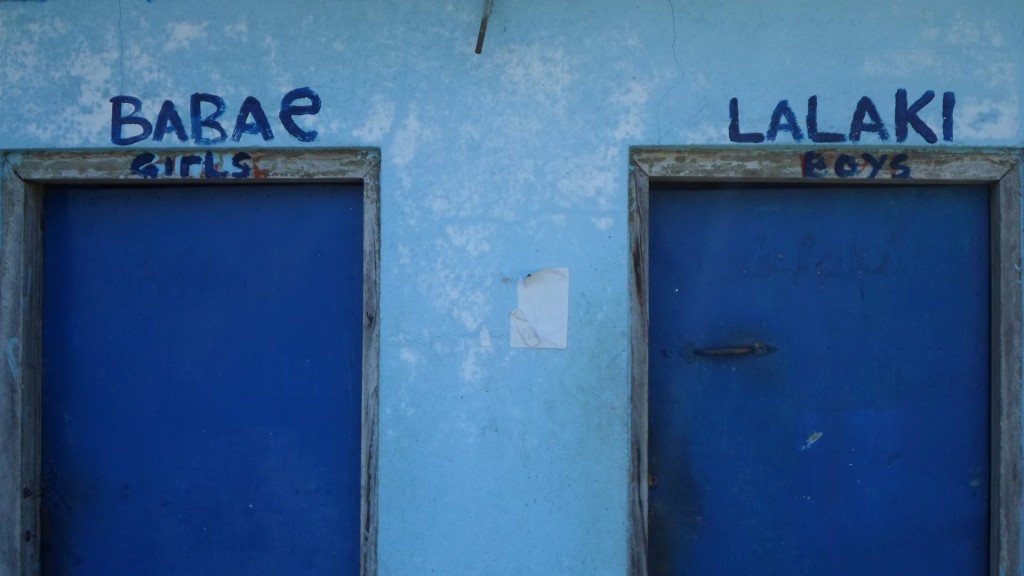 George brought with him mango with vinegar, a Filipino delicacy (I also tried it in Venezuela). Mangos are just supernatural there!
The landscape in the Cordilleras
Landscape was heartbreaking but seeing all those families and kids in the small villages we passed was by far what made me smile the most.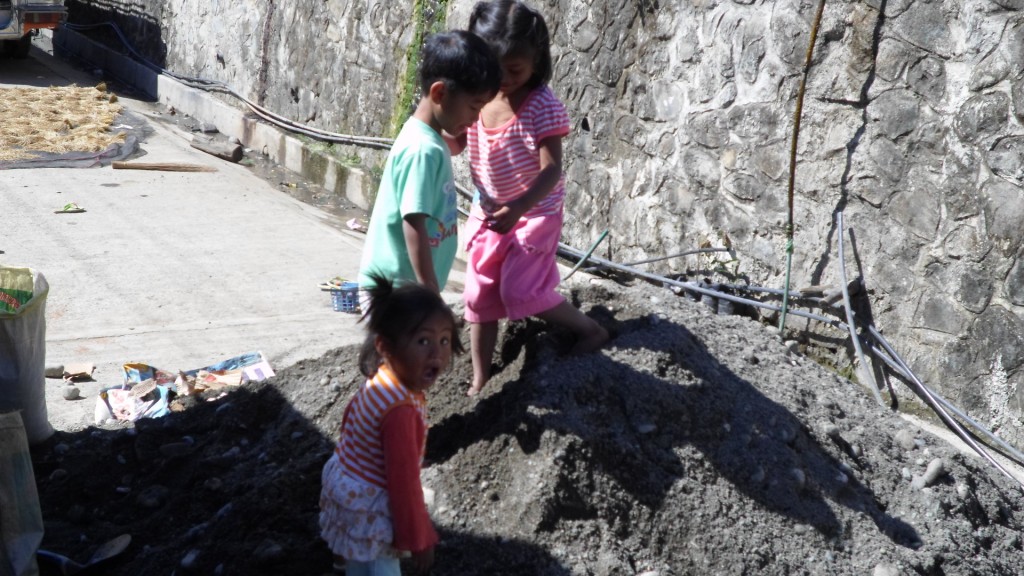 And the rice fields… no words. You can judge by yourselves:
"So, where are you going Alba?"
"I'm going to the mountains with the Kalinga. And you, George?"
"I'm going to a relative's funeral."
"I'm sorry. Where's that?"
"Where you will stay at is halfway."
"But that's far away!"
"Yes, but it's the only way we have to get there."
When I thought we were almost there we stopped in a bar for lunch in the Sleeping Beauty Inn (by the way, it's not a hostel anymore). I had fried fish, soup and dessert for less than 1 euro, yes! This is what I mean about going with locals!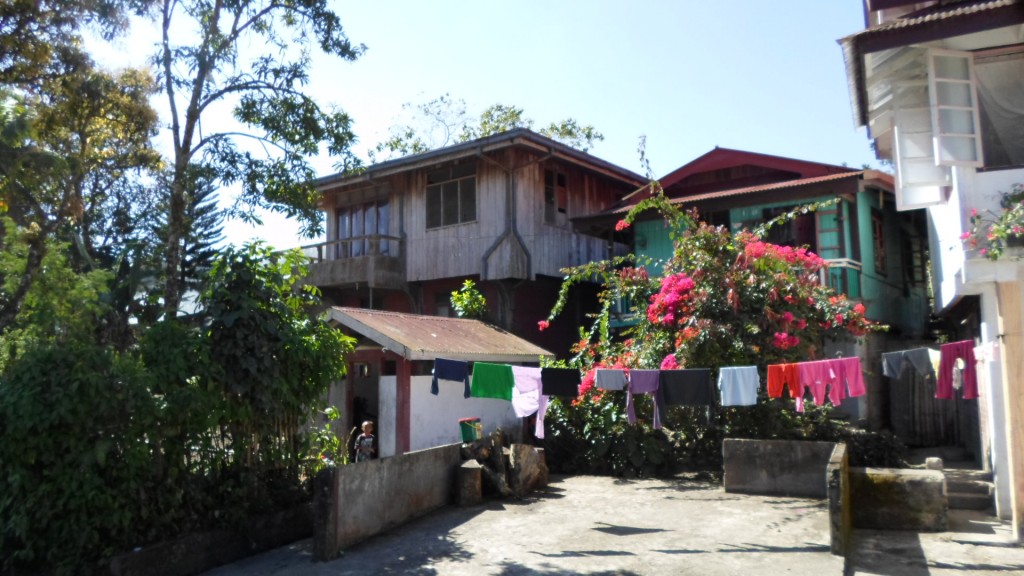 Thinking that I was close to where I was supposed to arrive and that I'd go back to this place to sleep over I asked the lady in the restaurant if they had a place to stay that night because I saw on Internet they provided accommodation. "No sorry Madam, we are not a hostel anymore, only restaurant"
So we all went inside the bus, again!
I still didn't know where I was supposed to go down and the conductor asked me but, where are you actually going? I said to Buscalan, that's all I knew.
"But that's far! You will have to walk a lot!"
"Yes, I don't mind."
"Ok, then the closest stop is here."
I said goodbye to everyone in the bus and they told me almost in unison, be careful! And I went down.
As soon as I did so the heat punched my face. It was around two or three in the afternoon. What it was supposed to be a 3 hour trip was extended for 'only' 2 more hours. That's how it works.
No problem! mountains said hello to me and the five locals that were around too.
"Where are you going Madam?"
"To Buscalan. What's the way?"
"I'll take you on my motorbike, don't worry."
"No, thanks. I prefer to walk."
"But it's very far, Madam."
"It's ok, just tell me the way please."
I started to go up. It was very steep at the beginning. I said to myself 'If it's going to be like this all the time I'll die here'. But I kept on walking, not knowing if that was the way.
But…
To know the Way,
We go the Way
We do the Way
The way we do
The things we do.
It's all there in front of you,
But if you try too hard to see it,
You'll only become Confused.
(If you haven't read it I strongly recommend you to do so. Because contrarly to what most people think, Winnie the Pooh is not only for children)