Andando descalza, a book with a project
Hey, there! I'm coming with very good news thanks to the contribution of those who supported my project «Un libro, una sonrisa» (in Spanish). This project is linked to the first book I published (Andando descalza, walking barefoot) and aims to help the people I find that need it the most in this trip around South America.
The first project we were involved with was «Arte y Alma» (art and soul) which purpose is to bring art to the children of the most disadvantaged areas in Lima. This is how it looked when I participated two months ago in the workshops of Arte y Alma.
Everything started as a reunion of a bunch of kids but soon the word was spread and the project became bigger. So it is that lasy Saturday the 5th they showed their own documentary! All the info is in Arte Alma fanpage (it's in Spanish but you get a glimpse with the pictures). I'm very proud of having participated and seeing how this beautiful group of enthusiastic individuals and art lovers has grown.
In Ecuador
On the other side in Ecuador I had the chance to talk about 'How to travel in a sustainable way' that came out as a talk among friends. A talk where I shared my views on seeing the world and fair travel which involves not letting a big ecological footprint when moving around. At the end I sold personalised postcards with pictures of my trips and the earnings went directly to La CaSa, that social space where diverse activities take place to improve the quality of the neighbourhood, from teaching after-school classes to children, to letting their mothers create art and expose it.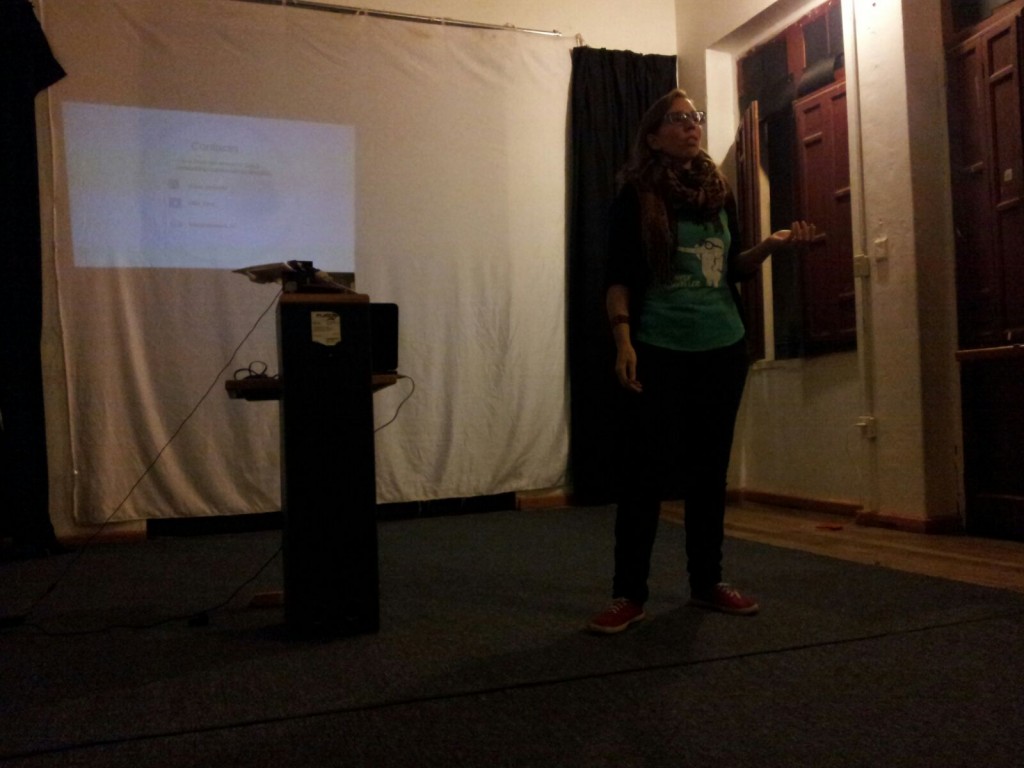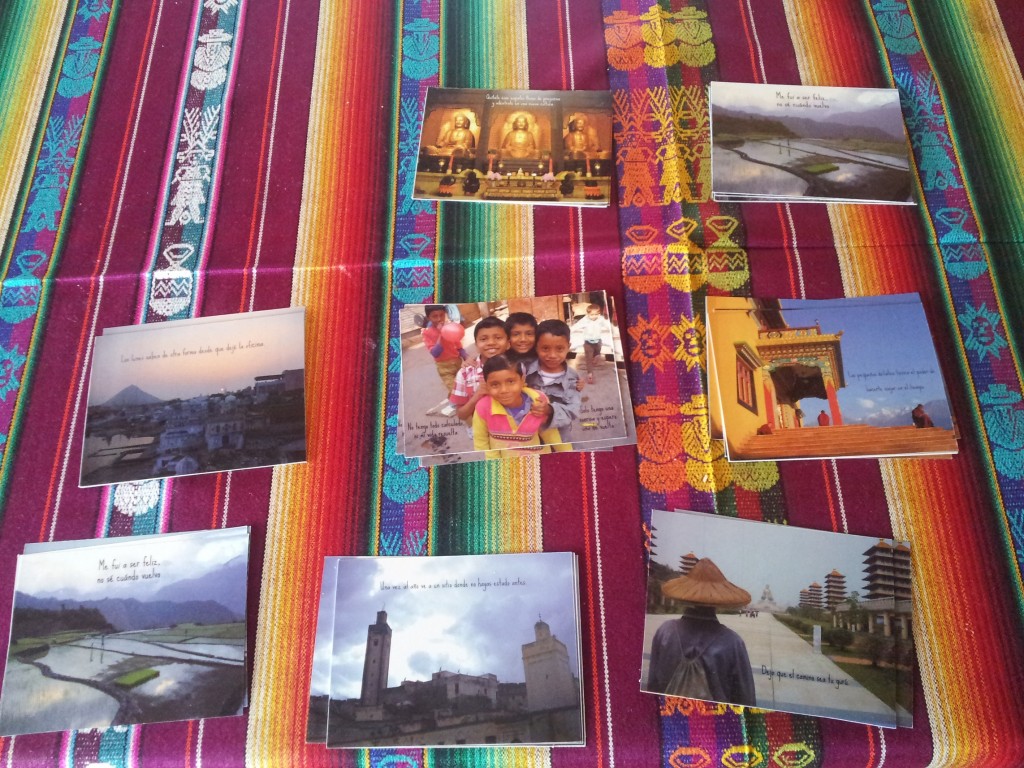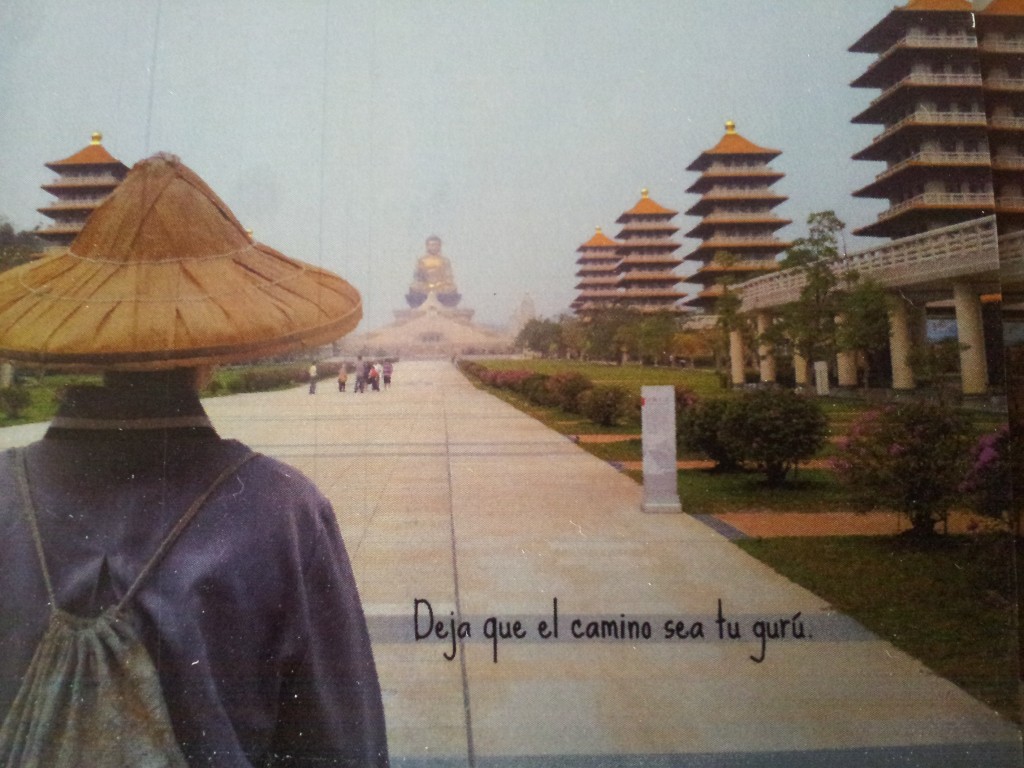 Until here what we achieved but, there's still some trip to go! We are not even half way yet so there are a lot of projects to get involved with. Thank you, all!
P.S.: Last Thursday I finally received my new passport, ready to be put on new and colorfoul stamps all over. Impacience and pessimism almost got me on the way but I enjoyed Quito until the end. After telling me my passport would take more than what they previously told me (one month and a half instead of two) I celebrate that yesterday I crossed the border to get in Coloooombia!
Advice: Avoid getting into the consulate of Spain in Quito in case you or a friend of yours have to. They don't give proper information, queues were four hours long (multiplied by five times that I've come) and they are quite unpleasant. And all because I got my passport stolen. An experience to forget, undoubtedly.
In Colombia — updated in November  —
Months pass by, I come back from a long trip around South America. I disorientate, I adapt, readapt myself and new ideas arise. I meet more travellers and understand new ways of seeing the world, again. I realise I am not alone in this, again—because that is something you learn and forget again and again. And the travel spiral continues, that in which some day I went and of which I don't want to come out. That life spiral that wraps you and doesn't let you go —only at times— in order to hook you later.
I must admit I was a bit bothered by the fact that I couldn't help with my project in Colombia and Venezuela. I also know that everything happens for a reason and opportunities come when they have to come. Well, that time has arrived. The time of that last contribution has come, at least by now, with the proyect Un libro, una sonrisa. I know that I will come back to Venezuela and will help somehow although it's not easy due to several circumstances.
Months after leaving South American land, I come to get to know a beautiful project thanks to Valentina, a blogger friend that works with them. The blog that runs with her partner, Un poco de Sur, of which I've talked already, inspires me more and more. A travel blog as I like them, natural, critical and transparent, where they write what they want and feel on the road. Honestly and no fairytales involved (unless they happen to appear on the road).
Un ladrillo para mi escuelita
Un ladrillo para mi escuelita (a brick for my school in Spanish) is a project carried by Hilo Sagrado together with Fundación Crecer and which aim is to rebuild Atulaimpa school in the Colombian Guajira because the old one is falling down. Colombian authorities want to close it due to its disastrous conditions, leaving 50 children without education. This school will not only serve to educate children but to reinforce their wayúu cultural identity and help them preserve their traditions, integrating them in society.
They are about to get their goal of 1,250 dollars! If you would like to contribute or share, here it's the fundraising campaign link.
Maybe I can now say that this is what we've achieved until now with this proyect, maybe not. Maybe I will keep on walking with this project that will mix with some others or will even plant some new seeds. I don't know by now, I only can thank everyone that invested and believed in the project, this is yours! The best thing to do meanwhile is to do whatever one likes best and gets motivation from in that moment and if you help along the way, much better!
The best thing is to keep on walking, walking barefoot…
Andando descalza