Fes, the Third Biggest City in Morocco
Fes, a city that's not so visited in Morocco and keeps its purest Moroccan charm. In previous posts I talked about my first contact with Morocco and street food in Fes so I think the best way to close the chapter is with the places to see in Fes, the third biggest city in Morocco.
 The Royal Palace of Fes
Placed in the Jewish quarter (Mellah), it's one of the biggest in the country. The seven doors represent the seven days of the week and the seven steps of monarchy. It's not allowed to go inside but seeing it on the outside is worth. 
The
door
 Bab Bou Jeloud
The door Bab Bou Jeloud is the gateway to the medina, where the good part starts. Going under is to get in a world full of colors, scents, sellers, shouts and alive culture.
 Medina in Fes
It's essential to visit the medina when in Fes. As soon as you get inside you'll be approached by one (or more) sellers so that you get in their restaurants, bars, shops… and they know where you are from right away, there's no escape from it. Let it be but I suggest you not to get in the shops just because you feel commited. They have conviction so I recommend you to have clear what you want to buy and what you DON'T want to buy.
Getting lost in the medina is unavoidable. Get lost to the music of its alleys and its street vendors. Don't fight back.
Get lost with its street music, its incessant melody and its daily bustle. I sincerely stress out with such a racket but but it has its charm to get in the alive hustle of this city.
There's a video as a proof. It's a bit shaky but holding the umbrella with one hand, the camera with the other one and avoiding every type of obstacles, that's what came out.
The good thing about chaos is that you can always find some order on it, always. You can find places like this one that seem to run away from the hustle, to hide from the bustle, silencing the words from the excited sellers.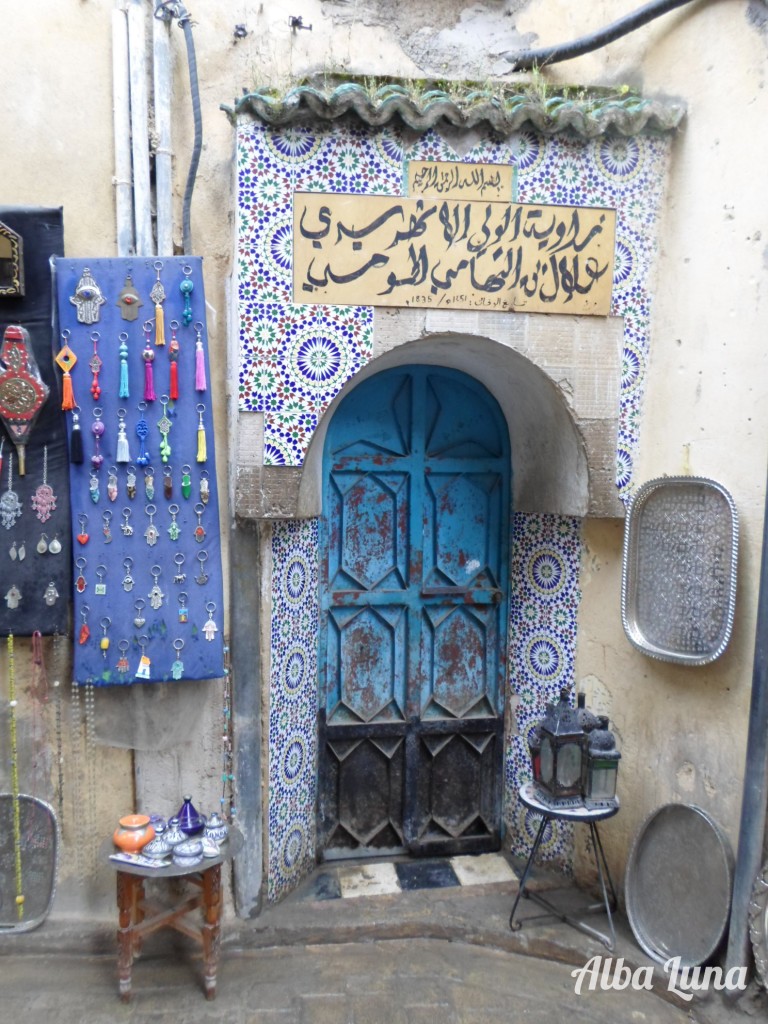 Visit the Tanneries
The tanneries are where hides are processed in order to take the hair and the fat out and they get tanned and dried.
I don't advice you to pay to see them, it's a scam. You can do it for free. There will be a lot of supposed guides that take you there but in reality you can go up to any of the loads of shops where leather objects are sold and observe them from their terraces. There are signs everywhere. The only thing you will have to do is to go around the shop pretending you are going to buy but as soon as you see it you can leave.
[Best_Wordpress_Gallery gallery_type=»slideshow» theme_id=»1″ gallery_id=»15″ sort_by=»order» order_by=»asc» slideshow_effect=»fade» slideshow_interval=»5″ slideshow_width=»800″ slideshow_height=»500″ enable_slideshow_autoplay=»0″ enable_slideshow_shuffle=»0″ enable_slideshow_ctrl=»1″ enable_slideshow_filmstrip=»1″ slideshow_filmstrip_height=»70″ slideshow_enable_title=»0″ slideshow_title_position=»top-right» slideshow_enable_description=»0″ slideshow_description_position=»bottom-right» enable_slideshow_music=»0″ slideshow_music_url=»» watermark_type=»none» watermark_link=»http://web-dorado.com»]
The odour from up top is strong and nasty but the mint they give you at the entrance makes sense and helps a lot. 
Get lost, again
It's going to happen. I advice you to ask sellers and pay attention to where you are heading. A good way to keep the track is to take pictures from key places. 
If that doesn't work out you can always asks the local dromedaries, I've heard they have special powers.
Medersas
Medersas were schools dedicated to the study of the Quran that served at the same time as residency for the students. There are three main ones in Fes but the one we saw was Medersa Attarine, one of the prettiest.
I don't know if it was due to the season or the narrowness of the streets but it was hard to go with hundreds of tourists all around that have a guide flag as their god. Because there was too much people stuck at the entrance we came back later. I seriously can't stand the chaos of tourists willing to take pictures of themselves in every corner.
Get in Berber weaving shops
Get inside one of the shops that preserve the weaving tradition with old looms. Most of them are Berber and in this shop they even talked to us in very fluent Spanish.
Unexpected things like…
Watching the match Barça-Madrid in a bar full of men (literally 50) and me? It wasn't on the plans but well, it was interesting to see that football does exactly the same thing everywhere, it just divides and radicalises people (it was something not to repeat for I'm a fan of playing football not watching it)
Fall in love with little street cats
They are everywhere! And they are very photogenic.
Overall walk and keep on walking. Moroccans are very warm and friendly and even if the sellers are pretty persistent and tireless, that's the magic of this land, to find your own balance! 
This is the last article about my adventures around Morocco, by now. If you missed out the rest, here you are:
Until next time, Morocco!
Artículos relacionados
Related posts