This game was started by a community of Spanish travel bloggers and I've decided to pass it on to some English-speaking bloggers. 
Tú, yo y mi mochila by Juan has nominated me to reflect on the '9 things I know how to do when I travel'. On the other side, some days after Vuelta a la tortilla invited me to the '9 things I don't know how to do when I travel'. Both blogs are in Spanish so you'll have to learn some before diving into their blogs! I must admit I'm not that much into these games but this one is kind of interesting and different so, there we go!
9 things I know how to do when I travel
1) Getting lost and finding myself. I love getting in places that catch my attention somehow; a striking path, a colourful house, people doing something unexpected for me. After that, I take another path to come back so that I can connect dots in my own mind. Getting lost to find myself. As a good friend told me once, 'I get lost once a month, even if it's in my own city, it always helps me to find myself.'
2) Eating nasty things. From pasta with yogurt and cocoa on top in a summer camp in the Czech mountains to fried grasshoppers in Thailand, anything! Who hasn't been told, how do you know you don't like it if you haven't tried?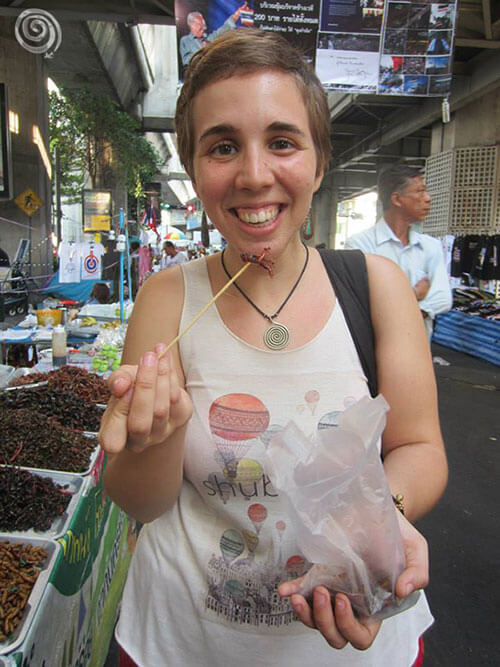 Balut in the Philippines definitely took the cake! It's a duck embryo that tastes like a boiled egg but much more intense. It was fine until I saw its bill and I felt really sorry and guilty.
3) Not losing control or panicking, whatever I see. It's not that I've been under extreme and risky situations but as soon as I see something weird I assume it and keep on walking or go away.
4) Accepting what's distinct as normal. I think I've developed a capacity under which I get surprised by what I see but I get used to it quickly. I try to camouflage as much as I can, just like this dog: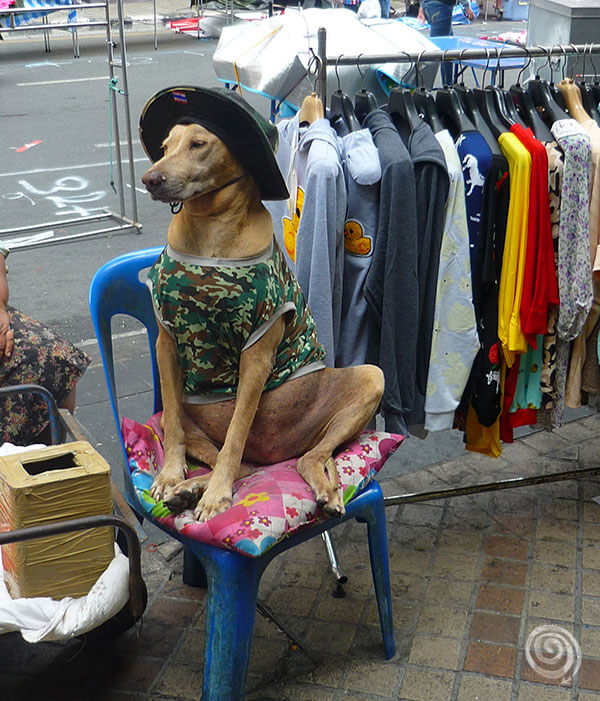 5) Sending postcards to my family. It's sacred. It can get tiring at times but having an album full of postcards at home from the places I've been is beautiful!
6) Sleeping anywhere. If I have no choice I can sleep anywhere, from train stations in the cold winter to parks and beaches when weather is nicer. If not I often find an acquaintances that help me out with acommodation or use Couchsurfing, Helpx or Homexchange instead.
7) Learning a few basic words in the local language to survive. I believe it's very important to at least try even if pronunciation stays on the road and locals laugh at you, it will always get you closer to them!
This helps me a lot with point number 8:
Speaking with locals. Some look at me puzzled, some smile at me but I always end up talking to people in trains, shops, any place is the right place to get to know more about their culture. Gestures help a lot, too (although gestures are not as international as we think).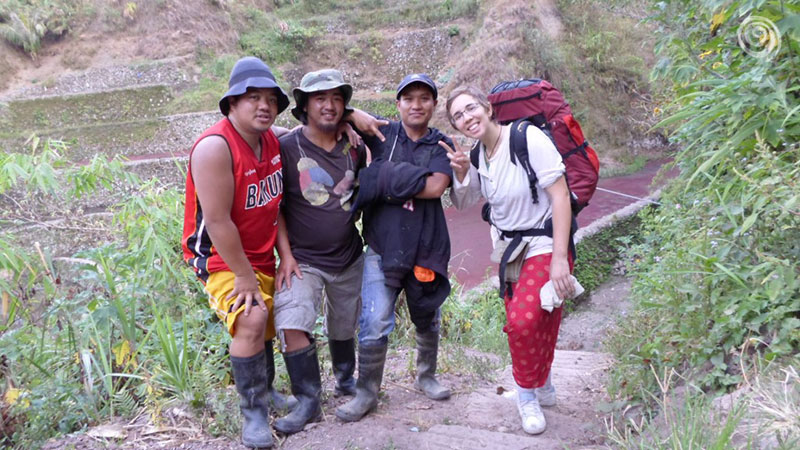 In the case of bumping into other foreign travellers I love to guess where they are from as soon as they open their mouths. Gestures, way of talking and their accents are features that help me figure out where they are from. And I love doing it! I often hit the mark but I've also slipped-up with people from the borders like Argentina-Uruguay, India-Pakistan (where they often get annoyed if I get it wrong) but I keep on learning.
9) Watch over my belongings. To the extreme that I sleep with a tourist bag inside my pyjamas if needed. I've never been stolen but I always keep an eye on everything and even get obssesed to protect what I'm taking with.
Now it's your turn, bloggers! and my nominations go to:
Adrian's Travel Tales by Adrian Ann. Her travel guide website is a place where you will learn about different locations and people around the world. Ready? Have a look!
2 Travel Dads by Rob and Chris Taylor: a gay couple living in the USA and travelling with two kids. When they are not traveling, they are exploring the area around them. This family is just too cute and their stories are so fun and entertaining, have a look at their blog!
Illumelation by Melissa Legarda Alcantara: born in London, living in Manila, her wanderlust is insatiable. Her lovely pictures and words will take you right there where she's!
– – –
9 things I don't know what to do when I travel
1. Paying for a hotel. It hurts. It's something I don't want and I can't do. I'd rather use other options like Couchsurfing, Helpx, Workaway and Homexchange and spend that money on keeping on travelling and seeing more places. It's been always more authentic if I have the opportunity to stay in a place where I can have more contact with locals.
2. Bargaining: It's sooo hard for me to bargain. I feel lazy and angry every time I have to do it. Through time and especially after my trip to Asia I've gained some experience but anyhow I always end up with a bad feeling. I tend to think they are ripping me off or if I should really fight for some cents.
3. Leaving without eating local food. Food is essential in any culture and helps you to understand the place you are visiting.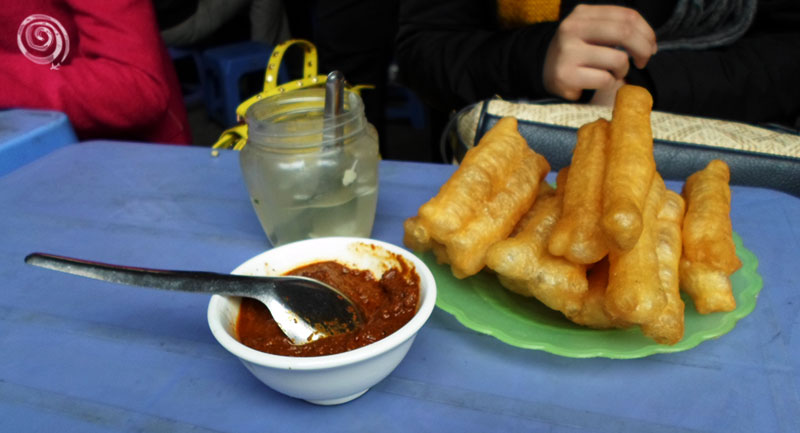 4. Following tourists. When I started travelling I used to do it in a group, followed by fear or insecurity. Step by step I've been getting out of it and found my own way of travelling. I don't mean with this that I don't go to places where tourists are which it's almost impossible. Like that time when I went to Sabang (the Philippines) and I had  to debate whether to see one of the world wonders or not. I find it hard, the guide flags scare me away, selfies are just too much…
5. Controlling the pre-trip anxiety. It wouldn't be me otherwise. Days before a trip I start packing, unpacking and packing again. My stomach moves more than usual and the farewell moment in the airport is something I've got to almost hate.
6. Telling everything while I travel. It's even hard to call my family and when I call them I don't know what to say because so many things have happened. I'm uncapable of updating my blog while I travel, it seems that by sharing everything I don't enjoy my trip quite as much. I don't travel so that others are waiting to see what I do but to enjoy the trip and later, whenever I feel like or I have time, express it. I feel I waste my time if I write everything on the computer, there are so many things to do instead!
But I must say notebooks need to be there!
7. Not to stay foolishy dazed by the new things I see. I feel attracted to what's distinct, what's not common for me and you CAN TELL. I smile even more and sometimes I stay dazed, absorbed and looking at a fixed point.
8. Following these kinds of chains. Although this one is kind of interesting, in general they don't leave space for improvisation.
9. Taking selfies. I try but I prefer to take pictures of people, of what's around me. I don't mind not having pictures 'to show where I've been'. What matters are moments not an album full of pictures, or hard drives so to say.
Nominations go to:
Europe Diaries by Menorca Chaturvedi, this Indian girl named after an Spanish island considers herself a thinker, a dreamer, a writer and an occasional poet. Originally from India and now living in Europe, Menorca combines her knowledge of previous travels with the freshness of getting to know a different culture.
Steps to follow by Lexie. She's traveled to 3 continents and in her blog you'll find advices and tips on how to travel and some good destinations! She also has very good pictures and a bucket list to see where she wants to travel next.
Emily Luxton Travels by Emily Luxton: a writer and travel enthusiast from the south coast of England. Her blog blends her own stories with reviews and how-to guides. Her latest adventure was backpacking South America.